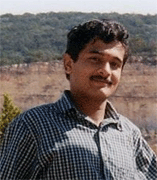 Don't waste your time... Press your clothes now itself. There will be a power cut. You can watch that stupid TV any other time. My fathers words were ominously ringing in my ears yesterday night.

Today morning, I having risen to shine at 6:55 am, I switched on the iron box. Suddenly the world went dark. Darn it Darn it. Darn.... GRRRRRR AAAARRRGGGHHH ... "There is a power cut... How am I going to press my clothes???" I shouted as I gave my mom a---"Its all your fault!!!" look. My father was giving me a smug-- "I told you so!!! Suits you!!!" look. I touched the iron box... only to realize that it was colder than a banana split triple sundae.

I immediately grabbed my clothes and stated to run towards the lone laundry near my house. Of course the story wouldn't have been here if I had succeeded in this venture. To my misfortune, Venkateshwara Laundry decided to do a Govinda (Govinda in Kannada means a hopeless gone case).

I finally managed to locate a new shirt, and a reasonably wrinkle free pant(it was supposed to be wrinkle free... but it turned out to have free wrinkles)

Later as I was driving towards office, sans a decent breakfast, I was having food for thought.

Imagine... I have been in Bangalore for about 23 years now... my entire life. And every single summer, every single year we have always had power cuts. Governments have come and gone, leaders have visited and vanished.

We have had scheduled cuts. Unscheduled cuts. Scheduled unscheduled cuts (There will be an unscheduled power cut between 7:00 am and 9:00 am tomorrow), even unscheduled scheduled cuts (The power cut between 7:00 am and 9:00 am yesterday? Hey it was unofficially scheduled).

Not that the government has not tried anything. In fact they made a major attempt to solve the crisis by naming the erstwhile KEB (Karnataka Electricity Board) as a more respectable sounding KPTC (Karnataka Power Transmission Corporation). But as we all know there is hardly anything in a name. Shakespeare will vouch for it. The KEB by any other name will be as inefficient.

Of course the power cuts are not without advantages. It comes as a boon for the student, (India's future) who have their exams during these months. Parents are generally less persuasive during power cuts and so the kids can have more than their daily dose of "I spy you" and "hopscotch" and what not. I dunno about todays kids... what with the cable and internet revolution. We used to have a lot of fun, thwarting all the attempts by our parents to make us study.

Another great thing is that families get to have more of the romantic "candle light" dinners. (I have heard that the latest trend is to have Petromax lantern/emergency lamp dinners ;-). Of course all the aforementioned luxuries are out of reach of the Board exam students (10th and 12th class). For them it is time to experience how their parents used to study (remember..."In our times, we used to study by the street lamps light!!!"). This ensures that our glorious heritage does not get lost in the impenetrably dark alleys of time.

We cannot accuse the KPTC/KEB of lacking common sense. They always cut power in alternate streets, so that the entire area is not plunged into darkness. But in our case we were THE alternate lane. I mean, by some eerie un-understandable electric/'tronic logic, our street used to have the dubious infamy of power cuts whenever any other street had one. (Reasons to claim that the early part of my life was shrouded in darkness)

Also commendable are the efforts of the governments in spending thousands of crores of rupees to set up all known/unknown/unheard forms of power generation plants. Earth, wind and rain and fire. But the only power that the money generates seems to be for the ministers and their progeny, whose already burgeoning bank accounts spill over with currency of a black hue. For these are the people who never see power cuts.

The chief ministers residence/ legislators quarters exist in the privileged areas where kids never know what darkness is. After all, don't these eminent people have to plan how to supply uninterrupted power to the IT capital of India, the Garden city, the Pensioners Paradise? The future should be bright!!!

For the rest of us, life goes on. Hey!!! Let me save this document before... I hear that the next street has a power cut. Swalpa Adjust Maadi saar!!!