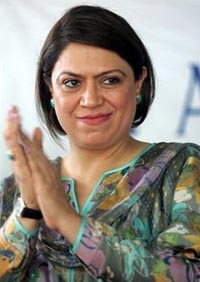 "The biggest irony is that I have stood up for women all these years and, today, when I face a vicious attack by religious extremists, I am fighting alone," says federal minister for tourism, Nilofar Bakhtiar. "Earlier, when I was the Minister for Women Development, I had worked relentlessly on legislation to empower women, including introducing bills like right to inheritance, amendments to the blasphemy law and right of citizenship of men married to Pakistani women. But now, in the face of senseless condemnation from radical clerics - who have done everything to malign me and cast aspersions on my character, I remain defenceless," rues Bakhtiar.
It all started some months ago after newspapers published photographs of Bakhtiar embracing her male instructor during a charity parachute jump in France to raise money for victims of the devastating October 2005-earthquake in Pakistan. An infuriated, Bakhtiar handed in her resignation to Prime Minister Shaukat Aziz, who has not accepted her offer to step down. She says she decided to quit "when I received no support from either quarters - my party (Pakistan Muslim League-Q) or the government I was working for".
Even members of the civil society were not spared. She lashed out angrily, saying, "that otherwise [they] go to lengths to point out injustices [but] remained quiet [in her case]."

"How long will we [women of Pakistan] have to take this nonsense," asks Bakhtiar. The answer lies somewhat in Rukshanda Naz's worldview. "However, liberal our men maybe, there is a beard in their stomachs when it comes to their own home and women," says Naz, who is the resident director of Aurat Foundation's (AF) Peshawar office, the capital of North West Frontier Province (NWFP), one of the most conservative provinces in Pakistan. "We are not ready for real emancipation because our men are comfortable seeing us in the role of homemakers," she adds.

This view was validated by the Islamabad-based Lal Masjid (Red Mosque) cleric, Maulana Abdul Ghazi. "By blindly following the West and asking women to find work outside their home, we are disturbing the natural system," he says.

According to Ghazi, women in Islam have it really easy. "Unless there is a dire economic need, women are not supposed to work outside. They already have a very responsible task - taking care of the children, which an 'ayah' (nanny) cannot do. And if they have to work outside, they must observe 'purdah' (the practice of observing the veil or 'burqa'), limit their interaction with male colleagues or better still work in a segregated environment." The only concession he gives to women is that they should attain maximum education, but then again he does not find it necessary for them to put that to any constructive use.

Counters Anila Qamar, Director Programmes, Khwenda Kor, a women's organisation working in the tribal areas of the frontier province, "This attitude is really taking us so many years behind. How will we ever progress if we leave 51 per cent of our population behind doors, or do not involve them in a political process?"

Of the many instances of strange decrees against women's rights, the most recent onslaught would be almost laughable had it not been tragic. A hard-liner cleric, Haji Namdar of Amer Bilmaroof Wanahi Anilmunkar (ABWA) in Bara Tehsil of Khyber Agency, one of the seven tribal principalities in NWFP, has proclaimed on his FM radio station that all women working for Non-Governmental Organisations (NGOs) would be captured and married off if found working. "NGOs want to spread obscenity and vulgarity through their women workers in our area. Their aim is to weaken the basic belief of Muslims," he is reported to have said.

In view of the eminent danger, several NGO women staff, working in the health sector, especially women vaccinators - vital in rural areas - have been replaced by male workers in Bajaur, a neighbouring principality. Also, some 70 government-appointed lady health workers reportedly resigned after sermons in mosques termed them "sinful" women.

But it is not just the health sector that bore the brunt of such a harsh view. A few months ago letters were issued to girls' schools administration in other cities of the NWFP asking the girls' students, even those enrolled at the primary level, to observe 'purdah'.

However, this creeping 'talibanisation' is not just creating ripples in the tribal belt bordering Afghanistan. It is now making inroads into the big cities. In February this year, 36-year-old Zil-e-Huma Usman, the provincial minister for social welfare in Punjab and also a women's rights activist, was shot dead in Gujranwala, while addressing a political rally. Her assassin, a bigoted cleric was reportedly enraged by her refusal to abide by the Islamic dress code and also had a dislike for the involvement of women in political affairs.

In May, Razia Sultana, an associate professor of the history department at Islamabad's Quaid-e-Azam University (QAU), was hit on the head by a man who said he had been instructed by God to punish women who do not observe a proper dress code. She is among the few teachers at the QAU who do not cover their head.

Even though these incidents of extreme violence against women may be disturbing, Anis Haroon, Director, Aurat Foundation, does not find them startling. "It's not a new and sudden trend. The seeds were sown when Pakistan got involved in the training of the Taliban. We are now only witnessing the results of this by way of propagation of their (Taliban's) moral code and enforcement of the Shariah (Islamic law)," she says.

The issue, says Haroon, can only be resolved if the government "takes a strong exception to this". But "their double policy game, of, on the one hand encouraging these extremist elements (by not doing coming down hard on them) and on the other, talking of moderation, is more dangerous."

Naz endorses the same view. She says, "It's so much easier to terrorise women by setting this trend." Terming Huma Usman's murder a 'political murder', she says the biggest tragedy is that there is no serious effort on the part of state to control these miscreants. Even at the policy level, because the mindset is patriarchal, women's issues are never given priority. According to her, what is required is a mass movement against these extremist forces. "The time seems just right but perhaps not for the men."

"This discussion has to come out of our drawing rooms," agrees Haroon. "It's just not enough to be talking and it's not a women's issue alone. Did you see how the Turkish people came out in hordes to support the secular system? Where are our people who talk of empowerment and enlightened moderation?"