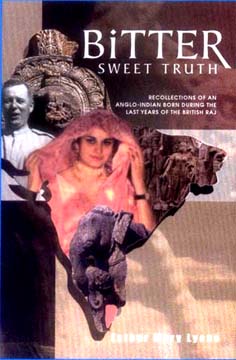 India through American eyes

Here's a genuine description of what India meant to the average American in the early part of the twentieth century. Towards the end of 1927, when Michael DeLisle Lyons (the author's Dad) informed his parents of his decision to go to India as an American Jesuit missionary, his mother, Bertha, spontaneously remarked, "But Meno, India is so far away! I am told that the country is full of wild animals; tigers, leopards and elephants. The wild animals and poisonous snakes roam the streets everywhere." Michael's assurance to his mother is equally amusing. He tells her, "My dear Mama, it is not as bad as that. The British have made the place much better than what it was before. They need missionaries to convert the pagans in India. I must save those souls and bring them to the Lord. The Jesuits have promised to take care of the missionaries' families, while we serve in India. Don't worry about me, Mama, God will take care of me, just pray and have faith."

Conversion of Hindus to Christians in Bihar and UP

This is indeed a very courageous attempt by the author Esther Mary Lyons. Full marks to her. Not many writers will have the guts to admit in so many words that one of the covert motives behind the Jesuit missionaries providing good education and so-called free social activities in India is conversion of Hindus into Christians. The focused objective of saving the pagans, the sinners and bringing them to the Lord Jesus Christ for cleansing of their souls.

The book mentions that the missionaries found it quite easy to convert the starving poverty-stricken "untouchables" into the Catholic religion by tempting them with free meals and the grant of just one rupee per person! Sometimes one wonders if the sporadic vengeance wreaked on the Christians in India is really justified or not. Not surprisingly, there are so many diehards in India who still support the "Hindutva" philosophy of the Bharatiya Janata Party and the Shiv Sena!

Before taking up his position in India, Father Michael Lyons had to his credit a detailed article printed in the Physics Bulletin of the American Association of Jesuit Scientists in St Louis, Missouri entitled "Plan to utilize radio to hasten the conversion of Asia". In this article he suggested and gave detailed plans on how one billion inhabitants in Asia could be converted to Christianity much quicker if radio broadcasting could be used to propagate the benefits of the scheme. He suggested that radio stations should be erected at St Mary's School, Kurseong, near Darjeeling, Shembaganur in Madura district and the Catholic School in Agra district. He also suggested targeted sites in China, Japan and the Philippines. Under this scheme, Kurseong would be the first because it was the center of influence for Bhutan, Nepal and Tibet. Very far-sighted and strategic result-oriented thinking, no doubt.

Sari burnt to ashes

The bittersweet relations between the author's Hindi speaking Mum (Agnes Shah from Latonah village in Santhal Parganas in Bihar) and her Aunt (Natasha) meanders through almost the entire autobiography. Sometimes they stoop to the lowest levels. What abject poverty does to people! When the author's Dad lovingly sent a sari to her Mum in the younger days of their lives, Aunt Natasha got very upset. She expected one too in return for looking after Agnes and her two children. When Agnes offered the sari to Natasha, she hollered "Why should I take what he sent for you only? All I'm saying is that you are all ungrateful and thoughtless." This remark got to Agnes's head. She ignited the new sari with a lighted match and asked Natasha "Here, will this satisfy you?" They all stood mute witnesses to the burning of the sari to ashes. A truly poignant scene, well written by Esther Mary Lyons.

And a little later another heart wrenching scene vividly narrated. The author is only five and a half years of age. Uncle Eddie drags Agnes, her mother, by her hair and shoves her head into the hot charcoal fireplace one day. Uncle Eddie is tall and heavily built but Agnes is slender and petite. Neither Uncle Eddie nor Aunt Natasha believes that Mino (the author's Dad) did not leave back any money nor sending money for the maintenance of his family. So Uncle Eddie gives Agnes a knife and asks her to take her own life so that the burden of looking after her will be removed from Uncle Eddie's shoulders forever. The children can then be sent off to the Christian orphanage. Little Minnie (the author) rushes to her Mum, grabs the knife pointed at her throat and pleads with her not to kill herself because "she was all I had". She starts bleeding. A dramatic scene indeed.

When realization dawns on them, Uncle Eddie and Aunt Natasha both say sorry and stop Agnes from taking her own life. Agnes tells them "I told you he left me no money. He said he would send some, but he hasn't and I haven't had a letter from him for some time. I don't know where he is." Little Minnie missed her Papa so much that day as she will many times over and over again in the years to come.

In 1946, Minnie did not receive her sixth birthday present from her Dad. Nobody appeared to know where he was. It was a mystery. The schools remained closed for a long time due to India's struggle for independence from the British Raj. There were clashes between the Hindus and the Muslims. There was talk of separate states for the two neighboring communities.

The family decided to move out of Saharanpore because of the riots between the Hindus and the Muslims. They were killing each other. The Christians were spared - identified by the crosses painted on their doors and the roofs of their houses. The description of the luggage being packed in boxes as opposed to suitcases, the journey to the station by tongas rather than cars and the first experience of trains in the olden days where there were more people than berths in the third class sleeper coaches are brilliantly narrated. Somehow the family escapes persecution by fleeing to the salubrious Himalayan ranges of Kurseong, near Darjeeling, in today's West Bengal.

About the men in Minnie's life

Esther Mary Lyons addresses her adolescent years with utter transparency. She is characteristically candid about her first period pain believing that she was dying of tuberculosis or something. Her Uncle and Aunt magnify the agony of her profuse bleeding. They deem fit to trivialize the extraordinary predicament of hers by having a good laugh at her expense! Poor child. Somebody owed her an explanation for sure. Instead Aunt Natasha complains to Agnes "She needs some instructions on development from a girl to a woman. Minnie is so stupid. She spoiled the holidays for my children with her tales of dying."

The book details a lot of male advances made to the author, both by Indians, whom Uncle Dick considered below him, and also by Anglo-Indians, who were considered superior by the British. Minnie discussed Indian films in Hindi with Padma. Padma's second oldest brother, Mohan, slept over at their place when Uncle Dick was away because Aunt Natasha was afraid of sleeping in the house with four girls until one day she froze when she felt Mohan's hand groping her small breasts. Mohan looked a bit like the Indian film star Dilip Kumar. Then Cajeton, Aunt Natasha's brother from Bettiah in Bihar, who befriended Minnie and then told her "Well, if a thing is in the market for sale then why can't I also make an offer for it!" They became good friends until one day Cajeton got her into trouble with her Aunt and Minnie decided she could not trust him any more.

Then there was Dolly's brother Stanley, a South Indian Christian, who expressed his love for Minnie openly by writing "I love Minnie" in Hindi in red chalk and got himself into serious trouble. Around the same time Uncle Dick started kissing Minnie and her sister Violet in a very peculiar way whenever he found them alone. "He would put his grubby, rum-smelling mouth on our lips and push his slimy tongue right inside our mouths. Then he would pat us on our cheeks'" Eventually, Uncle Dick, 57, proposed marriage to Minnie, 15, before going away to England permanently before his death.

Papa disappears for more than 20 years

Bitter Sweet Truth is quintessentially the heart-rending story about a beautiful and innocent Anglo-Indian girl's relentless craving and search for her beloved Papa in the USA. Father Michael Lyons fell in love with Agnes while working for the Jesuit missionaries in Bihar. They had two children Minnie and Violet. Father Lyons tried to give up his priesthood and lead a family life. With that intention he moved from place to place and even went to Delhi to settle down there. But he had two problems. The church wouldn't let him go and so would catch up with him wherever he went. That spoilt his chances of getting a job. Also, it was a tough job market during those times. He went back to the USA briefly but in the meanwhile lost contact with the family due to their constant movement from place to place. He kept sending money to Patna Bishop Wildermuth who never divulged his whereabouts to Agnes during her several meetings with the bishop. He did not even pass on the money, which was being sent for the family.

Connections with the FBI and CIA

Father Michael Lyons later became one of the two men in the world who knew how to extract Beryllium and Plutonium used in triggering mechanisms for nuclear weapons. He resigned from the priesthood and received dispensation. He started The Radio Communications Company and The Beryl Ores Company in Arvada near Denver. He lived as a married man with wife Petronilla, a nurse, whom he fell in love with in the States. He died with assets over a million dollars but willed it to charities and to Petronilla. They had no children. The FBI, CIA and the Federal Economic Administration knew that he had 2 illegitimate children in India.

Miss Femina Beauty Pageant and Marriage to Naresh

To overcome poverty Minnie started working as a teacher at a very young age in primary schools in north and eastern India. She also became a model for commercial advertisements. She participated in numerous beauty contests including the Miss Femina Contest. She survived a near fatal suicide attempt. She fell in love with Naresh, a Punjabi and a Major in the Indian Army. Naresh deceived her in so many ways so many times. But she still got married to him and had a handicapped child through him due to genetic defects that he had but never told Minnie about. Naresh promised that he would convert to Christianity before marriage. But instead he takes her to the Shiva temple, makes her walk alongside him seven times around the temple and declares that they are married. I found it really funny that Minnie kept saying her prayers to Jesus while they walked around the Shiva temple and begged of Jesus' understanding and mercy.

The book is produced by Parker Pattinson Publishing in New South Wales. Oriental Book Distributors are the wholesale distributors in Australia. It is available at Angus and Robertson and Dymocks for $30.

Bitter Sweet Truth is a highly recommended read. Very few autobiographies are written with such candor, artistry and intense passion as Bitter Sweet Truth. Esther Mary Lyons has packed her story with unbelievable details and weaved an intricate and emotive plot with consummate ease.