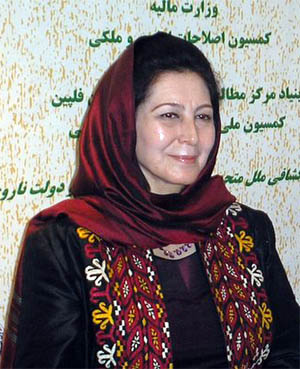 Hussn Bano Ghazanfar is no ordinary woman. Exuding tremendous grace and authority, she is the only female minister in the Afghan government. She epitomises countless Afghan women - intellectuals, professionals, leaders and activists - who had become invisible during the five-year reign of the Taliban when women were banned from public life, but who are now participating wholeheartedly in rebuilding their country.

As Minister of Women Affairs, Ghazanfar recently led a study mission of five to Manila, where she met with Filipino officials to gather ideas on how to implement the 10-year National Action Plan for the Women of Afghanistan (NAPWA). The decision to take the study mission to the Philippines was suggested by former executive director of the National Commission on the Role of Filipino Women, Ermie Valdeavilla, who now works with UNIFEM, the United Nations Development Fund for Women, in Afghanistan.
The condition of women in Afghanistan is grim. According to the United Nations Development Programme (UNDP), 90 per cent of adult Afghan women are illiterate, while 75 per cent of the girls attending primary school drop out before the fifth grade. A 2006 UNIFEM survey reported
that violence against women is prevalent, extreme, systematic and unreported. Sexual violence against girls, institutionalised through
"traditions" such as child marriage, is still widespread. Suicide among young women is said to be increasing, a number of them choosing self-immolation to escape the harsh realities of their lives.

Set to be implemented within a year, NAPWA aims to address these issues head-on. It is a product of consultations, spanning two years, by the Ministry of Women Affairs (MOWA) with various stakeholders, and is seen as a crucial step to promote women's rights in Afghanistan.

Drafting the NAPWA was not an easy task - even though the post-Taliban government had ratified and adopted measures advancing women's human rights. "The Afghan Constitution ensures equality before the law between men and women. The government has also ratified key international agreements on human rights, including the Universal Declaration of Human Rights and CEDAW (Convention on the Elimination of All Forms of Discrimination Against Women). But the situation remains because their rights are not yet firmly recognised and respected. We need a national plan to guide us," said Ghazanfar.

Tougher still will be NAPWA's implementation, as in Afghanistan the notion of gender equality has still to take root. "In theory, women's position in Islam - that is, according to the Qur'an and the Hadiths (tradition) of the Prophet - differs vastly from the Islam in practice. The Qur'an teaches that there is no superiority of one sex over another, that men and women are equal. But many of the practices and laws considered as Islamic are unrelated to their Islamic origin or have actually deviated from it and are instead based on cultural and traditional customs.

"These customs are largely anchored on patriarchy and are legislated and enforced by men, especially in tribal villages, where most Afghan women are. Because tribal laws and sanctions have taken precedence over constitutional laws in deciding gender roles, a nationwide implementation of the NAPWA is very, very difficult," explained Ghazanfar, who was earlier a university professor of philosophy and psychology.

One strategic step the MOWA has taken to address the challenges is to have a continued dialogue with the mullahs, or religious clerics, including those from the Ministry of Religious Affairs. "We consulted with the mullahs while drafting the NAPWA. These consultations resulted in positive exchanges between us and we were able to arrive at a middle ground on some issues. It is also crucial that we involve them at the time of implementation. Getting the support of the mullahs is as important as getting the support from parliamentarians and other government
officials if NAPWA is to succeed at all," maintained the minister.

Amidst efforts to secure equal status for women, MOWA has to contend with elements that threaten its very existence - members of parliament and the Taliban. Several parliamentarians want to see the MOWA either downsized or abolished, arguing that it has not been effective or, quite simply, that it is not a good idea to have a ministry that specifically deals with women's concerns. "It is true that MOWA cannot cite many accomplishments. But this is hardly surprising, as it does not have any executive power and nor can it enforce any laws. All it can do is recommend policies to President Hamid Karzai," said Ghazanfar.

The resurgence of Taliban, especially in the southern part of the country, spells bad news for women. In fact, in places where the Taliban has a stronghold it is either destroying schools or murdering teachers, especially those who teach girls. Last September, it shot and killed Safia Ama Jan, MOWA's director in Kandahar province, for her efforts to educate women and girls. According to UNICEF estimates, more than half of the around 700 schools in the four southern provinces of the nation no longer provide any education to girls.

In the face of such extreme dangers, Ghazanfar said, MOWA continues to persevere in focusing public attention towards women's issues. Health services for women, education for girls, livelihood opportunities and violence against women, issues that, at one time, were not acknowledged are now being brought to the notice of ordinary men and women and discussed at the highest level of government.

According to Ghazanfar many women have started coming to the MOWA office for assistance. "On the one hand, this means that more women are now ready to seek help in addressing their problems. But it is also very frustrating that MOWA cannot give them all the help they need because we are not mandated to give direct services," she said.

Reports coming out of Afghanistan hint at some improvement in women's lives. After the fall of the Taliban, many women in the capital Kabul went back to work in schools, hospitals, government ministries and international humanitarian agencies. In 2005, thanks to a quota system imposed by the international community, women took more than 25 per cent of the seats in the lower house of the new parliament. These parliamentarians not only sit side by side their male colleagues, which is generally forbidden in a segregated society, they actually rise to argue with them during parliamentary debates.

In the streets of Kabul, at least, many women no longer wear the 'burqa', favouring instead business jackets, long skirts and headscarves. Recognising that education is the key to improving the lives of Afghan women, the international community has invested in education projects, such as building schools, printing textbooks, teaching teachers, and organising literacy classes for women.

These developments, while giving Afghan women hope and encouragement, are also misleading. The fact remains that securing women's rights and defending them is still a struggle. But then what isn't a struggle when it comes to the lives of Afghan women? Ghazanfar believes that as always, the inner strength and courage of Afghan women will help them change the harsh realities of their lives.