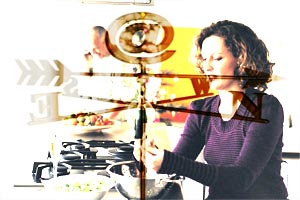 Click! Anu slowly put the phone down. It was all over...looking out at the distant hills out of the window, Anu let the sob escape her...

Raj and Anu had begun their life together 20 years ago, on a bright summer day. The world seemed to belong to them that day! Their lips could not do justice to the happiness they felt in their hearts, their eyes could not capture the love they shared.

"Anu, where is my phone" - Raj was frantically searching for his wallet and his cell phone. "Clumsy as usual" - thought Anu. When will this mamma's boy grow up, and what would he do without me:). She found both the things buried in the folds of their leather couch, and put it in her hubby's pocket. Raj was out of the door before she could bat an eyelid - late for a meeting as usual!

The first anniversary meant a lot to both of them! Raj ensured he got her the right color of roses. He even remembered to buy her a book from her favorite author. Anu was simply thrilled.

"Anu, where is my laptop now?"- Raj was irritated. The house never looked the same anymore. Anu had begun to work, and did not have much time to make a museum of it like she always had done before.

"Anu, wake up - quick". She was startled. Raj was shaking her to wake her up. She glanced at the clock. It was 2 AM in the morning. "What happened Raj?' He sheepishly grinned, "Nothing Anu, I just had to talk to you - I have so much going on. How about we chat with a cup of coffee on the patio?' At 2 AM? Then she grinned - he is such a baby, she thought.

An unplanned vacation, a stolen day off from work, a quick lunch together - they managed to spend their life as much as they could together. Even did laundry together. Had to be together you see :)

"Anu, where is my suitcase. I need to fly out in the next 4 hours to the company head quarters in Singapore". A trip? on the fly? oh well, she knew Raj. Everything was so spontaneous. The next two days flew by with no news from him. Then a call from the airport - "Anu, I'm coming back. There has been a change in plan". She quickly cancelled her plans to eat dinner with a friend. Wanted to be home when he came back, tired from a trip. Her friend was mad, but she couldn't do much.

Years rolled by, Raj was one of the few important people in his company now. Birthdays and anniversaries came by and went, but there was never time to celebrate them anymore. Flowers and mid-night coffee chats had been long forgotten.

"Anu, where is my.... forget it , I found it myself". Raj stormed out of the house. Late for a meeting. As usual. "Raj, I need to talk to you...". He was gone. They had to talk about selling one of their houses in their hometown, and it was an important decision to make. She couldn't do it alone. Later that afternoon, she called him at work. She suddenly remembered something about one of his relatives, and the way he said hello into the phone, and just to pull Raj's leg, she said it into the phone, and began to laugh. "Anu, I'm busy - tell me quickly - else we could talk later. I do not have time for silly jokes..." The phone went mute. She felt something rip through her. What had all this come to? What was more important in our lives than to share a laugh together?

They also had the battle of infertility to fight together. They had been trying to have a baby for over six years now, and it had turned into her struggle somewhere along the way. The disappointments, the reports, the tests - it was depressing.

That week, she went to their hometown. The beautiful little house amidst the mountains worked their magic on Anu. Two days of taking walks all by herself, listening to the sounds of nature, did it! She felt the calm, and just standing by the monolithic rock by the winding path, she made her decision.

Raj picked up the phone and barked into the receiver "Yes Anu, where on the face of the earth are you? who is going to take care of all these bills, and the house if you go away on your vacation? I don't have the time - I have better things to do" . The world will stop without me - Anu silently added to his sentence inside her mind. All she said into the phone was "Raj, I'm not coming back ' ever". There was silence. Absolute pin drop silence. "What? You are kidding right?". She just said "No"

She had done it. Simple. Straight. There had been no arguments, no fights, and no nothing nasty ever. And, everything they had painfully built together was over - just like that, in a minute! Vanished into thin air! They had nothing to share anymore.

The coffee brewed, and the aroma of it wafted through the house and into the little garden behind the house. She poured herself some, and sat by the staircase. Tried to force herself to drink a sip. No, couldn't. Raj loved coffee. She couldn't get herself to drink even a sip of it in the last month. Since the day they had their little phone conversation.

Every little thing went back to Raj somehow. The walks, the coffee, the food, the TV, the books, the rainbows in the mountains, the rain - everything simply reminded her of him. It was simply unbearable.

If he had meant so much to her, why could she have not compromised a little more? why had she wanted her freedom? To do what? Is it that something or someone just grows on you and finally becomes a part of you and your life unknowingly?

It was funny, she thought. You fight through all the odds till you get what you believed would be the solution for all of your problems, and then once you get it, turn around and again fight till you get rid of it. Will we humans be ever happy? Always running behind something we don't have...

"Anu, where is my coffee.." Raj was stunned by the silence that echoed. He was so used to having Anu mother him, take care of him and anticipate his every need. It had all seemed so unimportant at that time. All that had mattered were the profits of his cost center, his company - the charts and graphs. The food, the home she kept, the very things he so took for granted were all long gone. She had silently stood by him, at all times. And now had as silently retreated away, taking away his world with her. He slumped into the sofa, and thought, "What had gone wrong?" The smiles, the laughter, everything ' sacrificed for what?

The sunset was amazingly beautiful! Anu stood there watching it for a long long time. Everything in nature seemed to be so calm, so contained and so uninterruptible. Sunsets were especially beautiful when you shared it with someone you cared, she sighed. In a mad moment, she wished Raj was here - right next to her. What was wrong with her, she was the one who ran away from him, their life together. And now this? Maybe she had carried things too far, and expected too much from him? But again, was it wrong to expect him to laugh with her once in a way; was it wrong to expect him to pamper her once in a way? Whatever it was, the painful reality was that her life was destined to be with him, he was a part of it, and was meaningless to her now without him. She felt lost - he was her true North!

Everyone of us have something or someone that are our own pivotal points - it is all about finding it or them - finding our own true North !!

She heard a car park in front of the picket fence. Raj came into the yard, and into the house. He stood hesitantly at the door. She had a question in her eyes. He simply said, "I've come to take you back". She thought - Can't you say you missed me? Can't you say I'm everything, instead of being so plain. So, practical in every expression? She laughed! Why was she such a dreamer? why did she expect all this. This was him. Simple, plain and practical. And, she knew he was her destiny - there was no other way to it.

She packed, and she was on her way ...back...headed North...with her true North.