Lives of twenty great exponents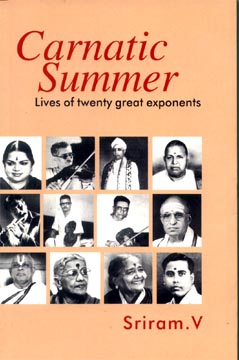 Youngsters spring pleasant surprises on us as much as they frustrate at times. The present day Carnatic music scenario is absolutely owned by the younger generation. It is, in fact, a gratifying development as the field of Carnatic music was at its lowest ebb a decade before.

The singers are young, the percussionists are bright even the writers and columnists are refreshingly of new generation. Because of this, the views are more appealing and candid.

I have been reading V Sriram's columns in The Sunday Express, in www.sangeetham.com and also his quite informative sleeves of Charsur Digital Workstation's compact discs and cassettes. For a MBA graduate in his late thirties to develop skills in writing that too on classical Carnatic music of Southern Region is something unique and exceptional. I am pleased to find the qualities I referred in my earlier paragraph in V Sriram's writings.

There is a culture in Indian writing on personalities and luminaries is that he /she should be eulogized and only the best side has to be highlighted. But, in reality, human beings are made of several qualities; good, bad and gray. These apart, generally artists are highly moody, finicky and sensitive. Their lives also have phases of turbulence, happiness, fame and depression. There can be zenith of popularity as well as depths of disapproval and stages of stagnance. Sriram's strength in writing is bringing all these without fear, favor or bias. He had never glossed over the shortcoming any artist in his book.

Sriram has described every musician (there are 20 of the top rankers in the book) with his/her strengths and weaknesses without prejudice. It was not an analysis per se but an unbiased anthology of several stages of the famous musicians' professional and personal lives. Some of the traditionalists may raise their eyebrows when reading Sriram's comments on Ariyakudi Ramanuja Iyengar's niggardliness or his special preference for Dhanam, GN Balasubramaniam's extravagance, or Brinda-Mukta's limited expertise in raga expositions, niraval and swarams, MS Subbulaskhmi's difficult days during her early years. But Sriram's expressions are more empathetic and neutral than offence.

Sriram's neat presentation makes us understand the difficulties in being a public figure and artist. It becomes evident that not every musician's life was a bed of roses; they too had difficult and testing times and emotional and physical breakdowns. The reader of the book should appreciate Sriram for collating a lot of authentic details with perfect references on the art and life of the popular Carnatic music personalities in the modern perspective of writing.

'Carnatic Summer' deserves a buy and reading both by music and book lovers. It provides the climate of Chennai, hot, sultry, pleasant and breezy.