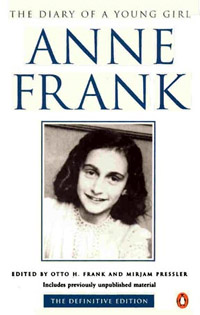 Anne Frank and her sister Margot did not know how much their father loved them. The two teenaged girls and their mother died in Nazi concentration camps, while their father survived and was liberated by allied troops from Auschwitz in January 1945.

Anne Frank's diary of the fearful experiences her family faced hiding for two years in an attic in Amsterdam, while the Dutch capital was under Nazi occupation, was published after her death as The Diary of a Young Girl.

The diary personified the horrors the Nazi authorities inflicted on European Jews during World War II, but little had been known about Otto Frank's hopeless and desperate attempts to save his family from Nazi persecution and ultimately death.
Heart-breaking correspondence and other documents detailing Frank's attempts to flee the Netherlands are now on display for the first time at the Centre for Jewish History in New York.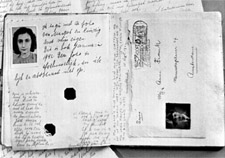 On April 30, 1941, Frank wrote a letter to a rich friend in the US, Nathan Strauss, an heir to Macy's department stores, asking for a grant of $5,000 to secure visas for his family to the US.

"I am forced to look out for emigration and as far as I can see, US is the only country we could go," Frank wrote in the letter now on display at the museum. "Perhaps you remember that we have two girls. It is for the sake of the children mainly that we have to care for. Our own fate is of less importance."

Frank said he had tried to emigrate to the US in 1938, filing papers with the US consulate in Rotterdam. But for unexplained reasons, the documents were destroyed. He would not be able to visit the consulate again in 1941 without an introduction, a money deposit or an affidavit of support from the US.

"As far as I hear from other people it might be about $5,000, for us four," the letter to Strauss said. "You are the only person I know that I can ask: Would it be possible for you to give a deposit in my favor?"

Parts of the letter were blackened out to safeguard copyrights or references to other people the Franks may have had contact with.

Strauss replied and tried to intervene with the US Housing Authority, whose director, also an heir to the Macy's fortune was a friend of first lady Eleanor Roosevelt.

The correspondence between Frank and Strauss continued for months. But the US was tightening immigration rules to counter an expected massive flow of refugees fleeing Europe.

The letters and documents totaled about 80 pages and were discovered in the archives of the YIVO Institute for Jewish Research in New Jersey some 30 years after they were sent there for safekeeping.

Frank's love for Anne and Margot was also recorded in photographs he took of them with his Leica camera at each stage of their lives. Professional photographers in recent years have said the images, recently published in albums, were taken with an impeccable eye for detail.

After taking refuge in the Amsterdam attic in 1942, the elder Frank never realized the fate awaiting them after Nazi authorities in the Netherlands decided to send Jews to labor camps.

The documents displayed in the Jewish centre date from 1941 to 1946 after Julius Hollander, the brother of Frank's wife Edith, was able to locate Frank who by then had returned to Amsterdam. Hollander lived in the US.

Frank's papers were turned over with tens of thousands of other documents to YIVO and were only discovered in mid-2005 by a clerk who helped index files to make them accessible to researchers, said Carl J. Rheins, the organization's director.

"With the release of the file, the plight of the Franks becomes even more poignant, since the family was unable to escape even with the help and support of a prominent American, Nathan Strauss," Rheins said.

In his letter to Strauss, Frank promised the rich American that his money would be returned.

"I may assure you that in case you should be able to help me, I would not touch the money as I feel still young enough to work and I trust that I shall find means to get along," Frank said.

But while he appealed for the money, Frank had a premonition that the Nazis would catch them before Strauss would receive the letter.

In another letter dated Sept 8, 1941, Frank informed Strauss that he had learned Cuba would grant US visas. But he would first have to travel to Spain to apply and then travel on to Cuba to obtain the visas.

Frank told Strauss Edith wanted him to go alone or with the two daughters because she felt the difficulties to leave Amsterdam appeared insurmountable. Frank said he was ordered to liquidate his business in Amsterdam and would be without work and means of living.

"The situation is getting more difficult every day and you can imagine that I am anxious to get your further news as I know that I shall never be able to leave without your help," Frank wrote.

Frank did receive a single visa from Cuba in the name of Otto Frank on Dec 1, 1941. But Pearl Harbour was attacked on Dec 7 and the US declared war against Japan. On Dec 11, Germany and Japan declared war on the US, and Cuba then cancelled the visa.

The next year Nazi authorities in the Netherlands began sending Jews to concentration camps and the Franks took refuge in their attic. The exhibit runs through March 20.