Jyoti Sanyal's Indlish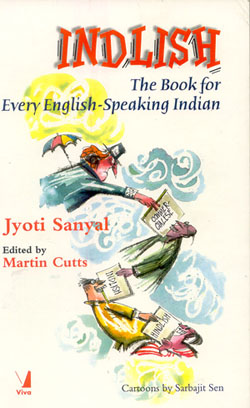 Indian writing in English never had it so good; today we find several new titles by the Indian authors directly or indirectly indicating the market for Indian English world over. Nevertheless, there is this book by Jyoti Sanyal on
Indlish
that speaks on the
flatulence of English
Indians write and speak. These were his articles published in The Statesman to bolster his plain English campaign. They are strong criticism of the poor status of Indian English writing by the journalists. Sanyal targets the East India Company rule in India, the Victorian language and the mother tongue hangover of the Indians for the poor standards of Indian English.
The author amply justifies his allegations through examples from newspaper reports, letters, articles etc. Sanyal wants the reporters, editors and writers to do only one thing: follow plain and simple English, without circumlocution, pleonasm, redundancy and tautology. Sanyal hates clutter of words, which convey hardly anything more than required. He points out wrong usage of several English words. Most of the time his corrections of incorrect sentences make the communication simple and straight-forward.
The book with all its good intentions carries negative aspects too. Sanyal's tirade and fuming in every chapter on the East India Company and the Raj, after a point, get on the nerves. If we have resort to ?his' language, it is redundant. His obsession to criticize the officialese turns overkill. Language is a vehicle for communication. As long as someone communicates what he wants it has to be acceptable. The influence of one's mother tongue is unavoidable as I have come across the English of American, German and French carry their drawbacks. In his pedantic discourses, some of his references on Tamil equivalents are incorrect and even absurd in certain places.
The book's back cover states Jyoti Sanyal as hot headed, choleric and impatient. Those who read this book could easily vouch for it apart from learning how to write plain English. A slick editing of the chapters by elimination of too many wrongly written passages as examples would have done better.
Cartoons by Sarbajit Sen are quite enjoyable.