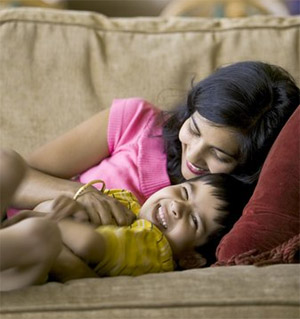 When I was pregnant with Raj, I turned into a beached whale. I got fat, fat as fat could be. The centre of gravity had a hard time keeping up with my fatness. Because I was disproportionately fat in the middle part of my body, whereas the top and bottom remained almost the same, at the bottom were two scrawny legs topped by two hip joints that tended to splay. That made me fall. In very inappropriate places.
Once it happened on the street when I was about to cross in the green light, and once it happened in the hospital hallway, the doctors rushed towards me to offer me helping hands. I had to reassure them that I was not sick, only pregnant.
I was aware; the child that grew inside me was happy and content child. How did I know that? Because he played tabla with his heart beat, as well as with his feet. Just not simple rhythms, but also complicated ones. He placed his heart right against my belly wall and played tabla. I enjoyed it. I considered the drumming to be a gift from heaven and accepted it happily but Raj was too big for me, too rambunctious, that was why I turned into a beached whale.
I lay down wherever I could. On the back-seat of the car, on the couch, in bed, even on the floor, wherever there was a flat surface I lay down the child in my belly made me do that. He always made me take the easy way out. When I ate a banana my unborn child played tabla even more vigorously. He did the same thing when I ate sweetmeats (sandesh). I consumed sandesh in large quantities when I went for a visit to Calcutta. As a result, during my visits to Calcutta a concert performance of tabla was incessantly in progress in my belly. That was how I knew my yet unborn child was a lover of banana and sandesh as well as dancing and playing tabla.
Obviously my unborn child had a mind that enjoyed the good things of life.
By now the beached whale had turned into a recluse, because of always lying down, I couldn't visit others, neither could I receive others at my place. Finally when the labor pains started very gladly I went to the hospital. To be exact, to McMaster University. In the meantime I had noticed, there had been a change in the hair-style of young men. They had started wearing their hair in spikes. Whenever I saw a young east-Indian boy wearing spikes, I gawked at him, no matter how inappropriate that looked, since in my heart I was sure someday my fun loving son would wear his hair in spikes. Oh yes, I forgot to mention, by now from an ultrasound I had come to know that my unborn child was a boy. Besides the test result, even from the wild behavior of the child, I had concluded that it had to be a boy. There was nothing lady-like in the child's behavior.
After my arrival to the hospital, my doctor told me, I was still a long way away from labor. What can I do to hasten it? I asked in a pleading tone. He pointed at the very long hallway and said 'if you start walking this length, then in four hours the contractions might get really strong'. I was ready to do anything. My husband asked me, 'do I have to walk all the time with you?' there was panic in his tone. I answered him in a clear tone, no, you don't have to, I am going to deliver the baby, and I shall walk alone. I started my four hour long walk. True to the doctor's words after four hours of continuous walking my pains were way stronger, though not unbearable.
Once again I asked the doctor, what can be done to hasten the process? He said, 'let me take you in with a double set up'. 'What is a double set up?' I asked. 'I shall take you in the operating room, so that you can deliver vaginally, or if needed the baby can be delivered by caesarian section'. Immediately I got worried. My fun loving son wouldn't enjoy a C-section delivery, a male doctor's sausage fingers tugging his head out. He would rather enjoy a push and pull, a real duel tug-of war with his mother. An intravenous drip was started, medication was given, and soon my pains reached the unbearable level. Then our push and pull, push and pull, tug-of war commenced. Both of us, my son and I, won. He was delivered vaginally. Shortly prior to his birth, my doctor told me, 'now you can see the baby's head'. There was a mirror, across from my bottom. I raised my head a wee bit to see the head instead what I saw was a bunch of spikes.
Even the Almighty had to do a special hairstyle for my special baby, I concluded. Where did the Almighty get the gel from? I couldn't help wondering. Perhaps from Shopper's Drug Mart, since that's where I bought my cosmetic necessities from.
When Raj started to talk I asked him, 'out of all the millions of mothers in the world how did you choose me as your mother?' He sat down on a kitchen chair with his legs folded, there was a sly smile across his lips. That was the way he always sat and looked when he was about to tell a story. I sat down in the chair next to his. He started telling, very slowly, in a low pitch, as professional story-tellers do. He was not yet four, but almost a professional story-teller. He said, 'from heaven we, all the babies, arrived at the Pearson International Airport, (this is the airport in Toronto, the closest international airport from our residence). The air-hostesses gave each of us, the babies, a Sear's catalogue. Believe me, Mom, back then the catalogues were filled with pictures of mothers. Rows upon rows of pictures I looked at each picture, intensely, and found your picture to be the nicest one. Do you know why? Because your smile was the brightest and your eyes sparkled the most.'
At the end of the story we always had the closest hug we've ever had.