Even as the Government of India aims to reduce maternal mortality across the country by encouraging institutional deliveries and other schemes through the National Rural Health Mission, 2005-2012 (NHRM), in Uttar Pradesh, the most populous state of the country, only one out of 100 women gives birth in a hospital or government health centre.

Fortunately, more women are gradually becoming aware of the benefits of institutional deliveries, and the fact that hygiene and sterilized equipment can make a difference to the life and health of both mother and child. So much so that rather than relying on the skills of the untrained - albeit traditional - midwives, some village women have now taken on the role of the local midwife in times of emergency.
Some 80 kilometers from the state's capital Lucknow, women of Kasmanda block in Sitapur district have been trained by volunteers of Rahi Foundation, an NGO, to not just take care of the pregnant women in the area but also to conduct emergency deliveries. This training has been imparted with support fromVatsalya (another NGO), which runs the Sajha Sakshamtaprogramme that promotes maternal health and garners community support to ensure the safety of the mother and the newborn.

"Earlier, a large number of newborns were dying in our village due to infection. Often, even in the deliveries that were conducted at the primary health centre, the newborns caught infection and died. There was complete lack of awareness on the importance of using clean blades, ensuring delivery in a clean environment and also, using new clothes for cleaning the equipment," says Savita, a local, who became a trainer and coordinator with Rahi Foundation.

As a part of the training, the women have been informed about the importance of hygiene during deliveries with the help of posters and charts, demonstrations on dummies and short films. But, as recently as a few months ago, despite the efforts of the NGO, women preferred to take the help of midwives or go the local health centers for deliveries.
However, a recent incident brought about a remarkable change in their outlook.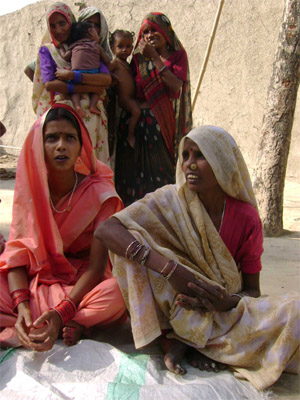 Since Ramdei (45), from village Jallabad, delivered her grandchild at home in April this year, many in the village have been inspired to follow her example.

"When Savita 'didi' used to come and tell us about conducting deliveries, I used to take the training sessions very lightly. She informed us about the ways in which we could ensure proper sanitation, whether the delivery was being done by a trained 'dai' (midwife) or an untrained one. But I never knew that someday I would have to conduct a delivery myself," says Ramdei.

She recalls: "That day, the 'dai' (midwife) was busy with another delivery and even the 'dhankun' (the woman who cuts the umbilical chord) was not available. My daughter-in-law suddenly started having labor pains and there was no one in the house to take her to the health centre, which is around five kilometers away. So, I, along with some other women in the village, conducted the delivery using new and sterilized equipment that was given to us during the training." Thanks to that, the women delivered a healthy baby boy.

Still, she had to wait for the 'dhankun'; because in rural Uttar Pradesh, cutting the umbilical chord is something only untouchables (very low caste) do. "The 'dhankun' had gone to another village. I knew we could not wait for long, so, putting all caste barriers aside, I cut the umbilical chord using a fresh blade," Ramdei says.

However, the villagers did not take the matter lightly. The panchayat (village council) was called and it was decided that Ramdei should be ousted from the community. Before anything drastic could happen, though, the volunteers of Rahi came to her rescue. "Savita informed us about the incident and we decided to intervene," says Sunil Singh, the Chief Functionary of Rahi Foundation. He met with the village elders and told them about the importance of conducting clean and hygienic deliveries. "We also told them that they should not be dependent on a midwife or 'dhankun'. And instead of condemning women who help save lives of newborns, they should appreciate their efforts." It also helped that the women of the village stood behind Ramdei.

Finally, the panchayat decided that although Ramdei would have to pay a penalty, it would be in the manner of a celebration. She was asked to buy Rs 10 (US$1=Rs 40) worth of 'batashe' (sweet made from sugar) and distribute them in the village. And she readily agreed. "Since then, Ramdei has become an example for women not only in her village, but the entire Kasmanda block," says Singh.

Says Dr Neelam Singh, Chief Functionary of Vatsalya says, "Ramdei did an amazing job. When the government system fails to provide proper health and maternity services in the rural areas, such initiatives can at least help in saving the newborns."

To inspire more women to follow her example, Ramdei went around with Savita to other villages in the block. "Some women came to me and asked me to teach them how to deliver a baby, as they had pregnant women in their homes," recalls Ramdei. Several women also approached Savita for training. They are now regulars and try not to miss out on a single session. In fact, in the last three months, women trained by Rahi have delivered four children under emergency.

Officials of the state's Department of Health, however, dismiss these efforts. Says Arun Kumar Mishra, Principal Secretary Health and Family Welfare, "We don't find such training viable."

Experts beg to differ. Dr R. Shukla, World Health Organization representative in Uttar Pradesh believes that instead of spending millions of rupees on services that don't reach their intended beneficiaries, the government should look to improve such models. "The model of community support has always been very successful. If NGOs have succeeded in implementing it here, the state government can always replicate such efforts."