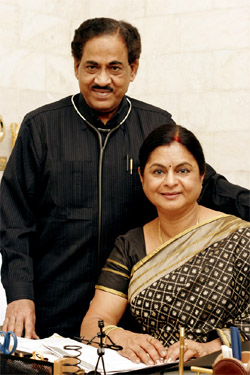 Not many who visit the busy G.G. Hospital and Fertility Research Centre in Chennai, hoping to walk out carrying their baby in their arms soon, would have heard of the childless Chinnamma, Dr Kamala Selvaraj's late great-aunt. Yet such visitors owe a debt of gratitude to Chinnamma. "She was my first inspiration for the path I chose. She never really wished for anything in life because she was childless," recalls Dr Selvaraj, founder-director of G.G. Hospital that has helped scores of infertile couples become parents.

Despite her illustrious cinema background - her father, the late Gemini Ganesan was a legend in Tamil cinema - Dr Selvaraj, 55, never dreamt of the arc lights. "My sisters and I were brought up to think that teaching and medicine were the best professions for women. In retrospect, it seems a good thing that I didn't aspire for a career in films as it would have been short-lived," she says.
But Dr Selvaraj is a superstar in the eyes of couples who are able to conceive thanks to the medical interventions at her hospital. Says software professional Lakshmi Ramkumar, 35, who delivered a baby this year following IVF treatment at G.G. Hospital, "Dr Kamala empathized with our problem and put us at ease, which made the subsequent treatment less traumatic. Along with thanking god for blessing me with the birth of my child, I will always be grateful to Dr Kamala."

Even as India tries to keep a check on its status as the second most populated country in the world, statistics reveal that infertility is a major problem in the country. Dr Selvaraj smiles at the strange paradox. "My hospital statistics reveal that infertility rates have gone up, particularly among software professionals and those who lead hectic and anti-clock (work-at-night, sleep-during-day) lifestyles. The fast-food culture and lack of physical exercise have also contributed to this problem," she adds.

The good doctor's calm confidence is well placed. She has a long list of accolades: She delivered south India's first IVF (In Vitro Fertilisation) baby, better known as a test tube baby, in 1990. In a heart-warming gesture, the grateful and overjoyed parents christened the newborn Kamala Rathnam. Then, in 1992, Dr Selvaraj helped deliver the first Gamete Intra Fallopian tube Transfer (GIFT) twins of southern India. Two years later, India had its first surrogate birth (babies born from embryos implanted in another woman's womb) thanks to Dr Selvaraj. In 1995, she went on to develop the FROOTI technique (Fallopian tube Replacement of Oocyte and Timed Insemination) that mimics the natural process of conception in the fallopian tube.


Thanks to her persistent efforts, G.G. Hospital boasts a success rate of 30 to 40 per cent in IVF, well above the IVF success rate of the rest of the country. The hospital also has a major achievement to its credit: Dr Selvaraj developed a dual procedure by which the eggs and sperms are artificially introduced into the woman's healthy fallopian tube, followed by the embryo's transfer to the womb. With the help of this latest procedure, the success rate of conception has nearly doubled and now stands at an amazing 40 to 50 per cent. But Dr Selvaraj is modest. "As much as possible, I try to stick to the natural process of conception, which is why I have been able to achieve such a good success rate," she says.

Friends and colleagues are more eloquent about her accomplishments. Says Dr K.U. Malathi, a former clinical professor of obstretics and gynaecology: "I admire her brave, single-handed venture into the complex world of Assisted Reproductive Technology (ART) at a time when established hospitals were the only ones considering it."

However, Dr Selvaraj had her share of teething problems. When she first thought of setting up a fertility research centre in Chennai 25 years ago, the idea met with resistance. At that time, not many in the country - including medical professionals - knew about test-tube babies.

The initial struggle involved making a number of trips to fertility centres abroad to glean knowledge and expertise in order to maintain and run medical equipment. "I often wondered if I would ever be able to assemble the expensive equipment required and master the complex procedures that infertility treatment requires," she recalls.

Eventually, the G.G. Hospital came up in 1982, on a plot bequeathed by her father. The Fertility Research Centre followed in 1986. A pioneering facility for ART in south India, the state-of-the-art laboratory serves about 2,300 childless couples every year from India and overseas.

Dr Selvaraj manages to touch the lives of people in more ways than one. Doing her bit for tsunami victims, she provides free re-canalisation (reversing sterilisation) treatment to women who have lost their children and are unable to conceive again because they had once undergone sterilisation. Other causes close to her heart are saving children from sexual abuse and talking about sex education and family planning.

While she enjoys her work, the assisted reproductive techniques can be emotionally exhausting - even for a doctor. In ART, more often than not, more eggs and more embryos are produced and the extra ones have to be eliminated. "Every time I destroy the extra embryos conceived by the couple, my heart bleeds. But we can't allow more than two babies to be born," she says. The delight on the faces of the couples is what keeps her going. Several of these babies keep in touch with her. Kamala Rathnam (now 17) and her parents visit Dr Selvaraj on her birthday. "I wish Chinnamma had been alive to see the birth of Kamala Rathnam," says Dr Selvaraj.

Despite her distinguished accomplishments, Dr Selvaraj's quest for developing better methods to help infertile couples continues. One can be sure that her next target - to set up a state-of-the-art prenatal genetic diagnostic lab - will also answer the prayers of many families.