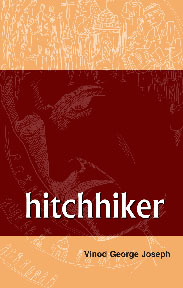 The highest praise that one can give to Vinod Joseph's novel Hitchhiker is that not since R. K. Narayan introduced his readers to the imaginary, but real, world of Malgudi has an Indian writer succeeded in depicting a society peopled by characters that become a permanent part of the reader's imagination.
Ebenezer, the central character in Hitchhiker, lives in a society that is dominated by a fundamentalist Christian church, a transplant to South India from the West, but one that could only exist, as does that of Raju in Narayan's The Guide, in the intricate social structure of South India. In that novel, Raju, explaining his life, says 'I have to play the part expected of me, there is no escape.' Ebenezer tries to escape, but intelligent and thoughtful though he is, his attempts to find another life, are marked by tragedy and defeat. Joseph's achievement, however, is that in the end, in a scene of low comedy, Ebenezer makes a choice that suggests he may escape the moral straight jackets imposed by both Hinduism and Christianity.
One can hope that Joseph will explicate the course of that attempt in a later novel.