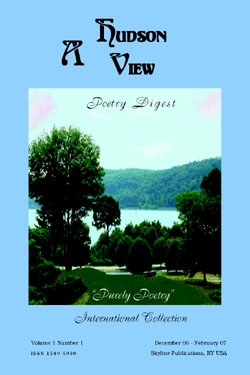 The publishing scenario as regards poetry does not conjure up a very encouraging picture. Publishers in general are rather reluctant to take up poetry publishing. And yet, here we have 'A Hudson View' and its two member team, Amitabh Mitra and Victoria Valentine who are not only willing to take on such a risk but are willing to go even further and boldly publish the first time writer. Their's is a motto which clearly says, 'Publish or perish'.

At the onset, I would like to make my intentions clear. It is not my intention to rip apart what has been put together with as much love and care and devotion as the Creator himself. I am here to help suggest perhaps a few ways in which one can improvise on what is already a great job.

I would not be exaggerating when I say that I am deeply moved by the sincere effort put in by an enthusiastic team with nothing but love and passion for poetry in their hearts. Hudson View is proof that in a world where consumerism drives and aesthetic value occupies a backseat, that there still exist a few oasis of pure undiluted creativity.

Before I move on to the poetry, I must add that the careful thought and choice of pictures and the idea of presenting them in the covers are much appreciated. I especially liked the picture called 'Changing Seasons'.

Deepti Naval had made an impact in the Hindi poetry scene with her book 'Lamhe Lamhe' in the seventies. It was indeed a great surprise and an honor to have her English poems selected by Amitabh Mitra for this journal. Her poetry like her art brings the confluence of images drawn from within, words that have felt hurt and joy and touched on the paper with the masterstroke of a word painter. Deepti Naval's poem "Smita and I" only emphasizes Ramendra Kumar's startlingly contradictory observations in "Memories":
Like henna
From your hands
My memories,
Fading with time.

Like tattoo
Carved on my psyche
Your memories,
Everlasting..
Eternal...
Who can forget the dusky, sultry, passionate and deep thinking woman that was Smita Patil? She has left an indelible impression on our minds.

And the words,
Then,
Without blinking
Without turning
Said,
"There isn't."
stating the simple truth about the flip side of fame will find an answering echo in the heart of every entertainer for whom the line demarcating his or her public and private life has been obliterated and the two have merged as one. It makes one realize how vulnerable these people really are.

A few poems are so many scenes played in everyone's life that I found myself nodding my head in agreement, recalling just such a scene in my own life.
Contemplations on
Existence,
Over
Cups of tea
Through
A haze
Of cigarette smoke.

('The New Intellectual' by Ramendra Kumar)
Others pass me by, in twos and threes
Laughter warms them while I freeze,

('Writing Out" by Shreekumar Varma)
"Everybody Knows A Little Place"

I fumble with keys and the starter struggles
Through a series of diminishing whimpers
in syncopation with my chattering teeth....
How much of poetry is Love? The whole of it, I would say, as page after page after page speaks of one soul imprinted on another, the invisible form made tangible in the whispering breeze, in the fragrance of flowers, in the erratic heart beat, in a name that comes unwontedly to the lips with every breath.....so gentle and fragile an emotion that the words that express it must move oh, so gently, so gently...
We walk
bridges and footpaths,
crossing, recrossing
the river that runs
through our hearts...

(Waterdream)
O beloved this togetherness
is a mirror in which I experience
communion, ecstasy and Love.
With you I am not myself.

(Relationship)
Outstretched arms
That will envelop me
With love
And I will become alive again.

(Journey)
With Love dominating poetry so much, one almost dares a poet to deviate from the common mantra. And I found it in several poems and in one poet almost completely.

Joe Quinn is one such poet

The images he conjures up touch a raw nerve. There is cynicism in his poems laced with the faint awareness of the existence of good things, somewhere, not far away.......somewhere....
eyes still alive
or even more so
but youth is slamming doors
up and down her body.

(Potrait of a girl, Dying)
She never wakes up
but when her eyes are open
and her hands aren't busy
trying to lock doors
she has cigarettes
for breakfast.
Some words are arranged in relentless, lengthy parodies, like the Girl In The Photo, while in some, a few lines say it all, as in Wait For The Ivy (Kellye J. White):
cracks in the wall
mold
you tried to paint it out
but I still see her face
her hair
the line her fingernails bled
under your new
white
wash.
Rajender Krishan is a poet writing in Hindi and English. He lives in New York. A Kabir enthusiast, his poems reflect a deep sense of spirituality that is embedded within ones self since childhood and the environs in India where he grew up.
So really, I throw up my hands in despair. How can I help you improve upon perfection? I draw on all my meager resources, my little experience and my unfailing instinct to guide me so I may do justice to this task set before me.
My guidelines are simple, because what I seek is simple. I seek to understand what is being told and the way it is being told, the presentation. As such, there are poems that satisfy me, poems that surpass my expectations.
And some poems that leave me confused. Jan Oskar Hansen's poem, 'Summer Grass" is one such poem. It is interesting yes - but is it poetry? Can prose divided into lines be called poetry?
Also since the number of lines per page is not equal, it left me a little confused in the beginning. For example, I thought that Deepti's poem "Smita and I" ended at the end of the page and I went to the next page with the exclamation, "Oh, there is some more," on my lips.
Similarly, it took me sometime to realize that there was more than one poem per poet, since there was so much blank space left. Shreekumar's poems are a good example.
In the biodata section, I found that most writers were introduced in the passive voice, while one or two have chosen to introduce themselves in the active voice, which made it a little incongruous.
These are however minor setbacks and can be easily rectified and I end this note with the fervent hope that this delightful endeavor will only continue to grow and flourish with passing time, each copy a separate feel - and in the years to come Hudson View will have carved a niche for itself and remain a wonderful and distinct contribution to the world of poetry.