Changing his dress Jiban got down at the next station. He thought that it would be safer if he could get a doctor's certificate. After a search he found out a charitable hospital nearby and secretly met the doctor in charge. The doctor was found to be very senior in his service and had occasions to face similar situations. His hair had grown grey. He therefore did not readily agree. Jiban also did not expect him to do so. He was ready to bargain.
The doctor said, 'If you want I can give you a certificate of today's date, but it is difficult to issue a backdated one. Moreover, you are totally unknown to me. I don't know where you were before or what you were doing. Don't think it is that easy to issue a certificate.' But Jiban was pertinacious. He must have a backdated false certificate that from day before yesterday Jibanchandra Kundu have been under the treatment of Dr. T.C. Pal. He is ready to pay any amount as 'fees'.
'But it's very risky, you know.'
'I am in great danger, please be kind to me. I need it very badly.'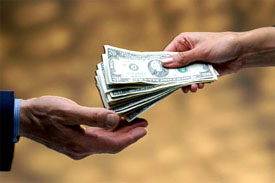 The bargain started from rupees ten and ended up at rupees one thousand which Jiban agreed to pay, for he did not lack money. The doctor noisily cleared his throat and began to twirl his mustache with his fingers. Jiban could sense that the doctor had somewhat softened.
'Are you suffering from any disease?'
'Two years ago I had appendicitis.'
'Did you get it operated?'
'No.'
'All right, then let us operate it now.'
'Is it necessary?'
'Of course it is necessary, you will be cured.'
'But I don't need it, I need the certificate.'
'Why don't you understand, we have to proceed with a lot of precaution. Your admission will be recorded in a register ' we will have to change the register of course ' the operation will leave a mark on your abdomen.' Jiban failed to get it right and the doctor had to explain the whole thing to him. 'Changing the admission register we will get you admitted on day before yesterday. That means I will have to pay something to my assistant and the dispenser. I can't do it alone. Please try to understand, it is very risky and the law is very strict.'
'How much will all these cost me?'
'Say, about two thousand.'
Jiban thought over the matter, his life was more precious than two thousand rupees. Moreover, in the bargain he will be cured of his appendicitis. And the way the doctor was going to do it will make it full-proof.
The doctor was a good surgeon too. The operation was perfectly done. During his stay in the hospital the care with which he attended him charmed Jiban greatly. Such devoted nursing one hardly gets even from near and dear ones. The assistant doctor and the old dispenser were both very nice to him. They were ever eager to remove any cause of his inconvenience. The son of a rich man Jiban has wasted this kind of money on many occasions but nowhere did he get such decent treatment. On the day of his release he called on the doctor at his residence. He received an intimate welcome and was given a very good certificate. Smiling the doctor told him, 'I have done it so perfectly that no law will be able to catch you.' Jiban thanked him profusely.
'But now I want to know the whole truth. Why did you spend so much money to get a false certificate, what did you do?'
Jiban was not ready for a question like this.
'Why do you hesitate, now nothing should prevent you from telling me the truth.'
Still hesitating Jiban replied, 'Can I trust you?'
'Of course you can.'
'I had committed a murder.'
'Don't tell me! Whom did you kill?'
Jiban knew the name, but did not divulge it. In a flash he remembered the face of the man lying in a pool of blood. He remembered the name 'Ramesh' tattooed on his left arm.
'But why did you kill him?'
Jiban replied smiling, 'It was over a woman, he was my rival.'
'Where did you kill him?'
'On the train '
A postman entered into the room and handed over an envelope to the doctor. Jiban got up and thanked the doctor, put the certificate into his pocket and left.
The doctor opened the envelope and began to read. Suddenly his whole face became very pale. It was a letter from the police ' about a month ago they discovered a dead body in a rail coach, according to the post mortem report the cause of death was stabbing ' it is not a case of suicide but of murder. The name tattooed on his left arm was 'Ramesh'. There was nothing else to identify the dead man. Investigation has revealed that the said Ramesh was a broker by profession, lived in a mess in Calcutta and is supposed to be the eldest son of Dr. T.C. Pal. In the letter the doctor has been asked to confirm the veracity or otherwise of this to the police and furnish further relevant information to assist the police in apprehending the murderer.

Original story in Bengali by Bonophul, (pen-name of Balaichand Mukhopadhyay), who is famous for his �short� short stories.