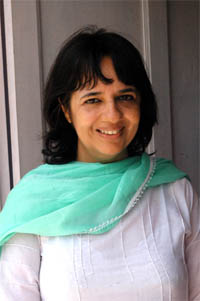 Plastic bags, retrieved from rubbish heaps and bins in the Capital, will now be sent to Paris, the fashion capital of the world. Anita and Shalabh Ahuja, founders of the New Delhi-based eco-friendly NGO, Conserve, that recycles such bags, are all set to showcase their stylish products at a trade fair in the French capital, early-September.
Known for its exclusive bags, belts, footwear, notebooks, jewellery, floor tiles, and now interior accessories such as lampshades, floor cushions and vases, Conserve is an NGO that employs rags pickers in Delhi to collect waste plastic bags. The collected bags are then, through a series of processes, pressed into sheets and transformed into multi-hued products.

Conserve, which retails its merchandise in European and Indian markets, began their good work with the hope to benefit impoverished women and as an off-shoot of a waste management programme, in 1998, says Anita.
While working on a scheme dealing with turning household and kitchen waste into compost, Anita became aware of the huge amounts of plastic bags being discarded from houses across the city, every day. Dismay over the ever-growing heaps of plastic bags led her to experiment and see how the waste bags could be used so as to prevent them from polluting the surroundings. She toyed with the idea of converting the bags into totally different products. Cautions Anita, the creative head of Conserve, "Our country is the third largest consumer of plastics after the USA and China. We do not have enough landfill sites to dispose the waste generated from the households. Toxic garbage is spilling out of our cities. A major environmental hazard is taking shape right under our noses and we need to find out ways to deal with it."
A year and umpteen ideas later, Anita discovered a way to recycle waste plastic bags. She thought of pressing the bags into sheets. A chance visit by a designer- friend kicked off a venture of making funky bags out of the plastic sheets. The bags were then showcased at a trade fair and were a sell-out within minutes.
Conserve manufactures fashion accessories at their own unit and also supplies the plastic fabric to other manufacturers, who develop their own products with it. The organization reaches out to consumers through trade shows and through their outlet in Delhi. Conserve products are also retailed at high fashion outlets in European cities such as London, Paris and Madrid.
The raw material is sourced through rag pickers, who sift through mounds of garbage for a living. Once procured, the bags are washed, dried and sorted according to color, texture and density by rag pickers trained by Conserve. Next comes the sewing of the bags, according to required color patterns. The material is now ready to be heat-pressed into sheets. The sheets are then handed over to skilled artisans who create the exclusive Conserve products.
No dyes are introduced when making the sheets and the palette of patters and colors are created solely from the original colors of the discarded plastic bags. "It is a developmental project and it takes care of environmental, social and financial factors, which appeals to entrepreneurs who look for such criteria," says Anita, who adds that the organization encourages skill up-gradation for their rag pickers so that they can be promoted to the capacity of craftspersons.
"Most of these workers have never even played with toys as children; they have to be taught from scratch. We teach them to handle scissors, cut the bags and layer them, all the while stressing on the importance of maintaining quality," says Shalab Ahuja, who is an engineer by profession and takes care of the technical aspects at Conserve.
The couple has also opened an informal school for the children of their 300 employees. The school functions out of a rented accommodation near the slum where their workers live, in Madanpur Khadar, New Delhi. So far, around 200 children between 5 to 13 years attend the school that has eight teachers. The couple also aims to open at least 10 new bank accounts each month for its employees. This is easier said that done, as the workers live on the fringes of society, in unauthorized slum dwellings, and do not have the requisite address proof documents required by a bank. The couple also aims to hire 7,000 workers throughout the country over the next two years.
The achievements of the NGO have caught the attention of similar organizations in other countries. Conserve now gets letters and e-mails from overseas, particularly, from organizations in Africa and the Middle East requesting for an exchange of ideas on the unique way formulated by them to deal with non- biodegradable plastic. The Ahujas have managed to offer a solution to plastic pollution and in the process made environment a style statement.