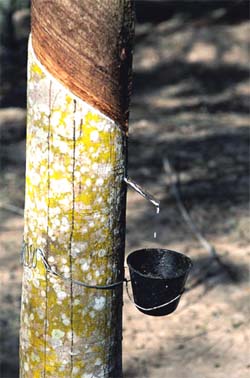 Rubber is back in demand again. With the international market picking up, happiness is back in the faces of scores of Tamil repatriates from Sri Lanka, who have been rehabilitated in rubber plantations located at Punalur in Kerala and Dakshina Kannada in Karnataka. Life is more hassle free for these repatriates while their counterparts in the home state of Tamil Nadu are struggling to survive in loss making tea plantations. Now it seems the rubber wins where the tea failed.

According to M.Mahalingam, a repatriate rubber plantation worker in Puttur in Dakshina Kannada, there was no rubber cultivation in the region before the arrival of the repatriates. The area had found a place in the world map of rubber growers during the sixties and that was the story of two countries.

According to the Sirimavomavo Bandaranayake'Lal Bahadir Shastri Pact of 1964, India had to re-settle 5,25,000 Sri Lankan repatriates belonging to 1,50,000 families in 15 years. Of these 22,000 were trained only in working in rubber plantations. That is why the government thought of rehabilitative rubber plantations specially raised for them.

On their part, the Sri Lankan Tamil repatriates took it as a challenge and converted what were once dense deciduous forests in Dakshina Kannada into a thriving rubber growing area. They brought nearly 2,000 hectares of land under rubber growing areas in 10 years from 1965.

In the spirit of the pact between Sri Lanka and India, the Union Government had directed the State Government to bring 3,200 hectares of land under rubber cultivation at a cost of Rs. 2.75 crores. This was followed by the State Government's initiative of brining 2,000 hectares under rubber cultivation again in 1971 at a cost of Rs. 3.64 crores.

As rubber was cultivated for the first time in Karnataka and the resultant lack of technology to extract maximum latex, the State Government found over 1,040 hectares of land unviable for cultivation as well as the product un-economical. The State was left with no alternative but to replant 800 hectares of land with new improved varieties in phases. It planted firewood varieties in the rest of the land.

This made rubber plantations to restricted only to Puttur and Sullia with 4,596 hectares of land consisting of 11, 07,882 rubber trees till 2003. The development and management of rubber plantations has been taken over by the Karnataka Forest Development Corporation in due course.

According to the corporation records, there are 1,960 rubber-tappers gainfully employed in the rubber plantations and 95 per cent of them are of Sri Lankan Tamil origins.

Apart from the government-owned rubber plantations, the district had 3,900 hectares of private plantations in smallholdings spread over Sullia, Puttur and Kundapur taluks (now in Udupi district). They also employ Tamil repatriates, who are experts in the profession.

The Kerala initiative for Tamil repatriates, Rehabilitation Plantations Limited at Punalur in Kollam district, is a big success. It is the first public sector plantation company in the country which bagged ISO 9002 certificate.

It was started as a joint venture of Central and State governments in 1972 for the settlement of Sri Lankan repatriates, who opted Kerala for rehabilitation. The authorized share capital of the company is Rs.350.00 lakhs and the paid up capital is Rs.339.27 lakhs. The share capital contribution of Government of India is 40% and remaining 60% was contributed by Government of Kerala.

The Company has settled 700 repatriate families from Sri Lanka. Two Members from each family are provided with employment in its two big plantations. At present the company employs to 1300 workers, 185 staff members and 32 officers. So far the company has paid Rs. 28 crores towards Agricultural Income Tax to Government of Kerala and Rs. 6 crores towards Central Income Tax. The company has been paying dividend to its shareholders since 1985-86. Rs. 3.6 crores has been paid to Government of Kerala and Rs. 2.36 crores has been paid to Government of India towards dividend till date which is almost double the share capital. The earning per share of the company is 472.

Over 850 workers are engaged in tapping and collection of fresh latex. Expert panel protection and use of rain-guard ensure regular yield and uninterrupted supply to customers even during rainy season. The company processes about 2300 MTs of Centrifuged latex conforming to BIS specifications in its own factory.

After imported rubber started arriving in India, the prices of the local variety came down to Rs. 20 from Rs. 60 plunging the rubber plantations into highly unviable propositions. But there is a visible improvement in rubber prices now. There is good demand from international market.

The decision of Union Ministry of Commerce to allow State Trading Corporation to purchase 20,000 tonnes of rubber every year from the rehabilitated plantations for government rubber factories also started showing results.

But the real high would come only when rubber could be used as an additive for laying roads to provide better grip and longevity as per the recommendations of the Road Construction Research wing of the National Highways Authority of India. But research activities in this connection might take a while to arrive at a conclusion.