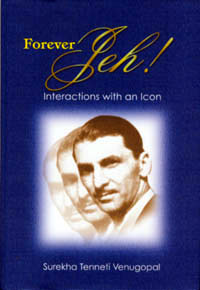 Jehangir Ratanji Dadabhoy Tata is an easy man to write about. With his iconic status and corporate accolades, JRD the businessman could have overshadowed JRD the man and yet the book "Forever Jeh" details the humanitarian side of the astute entrepreneur. Instead of showcasing his by now legendary impact on the country's commerce, the book picks up strands from his social and public commitments.
A collection of interviews, photographs and quotes, "Forever Jeh" describes a gentleman tycoon who could "look beyond labels". Clarifying that "this is not another biography of JRD Tata" in the preface, author Surekha Tenneti Venugopal pledges the emotive tribute to a subjective analysis of the Bharat Ratna awardee and first airline pioneer of India.
Born on June 29 1904, in a pretty house in Rue de Halevy in Paris to French girl Sooni and Indian Parsi R.D. Tata, JRD was named Jehangir - conqueror of the world.

When he was a teen he was sent to the Tata Iron and Steel Company in Jamshedpur and, at just 34, became the chairman of Tata Sons.

Aloo Bhartania, JRD's former secretary, reminisces: "He was most perturbed about the way people carelessly used articles - 'a', 'an' and 'the'. An article has such significance, he often said."

The non-chauvinist and romantic Jeh surfaces now and then. When asked whether he missed having a son, JRD had famously replied: "I miss not having a daughter."

She adds: "Each day from the large bouquet of fresh flowers in his room, he'd pick a rose and take it home for his ailing wife (Thelma who he married in Paris in 1930)... every single day."

"He loved to live dangerously," says Bhartania, asking, "Had he not piloted a plane at '78, skied on the mountains and performed the most difficult workouts in the gym in his house nearly till the end?"

Russi Lala, who has written multiple biographies of JRD, says: "He was in essence a very great human being. There was this undeniable aura about him wherever he went."

The private letters between JRD and his father, too, are touching testimony to his affection and ambition even as a little boy. In one letter, he writes: "Papa I am sure that you merit the legion de'honeur in your business because you work as no many persons did work. When I shall be big I shall be like you...and I kiss you so much that I can't tell you."

Anonymous pals vouch for JRD's provocative sense of humour while top officials of Tata Steel remember an irreplaceable mentor. On his death on Nov 29, 1993, the parliament, in an unusual gesture for a private citizen, was adjourned in his memory and Maharashtra declared three days of mourning.

The author, who was married to a Tata Steel engineer and was a columnist for "TISCO News", quotes Sir Homi Mody as saying, "JRD had a very keen intellect... his versatility is truly amazing. Whether it is a blast furnace or an ice-cream freezer, an aircraft engine or a cigarette lighter, he is equally at home with all of them."

A cross between a coffee table book and a research treatise, "Forever Jeh" is a veritable photo album with rare footage of JRD in both personal and professional spheres. The book is a must not just for die-hard Tata fans but for anyone who is in need of a motivational fix.
Book: "Forever Jeh"; Author: Surekha Tenneti Venugopal;
Publisher: Purple Peacock Books