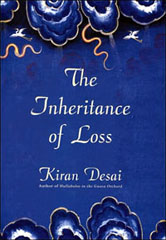 'My characters are purely fictional,' says Kiran Desai. In her book (The Inheritance of Loss) she has tried to do exactly that, namely to capture her own knowledge about what it means to travel between East and West, and to examine the lives of migrants who are forced to hypocrisy, angst of being nabbed, and have biographies that have gaps, and whose lives are constructed with lies, where trust and faith in someone is impossible, as in the case of Sai and Gyan.

Migration is a sword with sharp blades on both sides. The feeling of loss when one leaves one'smatribhumi is just as intensive and dreadful as having to leave a foreign home, due to deportation, when one doesn't have the green-card or Aufenthaltserlaubnis. Everyone copes with such situations differently. Some don't have coping solutions and it becomes a traumatic experience for the rest of one's life. Some pull up their socks, keep a stiff upper-lip and begin elsewhere.

The problem of illegal migration hasn't been solved in the USA, Britain, France, Germany and other European countries. It is an open secret that the illegal migrants are used as cheap laborers according to the hire-and-fire principle, for these people belong to the underclass. In the USA it's chic to have Hispanics as baby-sitters, just as Eastern Bloc women are used by German families to do the household chores. Nepalis work under miserable conditions in India as darwans, chowkidars, cheap security personnel and the Indians have the same arrogance as the British colonialists. The judge, Lola and Noni are stereotypes, but such people do exist. It's not all fantasy. I'm sure the Gurkhas looking after photo-model Claudia Schiffer and singer Seal's house and guarding the palace of the Sultan of Brunei are well paid and contented, in comparison to other people in Nepal and the Indian sub-continent.

What does a person feel and think when he or she goes from a rich western country to the East? And what happens when a poor Indian comes to the USA (land of plenty) or Germany (Schlaraffenland)? Is there always a feeling of loss? I've been living thirty years in Germany and I have met and seen and worked with migrants with biographies from Irak, Iran, Turkey, Nepal, India, Pakistan, Vietnam, Kosovo, Albania, Croatia and East Bloc countries. The worst part of it is that the Germans ignored the fact that it had already become, what they call 'ein Einwanderungsland.' They thought they'd invited only guest workers after World War II, with limited stay-permits, not realizing that they'd encouraged human beings with families and emotional ties, hopes and desires of a better future in the new Heimat with for their children and their grand-children.

Kiran Desai flashes back and forth, between Kalimpong and New York, and she uses typical clich's and Indian stereotypes that have also been promoted by Bollywood. She's just as cynical and hilarious with her descriptions of fellow Indians in the diaspora, as she is when she describes the Gorkhalis in Darjeeling. Her portrait of the Nepalis in Darjeeling is rather biased, but what can one expect from a thirty-six year old Indian woman who has been pampered in India, England and the USA? Her knowledge of Kalimpong and Darjeeling sounds theoretical and her characters don't speak Nepali. She lets them speak Hindi, because she herself didn't bother to learn Nepali during her stay in Kalimpong. The depiction of a Gorkhali world might be true, as far as poverty is concerned, but she has no idea of the rich Nepali literature (Indra Bahadur Rai, Shiva Kumar Rai, Banira Giri to name a few), and folks music in the diaspora.

Gyan's role was overdone, especially when Sai demands that he should feel ashamed of his and his family's poverty and so-called low descent. What is Gyan? Is he a Chettri, Bahun, Rai Tamang, or even a Newar? Describing a country, landscape is one thing, but creeping into the skins of the characters is another. The Gorkha characters remain shallow, like caricatures in Bollywood films, and she overdoes it with the dialogue between Sai and Gyan.

For someone like me, who also went to school in Darjeeling, Kiran Desai's book was a pleasant journey into the past, where I still have fond memories of the Darjeeling Nepalis, their struggle for recognition and dignity among the peoples of the vast Indian subcontinent. I'm glad that peace prevails in the Darjeeling district, although I wish Subash Ghising had negotiated more funds from the central Indian government, and a university in Darjeeling. Gangtok (Sikkim) also does not have a university. The recognition of Nepali was a positive factor, but a university each for Darjeeling, Kalimpong and Kurseong would have given more Nepalis (pardon, Gorkhalis) the opportunity for higher education and better jobs, if not in the country, then abroad. To eat dal-bhat-tarkari at home and acquire MAs and PhDs within one's familiar confines would have immensely helped the Gorkhali men and women, even more than the recognition of Nepali. We can regard it as a small step towards progress.

The description of Gyan's visit to Kathmandu was extremely superficial. Kathmandu is a world, a cosmos in itself, with its exquisite temples and pagodas and stupas and the culturally rich Newaris families from Lalitpur, Bhadgaon and Kathmandu.

Kiran is, and remains, a supercilious brown-memsahib, like the made-over English characters of Varindra Tarzie Vittachi's fiercely satirical book 'The Brown Sahibs' in her attitude towards Gorkhalis and the downtrodden of her own country. I can imagine that the Nepali author D.B. Gurung is piqued about Desai's portrayal of the Nepalis in Kalimpong as 'crook, dupe, cheat and lesser humans' and his own emotional rejoinder regarding the Bengalis as 'the hungry jackals from the plains of Calcutta.' Since D.B. Gurung is known for his poetic vein, perhaps he can treat the long standing problems between Indians and Nepalis, or as Desai puts it, Bengis and Neps, in his lyrical verses. But please, less of the vitriol and more of tolerance, because even a poet and novelist can make or break human relations. I, for my part, am for living together, despite our differences, for variety is the spice of life in these days of globalization. Vive la difference.

The story is served like a MacDonald's Big Mac for the modern reader, who has not much time, and there are multi-media distractions craving for his or her attention. As small morsels of information, like in a sit-com. I found the story-pace well timed and interesting, and she has a broad palette of problems that migrants face when they leave their homes, and when they return home. You can feel with Bijhu when he embraces his Papa in the end. A foreign-returned son, stripped of all his belongings. It was a terrific metaphor. I'm glad that there are women like Kiran Desai and Monica Ali (Brick Lane) who've traveled and experienced what it is like to be in the diaspora and try to capture the emotional and historical patterns in their lives as migrants.

When you read the last page of the Desai's book you feel a bit dissatisfied because you wish that the unequal love affair between Gyan and Sai will go on and take a positive turn. There are so many Nepali-Indian couples who live happy conjugal lives with their families. I know at least three cases of Nepali women who're married to Bengalis. The Nepali women speak perfect Bengali, but their husbands don't speak Nepali, even though they live in Gorkhaland. They are proud that they can speak English instead. Nepali (Gorkhali or Khas Kura) is such a colorful and melodious language and we ought to listen to Sir Ralph Turner's when he says: 'Do not let your lovely language become the pale reflexion of a sanskritised Hindi.'

Dinesh Kafle calls Desai 'schizophrenic.' Well, when you talk with an Indian he always praises the achievements of India in terms of the second Silicon Valley (Bangalore), the Agni and Prithvi missiles, the increasing nuclear arsenal, the expanding armed forces etcetera. But, Gott sei dank, there are Indians, who like Gandhi, are humble, religious, practice humility, are poor, deprived, castless, untouchables and, nevertheless, human and full of empathy, clean in their souls and hearts, and regard this world as merely a maya, an illusion, an earthly spectacle to be seen and felt---without being attached. D. B. Gurung is wrong when he assumes that Desai seems 'unable to acclimatize herself to either the western milieu or her own home.' But where is her home? She's a rootless, creative jet-set gypsy, who calls India, England and USA her home. The gypsies (Sintis and Romas) were originally from India (Rajasthan), weren't they?

Even V.S.Naipaul (Half a Life, The Mimic Men), J. M. Croatzee (Youth), Isabel Allende (The Stories of Eva Luna) and Prafulla Mohanti (Through Brown Eyes) haven't gone so far in their description of a race or nation the way Desai has in her book. What is missing in her writing is the intercultural competence. Instead of taking the trouble to learn Nepali and acquiring background knowledge about the tradition, religion, norms and values, culture and living style of the Gorkhalis in Darjeeling and the Nepalese in Nepal, and comparing it with her own Indian culture, and trying to seek what is common between the two cultures and moving towards peace, tolerance, reconciliation---she just remains adamant , like her protagonist Sai. She does not make an ethnic reflection, but goes on and on, with a jaundiced view, till the bitter end. The dialogue between Neps and Bengis, between Neps and other Indians (Beharis and Marwaris and others from the plains) or between the British and Indians cannot be described as successful intercultural dialogues. The dialogues are carried out the way it should not, because there's always a fear that one is different in terms of social and ethnic status, even between her two main protagonists: Sai and Gyan. There is no attempt to reveal the facts behind an alien in a new cultural environment, no accepting of the problems of identity and no engagement for equality and against discrimination.

If you're looking for frustrations-tolerance, empathy and solidarity with the Gorkhalis in the book, it's just not there. The characters necessary for intercultural interaction are joy in interaction with foreign cultures (not arrogance and egoism), consciousness of one's own culture, stress tolerance, tolerance of ambiguity, and bucketfuls of empathy. Had she shown empathy towards the Nepalis from Darjeeling and Kalimpong and made a happy-end love story between Gyan and Sai, the Nepalese would have greeted her with khadas and marigold malas. The way it is, she has only stirred a hornet's nest. Kiran just doesn't have empathy for Neps, despite the Booker Prize. Great women are judged by the way they treat the underprivileged and downtrodden. With 36 years, it's time for meditation and self-searching in Rishikesh, like the Beatles, I suppose.