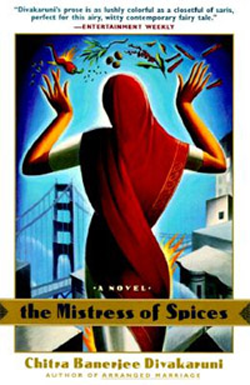 The Mistress of Spices was Chitra Banerjee Divakaruni's debut novel.
A sprightly work, first published ten years ago, the novel not only brings home the truth of magical realism a la Marquez and Salman Rushdie, but also the peerless power of spices — a realm endowed with the power to inflame our senses, and even ignite our imagination.
The impressive book also contains an enormous degree of suffering which comes as no surprise, since the problems it vivifies of Asian immigrants in the US, where the story is set, are nothing but a continuing reality.
Besides, the book is replete with earthy wisdom, where the East and West ram into each other. Also, it is armed with a unique style, and pattern, that comes naturally to Divakaruni. In the process, she conjures up a vitality of language, which is, at once, classical, vivid, perceptive, and consciously expanding.
A bit about Divakaruni. Divakaruni teaches creative writing in the US. That is, if she doesn't function as a motivator for a help line for South Asian women. Author of several volumes of poetry, and a critically-acclaimed collection of short stories — Arranged Marriage — which won three literary awards, including an American Book Award, Divakaruni lives near San Francisco with her husband and two children.
Back to the book, in question. Indian immigrant Tilo runs a spice shop in Oakland, California. She not only supplies ingredients for a host of uses, but also helps customers in every way possible. When local Indian expatriates visit her shop, Tilo is at her best: dispensing wisdom. She is too courteous, cadgy, and warm, with her Western customers, giving them the appropriate spice they need. She sells coriander for better eyesight, turmeric to erase wrinkles, chilies for cleansing of evil spirits… and, she knows them all, quite well. Some of them like the palm of her hand. Reason? Simple: Tilo is a Mistress of Spices; and, a priestess of their secrets themselves.
The best part. In the course of her classy narration, Divakaruni webs stories of her heroines — most of them young women on the threshold of experience, who are often disillusioned by the American dream itself. They have come from Indian villages, and cities, and have moved from excitement and challenge towards uncertainty, fear, and so on, in the Land of Gold. This is Divakaruni's raison d'etre: the Golden Land is generally not what it is ought, or thought, to be. It is apparent that Divakaruni's characters are not just imaginative entities: much of her heroines are character-based. Some of them have been derived from old myths and tales, more so, Tilo, who dispenses love — the ultimate willingness to giving happiness to others.
Divakaruni's characters are — as you'd guess — battered women: women, whose dreams have crashed but whose spirit remains undiminished in the wake of adversity. There is one girl who comes to America, only to find that her husband runs a small store. Worse still, one night when her husband is found shot dead, she becomes desolate, shattered. Yet, she makes up her mind to stay on, and not to return to her motherland, and to her in-laws.
Not that Divakaruni's women are always as solid as a rock in pathos. They are sometimes fragile, depressingly vulnerable and sensitive. And, troubled too. Even Tilo is not free from that conundrum. Picture this: when a lonely American comes to Tilo's store, she doesn't find the right spice for her customer because he arouses in her a forbidden desire. There lies another paradox: if Tilo allows her heart to rule her mind and desires, she will destroy her magical powers too!
But, Tilo knows the danger she is in. She can always sense it. Hence, she tells Raven, who wants to escape with her to an earthly Paradise:
Our love would never have lasted, for it was based upon fantasy, your and mine, of what it is to be Indian. To be American… There is no earthly Paradise. Except what we can make back there, in the soot, in the rubble, in the crisped-away flesh. In the guns and needles, the white drug-dust, the young men and women lying down to dreams of wealth and power and wailing in cells. Yes, in the hate, in the fear.
Tilo is too resolute vis-à-vis the law of the Old One, who has bestowed her with enormous power, the essence of the spices, and compassion. She dares to reach out to Raven, all right, and that "impossible" love: yet, she suppresses her desire, even when Raven rescues her from a devastating earthquake. There hangs a tale.
Divakaruni's book sure evolves by way of a crisp storyline, and chapters, appropriately named after spices — from Tilo, the essence of "til," Turmeric, Cinnamon, Fenugreek, and Ginger, to Sesame.
Full of pungent alchemy, allegory, lyrical tastes, verve, hot passions, and tinged with a delicate sense of humor, Divakaruni's novel examines, with both dexterity and surgical precision, the universal mysteries of the human heart.
More than anything else, and in more ways than one, The Mistress of Spices is also an exquisite assay — an excellent scrutiny, with which most of us could easily empathize.
Of the way Indian women are caught in the vortex of a major paradigm shift, or transformation.