It began well. S'gol'ne Royal presented a glamorous, fresh face. And last November, she won the backing of 60 per cent of her Socialist Party to run as France's first woman presidential candidate.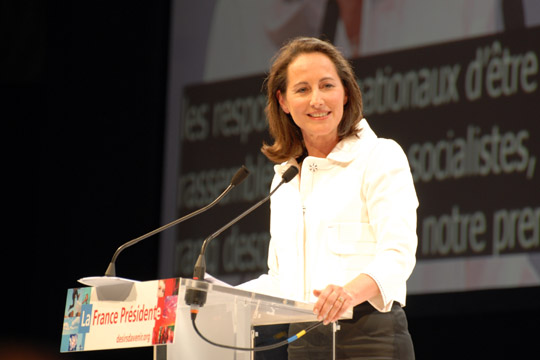 As her ratings rose in the opinion polls, many of the electorate started to believe it was time to overturn generations of male-dominance and put a woman at the top. But on Sunday (May 6), Nicolas Sarkozy, Royal's rival from the centre-right UMP (Union pour un Mouvement Populaire) defeated her. As a massive 85 per cent of the electorate turned out to vote, around 53 per cent backed Sarkozy and some 47 per cent came out in favor of Royal.
"It would have been wonderful to have a woman...," said well-known French businessman P.Y. Gerbeau, head of London's Millennium Dome, "But France has woken up to the fact they need a strong man."

Ironically, along with many others, Gerbeau likened Sarkozy to a woman: Britain's first woman prime minister, Margaret Thatcher. He said Sarkozy was "a kind of liberal Margaret Thatcher", adding in an interview on BBC radio, "This is what France desperately needs."

Other post-election commentary also emphasized that France had decided Sarkozy was the solution to its high unemployment, stagnant economy and mounting debt, and that the Socialists were in disarray. No one stated the country was not ready for a woman president - on the contrary.

Royal herself regarded her gender as an electoral strength. "It's a symbol of change," she said during her campaigning. "Where men have failed, people think 'ok, maybe we'll try a woman'." To a degree, she had judged the nation's mood accurately. "France needs a woman. France needs change," said Jean-Marie, an educational psychologist who works in Poitou-Charentes, a region in south-west France, of which Royal is regional prime minister. He said he supported her, although he had reservations. "She makes out she's democratic, but it's said she has been very authoritarian in the way she governed Poitou-Charentes."

Royal's campaign image was based more on her femininity than her feminist credentials. However, she spoke of her feminist drive. "Before embracing the Socialist ideal, each and every one of us has stood up against an injustice that seemed intolerable to them... For me, it was the rejection of the place traditionally assigned to women that opened my eyes and forged forever my political engagement." She rejected, firstly, the chauvinism of her father, who has been widely quoted as saying he had five children and three girls, and then also went on to challenge the chauvinism of the political establishment.

France's political classes are overwhelmingly male. According to figures compiled by Inter-Parliamentary Union, the Swiss-based international organization of parliaments, only around 12 per cent of the current members of France's National Assembly are women. That compares with some 47 per cent in Sweden, which has been the most successful in promoting women politicians.

Within her own Socialist Party, Royal encountered bitter opposition from her male rivals and, crucially, the party never backed her wholeheartedly. An editorial in the British newspaper, 'Guardian', said one of Sarkozy's great advantages had been that he had "fought and won his internal party battles a long time before the official campaign started". Royal, by contrast, spent most of her campaign "gloriously alone, sniped at by an unreformed and truculent party".

One of Royal's opponents, former Prime Minister Laurent Fabius, whom she defeated in the race to become Socialist Party's presidential candidate, very publicly asked who would look after Royal's four children if she succeeded in becoming the president. Speaking after Sunday's election, Fabius said, "The left-wing flag is flying low... it must be raised again." But Royal was far more upbeat. "Something has begun and it will not stop. I will continue with you and near you," she told her supporters.

But during the campaign, her party's divisions meant Royal was forced to say "as little as she could", the 'Guardian' editorial said. "Had the centrist-leaning Socialist candidate spoken her mind, she would have split the party."

French voters agreed the lack of unity was a major problem. "Until the Socialists find a leader capable of uniting them, the French will, perhaps, be reluctant to elect a president from a party that hasn't yet found its strength," said Pascale Mares of Cognac, also from Poitou-Charentes region. Mares said she was disappointed that Royal had been defeated, but did not think Sarkozy would be catastrophic.

Unlike Royal, Sarkozy was free to campaign clearly and convinced everyone that his hard-line, right-wing approach is what the nation needed. Much of what he said was regarded as brutal - hence the rioting that followed Sunday's vote, delivering some of the violence Royal had predicted would result if Sarkozy won. His unpopularity makes his victory all the more spectacular. It reflects his expertise and the divisions in the left, as much any failure on Royal's part.

What the two politicians share is that their ambition derives from a sense of being outside the establishment. Royal was a political outsider by virtue of her gender. Sarkozy, the son of a minor Hungarian aristocrat, felt he was a victim because of his non-French name, according to the commentators. They also cited his lack of height - he is only 5 feet 5 inches tall - and drew comparisons with Napoleon, the power-crazed, diminutive French ruler.

Now 52 (Royal is 53), Sarkozy entered electoral politics when he was 22, and for years has yearned for the top job. Before the election, he was quoted as saying that he thought about becoming president constantly, "not only when I'm shaving in the morning". Against such opposition, Royal did well to win 47 per cent of the vote. On its website, French television channel France 3 has summed up, "This presidential election has nevertheless been marked by the historic presence of a woman in the second round, even if S'gol'ne Royal's appeal to the French to have the audacity to elect a woman for the first time to the state's highest office went unheard."