Sundar, 22, of Bheelwada, Rajasthan, hadn't intended to take the law into her small hands. But she did. It was her last resort. She had approached local authorities to help prevent her husband from remarrying - without divorcing her. But her appeal fell on deaf ears. Accompanied by 50 women from her neighborhood, Sundar thus raided the wedding reception venue and manhandled her husband. The eager bridegroom cowered behind the stage before, finally, getting away. For many years, Sundar had lived with the ignominy of being dark-complexioned and had been the subject of her husband's constant torture. But, on April 25, she decided that she had had enough.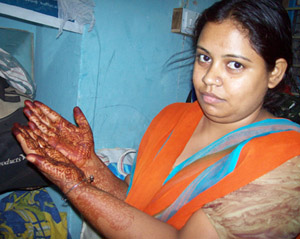 On April 19, Neeta (22) of Jaipur was getting ready to wear her bridal finery. The 'baraat' (wedding party) was slated to arrive in a few hours. Or that was what she thought. Around 5 pm, the groom's family sent a message: Pay up Rs 1 million (US$1=Rs 42) or else the marriage is called off. The demure bride decided that she was not going to be bullied into marriage. And to the amazement of her lower middle-class parents, Neeta informed the police about the groom's dowry demand. The bridegroom and his father are now behind bars.
Swati (24) has fought tooth and nail to get her affluent family to accept Himanshu. They didn't approve of the fact that he was of another caste. Nevertheless, Swati stood her stead and her family relented. Little did she know that three days before she was to tie the knot, Himanshu would assault her and threaten to call off the marriage - if he wasn't gifted a Honda City car. Shattered but strong, Swati had Himanshu put behind bars.

Even as recent efforts are on to make amendments to the Dowry Prohibition Act, 1961, there are a few young women in Rajasthan who have not waited for governance to become proactive but have, in fact, shown the way for many others through their grit and resolve.

Says Tara Bhandari, Chairperson, Rajasthan State Women's Commission, "I'm obviously happy for these girls, but I am sad that such women are so rare in the state." One need not wonder why such women are so few and far between in Rajasthan. Before Sundar rushed to her husband's reception, she had approached the Additional District Magistrate (ADM), the Superintendent of Police (SP) as well as the local police station, but all in vain.

It was only her other Sathin colleagues, who came to her aid. (Sathins are part of self-help women's groups who tour villages, spreading awareness about education, health, hygiene and family planning amongst women.)

Of course, had Neeta and Swati put up with their greedy fiancés and gone ahead with their respective marriages, they could have probably added to the rising number of dowry cases in the state. According to the state police department, there was a 32 per cent rise in the number of dowry deaths between 2005 and 2006. Then again, 9.14 per cent more cases were registered for instigating suicide with dowry demands, during the same period.

Says Kavita Srivastava, General Secretary, People's Union for Civil Liberties (PUCL), "Men see wives as the easiest source of easy money."

The rising figures prove that it was certainly not easy for the three brave hearts to take a stand, particularly when the state is also notorious in ensuring that girls have no say in their future - through the prevalent system of child marriages. According to the 2005-2006 National Family Health Survey (NFHS 3) 57 per cent girls in the state get married before they attain the legal age for marriage (18 years). And, surprisingly, 66 per cent of them are from the urban areas. Payal Sharma, a social worker in the Kota region, lauds the steps Sundar, Neeta and Swati took - "Theirs is a change, however little it may be," she says.

So, is a silent, albeit slow, revolution sweeping the state? Bhandari doesn't think so. "It's not that girls are now more aware of their rights; it's just that some of them are now showing their courage, and that's a good sign. Others will follow in their footsteps."

But a majority of the girls are still silent players in the marriage 'deal'. Every year, the state women's commission receives 20 to 25 complaints regarding child marriages with a request to stop them. Some complaints are directed to the local sub-divisional magistrate, the local police station, the district magistrates and SPs. A rough estimate places these numbers to about 100 complaints a year.

Child marriage is, however, just one problem. The other being the 'sale' of girls in the name of marriage. Bharatpur was witness to one some months ago - Chaman, a resident of Bikaroo village, who now lives in Alwar district along with her mother, Ameena. The panchayat (local village council) ostracized the family for revolting against its decision to sell Chaman to her sister's husband, Ranjit, for a sum of Rs 200,000. Chaman's marriage had been scheduled for April 20, but Ranjit wanted Chaman as his second wife, for his first was ailing.

On Ranjit's plea, the panchayat decreed that Chaman should marry him. Outraged, she declined and was punished. Declared a pariah, Chaman sought refuge in Masari village in Alwar district. Kunwar Pal Singh, 'sarpanch' (village council chief) of Masari village, is proud of his brave new neighbor.

And Rajasthan waits for more Sundars, Neetas, Swatis and Chamans to break free from patriarchal shackles.