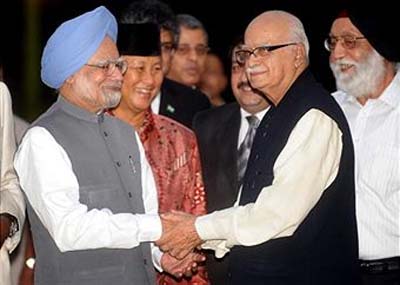 Why is politics in India such a terrible mess? Media pundits tell us why. Politics is in a shambles because old leaders refuse to make way for young leaders. It is only when the old will go that the young will be appointed leaders. In the bad old days politicians seized power to emerge as leaders. These days they become leaders only after they receive appointment letters from some remote high command.
RSS boss Mohan Bhagwat says that leaders should be between the ages of 50 to 60 years. Mr Bhagwat himself is 59 years old. The Goa BJP president Manohar Parrikar says that leaders should be between the ages of 45 to 55 years. Mr Parrikar himself is 54 years old. Oops! Poor Arun Jaitley, 57, and Sushma Swaraj, 58, seem to have just missed the bus.

There must be something in this youth for leadership business. Otherwise why such an orchestrated demand for youth? Imagine how much better things would have been for the BJP if Atal Behari Vajpayee and LK Advani had not messed up things for decades. Imagine how vibrant the party would have been if, say, Jaitley and Swaraj had controlled the BJP this past decade.

As a matter of fact how much better and different history would have been if youth had ruled the world? Nehru became PM when he was 58. So he could function effectively only for two years during when he got involved in the war for Kashmir and he took the issue to the UN. For the rest of his tenure when he propagated non-alignment, NAM and world peace he was too old.

Imagine how much better China 's economic growth would have been if septuagenarian Deng Xiao Ping had been replaced by some dynamic young leader like Prakash Karat. Charles DeGaulle became President of France when he was 58. So he too had only two good years. Imagine how much more successfully would he have forged ties with Germany , made a breakthrough with the Soviet Union, laid the foundation for the European Union and made France a nuclear power had he not accomplished this after he turned 60.

And Konrad Adenauer? What a disaster! He was over 90 when he assumed power. Had he been a strapping 40 year old how much better would have been the post war revival of West Germany ... !

Ah well! We can't change the past but we can change the future. So get out Manmohan Singh and Advani! Enter Rahul Gandhi, Shashi Tharoor, Amar Singh, Raj Thackeray, Varun Gandhi and the rest! History is waiting, the media is panting, and the cell phones are ringing for your arrival ...