"In three words I can sum up everything I've learned in life: It goes on." ~Robert Frost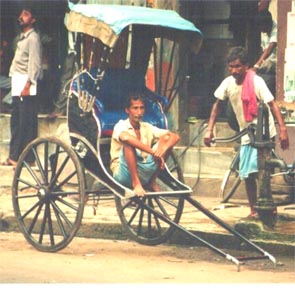 I met him on my way from while returning from the market, Bhuvan, the Rikshawala. A huge bag below the riksha's seat made curiosity get better of me. I enquired, "What is there inside this?". Zap came the reply, "Mhari grihasti hai Saheb" (It is my household). My curiosity got procreated. I asked if he did not have any home and he started narrating a story that brought about a complete metamorphosis in my outlook towards life.

He emigrated from his village four years back, forced to migrate, to be precise. He owned a land on the banks of the river, Mahanadi. Being an industrious and successful farmer, his granaries were always brimming over. Newly married to a beautiful woman, he was going to be a father soon. Life
was just about perfect. As the clich' goes, all good things come to an end. One fine day, he went to local doctor for a routine checkup of his wife. Casually, he showed to the doctor a benign looking blemish, which has been bothering him from last few days. He was advised to go for a blood test. Two
days later, he was diagnosed with leprosy.

Social stigma associated with leprosy made the news spread like wildfire in the small village. Panchayat (village governing body) decided to outcast him. He was asked to leave the village and dwell in an outskirts-shelter meant for pariahs. His in-laws forced his wife to dump him and return to her village. Surreptitiously waiting for an opportunity like this, his relatives seized his land. His world crumbled, his dreams shattered and his life devastated.

Panchayat was gracious enough to appoint a man to deliver food everyday. The doctor used to visit him once a week to deliver medicines. His ailment was showing signs of improvement but he was completely distraught. A lone sailor in vast ocean of despair, he had nothing to look forward to. The doctor advised him to move to the town in order to get better treatment. Not that he wanted to get well soon but this definitely presented him with an opportunity to evade his wretched past. He moved to leprosy treatment center in a nearby town.

Better treatment put him into faster recovery path but he was still in the state of utter hopelessness. Whenever he saw relatives visiting any of the patients, it used to remind him of nagging emptiness in his life. He started contemplating suicide and even tried twice, only to be rescued by fellow patients. To lighten up his morose life, they always tried their best to convince him that they are all part of a big family. Gradually, he developed camaraderie with them. He started recovering from the mental trauma. He got completely healed in another six months and discharged from the hospital. With the help of a cooperative bank he bought a riksha and started a new lease of life.

I asked him did he ever consider the option of returning to his village. Without winking he replied, "Never". I inquired if it was because of the bitterness he had carried all these years for the inhumane treatment he received at the hand of his closed ones. He said, to start with he did have bitterness but as time passed by he realized that probably he would have acted in the same manner had he been in their position and eventually the bitterness subsided. I was confident that he was going to melt when I asked him if he would not like to meet his child. He said he wished all the happiness in the world for his child and his family but his life had altogether a different purpose now. He considered himself to be
reincarnated. Retrospection is not something he wanted to indulge himself in. He had miles to go before he could take a respite.

He elaborated, once he was done with his work he used to spend time with the patients in the leprosy center. With extra money left, he used to get clothes and medicines for the patients. He was on a personal mission to make sure that no patient faces solitude, as he did once. He matured into a
responsible member of a family that had once reinforced his belief in the spirit of life and now it was his turn to pay back. If everyday he could make even one patient's outlook towards life brighter, he would consider his raison d'etre fulfilled. Finally he said, "One's family is a lasting treasure, to be cherished forever. I was completely desolated when I lost mine but I am grateful to the God that he replaced it with a bigger one, before I could lose faith. He has got the perfect sense of timing."

His words are still reverberating across the horizons of my psyche. Even though he had come across an absolute nadir of his being, he had an unassailable faith in life. I was completely swept over by his exuberance. Even in my inanest dream, I never imagined that a Rikshawala would make me imbibe Frost's words. He not only did it with utmost simplicity but also added a new dimension to the ever so profound thought, "Life goes on and it goes on pretty darn well".