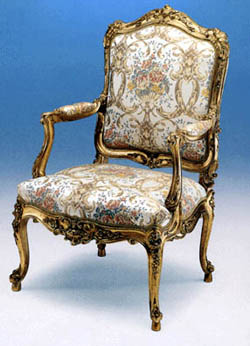 Hamburg
Gilded chairs, ornate commodes and wardrobes with inlay were once common among wealthy and noble families who prized expensive furniture.
Individual pieces that survived wars and plundering are available now in antique shops and a few furniture makers are specializing in making reproductions of these pieces.
Experts differ on the criteria necessary to make a piece of furniture an antique.
"Some say everything up to and including Biedermeier (1815-48) can be described as antique," said Hermann Specht, president of the federation of German art and antique dealers based in Drestedt.
In Britain, dealers have a different definition of an antique. They say an antique is anything that is more than 100 years old. "This is more and more becoming the prevailing definition."
Collectors take pleasure in strolling through antique shops and rummaging for particular pieces. But there are people who find that too much trouble or who are searching for an exceptional piece for their home and do not care whether it's a true antique. They are best served by period furniture makers.
"Period furniture pieces are reproductions that date back to former eras, say the baroque or classic periods," said Ursula Geismann of the German furniture industry association in Bad Honnef. These pieces usually are a mixture of styles.
"There are basic classic elements in every era," she said, adding that among period furniture reproductions, Italian makers are especially well represented.
Furniture maker Selva of Bozen in Italy's South Tyrol region has two lines that borrow from the King Louis XVI style. They are called the Bernini and the Villa Borghese collections.
The latter includes elements of the German and French classicism. Another Selva collection, Louis Philippe, is orientated toward the style of the French king whose name it bears.
Desks, beds and chairs are available in a dark antique nut tree colour or antique cherry with a finish that shows signs of wear and tear.
"Much of the furniture is handmade. The inlay, for example, is done by hand," said Evi Leitner of Selva.
The Nieheim-based furniture maker Finkeldei describes its upholstered furniture as classic-luxurious. Some pieces can be attributed to specific eras. The Lafayette chair, for example, is a Louis XIV reproduction. Other pieces such as the Luxor combine various periods.
Furniture maker CK Homedesign is the place for shoppers who have fallen in love with the baroque sofa in the museum catalogue. The Erlensee-based company builds furniture according to the customer's specifications.
"You can simply bring us a picture and we use that as a pattern," said Stefan Kinzel of CK Homedesign.
Maker Kare is oriented toward the sumptuous shapes of the baroque period. The company, based in Garching outside Munich, is not set on remaking exact reproductions though. On the contrary, old designs are converted into modern looks.
"We seek a mixture of periods," said Kare spokeswoman Jacqueline Wand. The company doesn't go exactly by the original patterns. Its armchair Black Mink, for example, is made from black lacquered wood and fake animal skin and Kara refers to it as an extravagant baroque design.