Seetha mami, 81, is busy packing her bags and a bucket, for Cleveland, USA. At the airport - as on previous occasions when she has flown out of Chennai for a performance - she will part with the bags, but the bucket she will hold close and secure. For, inside the bucket, tucked safely in between layers of old saris is a precious assortment of porcelain bowls that will make music when this grand old lady fills them with water and flicks her bamboo sticks across them.
"Come to think of it, it is a practical way of carrying them. She also uses the bucket to fetch water for pouring into the bowls," remarks writer Jaya Madhavan, one of Seetha mami's grandchildren.
Meet Seethalakshmi Doraiswamy, one of the rare tribe of 'jaltarang' artists in India. In fact, she is perhaps the only living accomplished female performer of the art. Curiously, it was by sheer accident that she came across the 'jaltarang' bowls. When Seethalakshmi was all of 11 years, her mother enrolled her in the Summer School of Indian Music at Triplicane in Chennai. There she became proficient in vocal music and was even selected for the honors class.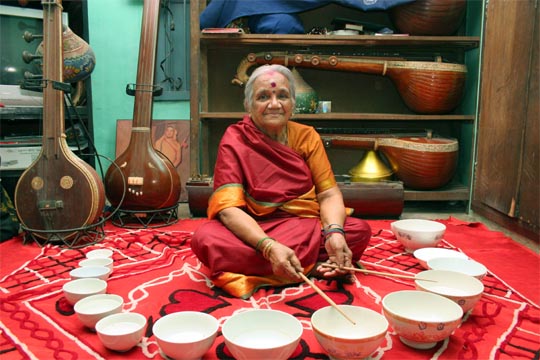 Eighty-one-year-old Seethalakshmi with her 'jaltrang' ensemble
(Photo Credit - Vinoth Vijayan)
Getting into the honors class presented her with a unique opportunity that changed Seetha mami's life: She earned a free six-week 'jaltarang' course. She took an instant liking to the art form and, even after the special classes were over, continued to practice on her own. Such was her dedication, that though she did not have a 'jaltarang' ensemble, she trudged daily to principal Professor Sambamoorthy's house, who owned the only 'jaltarang' ensemble in the area, to practice. "One day when he [Sambamoorthy] realized that I had walked in the hot sun to come to his house, he presented the ensemble to me, saying it was too hot for me to be out...!" Seethalakshmi recalls fondly.
Today, thousands of musical performances later, Seethalakshmi retains the same passion for this offbeat art, as she did when she made her trips to Sambamoorthy's house.

Over the years, Seetha mami has mothered nine children and has 18 grandchildren, three great-grand children and four cows! She had to give up the cows, though, because of a municipal corporation rule that forbid keeping cattle within city limits. "It is incredible that she has managed to persevere with this rare instrument all along, with hardly any teachers to speak of, except Ramaniah Chettiar from whom she initially learnt, and still take care of a large family," says well-known musician Chitraveena Narasimhan.

In fact, Seethalakshmi sees herself as a traditionalist - a happy and content family woman. This, despite the fact that she has given performances all over the world, from Mumbai to Muscat, and was conferred the prestigious Kalaimamani award by the Tamil Nadu government in 2003.


A Seethalakshmi performance that dates back to 30 years.
This octogenarian, resplendent in a silk 'madisar' (as the nine-yard sari is referred to in Tamil) and flicking sticks over the arc of bowls, is a sight to behold. But, does it tire her? After all, leave alone the performance, setting up the 'jaltarang' ensemble and tuning it is a tricky business that requires a clear understanding of sound-pitch variations effected by different water levels and different volumes of the porcelain bowls.

"It is a pleasure. Though at this age, my performances on the stage account for all the practice I do," she says with a candid laugh. "But it is true that 'jaltarang' requires patience; unlike other instruments, you can't just pick it up and start playing. You have to tune 20-odd bowls, sometimes even more," she concedes. For instance, 'ragamalika' (garland of ragas) compositions, like her favorite, 'Bhavayami', require 25 bowls. "I guess that is why 'jaltarang' isn't very popular with youngsters. However, it would suit contemporary music very well as it lends itself to short notes," she adds.

That the 'jaltarang' is a dying art saddens her. And though she has tried to teach the art form to her children and grandchildren, none of them have really taken to it.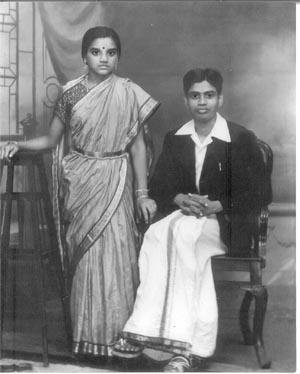 Despite her recent bereavement - she lost her husband and a son in the last six months - Seethalakshmi has put no stops in her musical odyssey. The void left by the death of her husband, N. Doraiswamy, a retired school headmaster, is impossible to fill. "After my mother, it was my husband who encouraged me tremendously. He used to carry all the 'jaltarang' bowls for me, saying they were too heavy for me carry," she recalls.
Seethalakshmi with her husband N. Doraiswamy just after their marriage.

The word 'jaltarang' literally means 'waves in water'. And much like the ancient musical instrument she plays with gay abandon, Seethalakshmi creates waves that reverberate - in the mind and heart. Even now, she is receptive to new ideas: only recently, she gave a 'jaltarang' demonstration at a local kindergarten school, Navadisha, in Chennai, where she played tunes like 'Twinkle, twinkle little star' and other nursery rhymes.