It was an eclectic gathering. Even though the participants were from different walks of life - a psychiatrist, a political scientist, an educationist, a filmmaker, and even a sex therapist - they had one thing in common... they were women from the Arab world, attending the symposium, 'A Glimpse of Women in the Arab World: Achievements and Aspirations' in Vienna.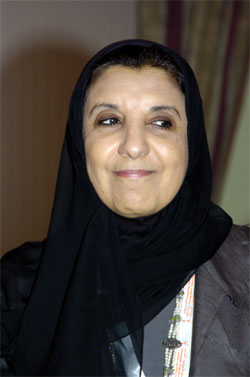 The two-day meet was organized by the Diplomatic Arab Women's Forum (DAW Forum), to give an opportunity to professional Arab women from the Middle East and Africa to speak about the different roles they play in society and to share their experiences with the international community.
The DAW Forum was formed to help promote a more realistic image of women in the Arab world. Said Dr May Hamad Al-Jaser, a Saudi biologist and President of DAW Forum, "We wish to portray a more realistic picture of Arab women and how they are living up to the multiple responsibilities borne by them."

The meet was organized under the auspices of Her Royal Highness Loulwa Al-Faisal of Saudi Arabia and His Royal Highness Prince Sultan bin Abdul Aziz al-Saud, the Crown Prince of Saudi Arabia. The State of Kuwait and OPEC Fund for International Development were co-sponsors.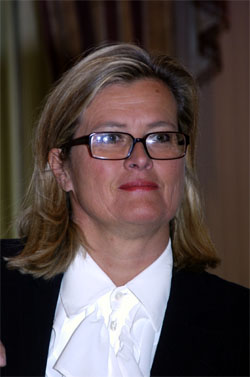 Ursula Plassnick, Austrian Minister for European and International Affairs, inaugurated the symposium. In her address, she talked about the power of networking and stressed the importance of cooperation and collaboration amongst women from different parts of the world. "Networking is a tool that can increase awareness among women and men and ultimately improve women's involvement and participation in all spheres of social, economic and political life," said Plassnick.

All the speakers at the conference had significant insights to offer. Dr Rafia Obaid Ghubash, psychiatrist and President, Arabian Gulf University, Kingdom of Bahrain, gave a presentation on the importance of positive mental health amongst women in society. Author of over 35 reports and scientific papers on psychiatry, Ghubash said that low self-esteem, little control over either private or public life and lack of economic independence were the major causes of women being twice as depressed as men in the United Arab Emirates (UAE).
Commenting on the political rights of women in the region, Dr Nada S. Al-Mutawa, a political scientist from Kuwait, stated that in Kuwait women voted and contested for parliamentary seats for the first time in the general elections of June 2006. Calling the process of empowering women a long-drawn effort - which needs some patience and a lot of support from the Gulf Cooperation Council countries - Al-Mutawa lauded the municipal elections in Saudi Arabia, in which where women have made it to the Chamber of Commerce in Jeddah. "Qatar will soon hold elections in which women will participate, Bahrain has reformed its political parties, Oman is on the right track, too, and elections have already been held for the first time this year in the UAE," she added.

Professor Amna Badri, Vice-Chancellor, Ahfad University for Women in Omdurman, Sudan - dressed in an 'abaya' (traditional gown) - spoke about how educating the girl child ensures a healthy and prosperous society. Badri presented the challenges she encounters while educating over 5,000 girl students each year to assume leadership roles within the community.

A session that caught the attention of all those attending the conference was that of Dr Heba Gamal Kotb, an Egyptian sex therapist. Defying all conventions, Kotb discusses a taboo topic like sex in her weekly television chat show. At the conference, Kotb quoted verses from the Koran to prove that a woman is entitled to sexual pleasure. When questioned by a man in the audience about why certain sexual practices were forbidden in Islam, Dr Kotb - who does not approve of homosexuality, extra marital sex and pornography - replied that it was because God knows what is best for human beings.

Talking on the sensitive issues of religion, genetics and ethics, Dr Aida Ibrahim Al- Aqeel, the first Saudi geneticist and metabolist, described religion as the moral and spiritual desire of all human beings to reach perfection. She added that this was unattainable without the practice of ethics in everyday life and at work.

Today, most Arab women are of the opinion that neither attire nor religion prevents them from living life to the fullest. Instead, it is man-made rules that encourage physical and psychological violence against women and deprive them of opportunities to improve both their material and spiritual lives. Professor Azza Ghanem, the first woman dean in Yemen, said that regression in parts of the Muslim world was the result of colonization and the repeated invasion of the Gulf region in the name of democracy.

"Leave religion to man and to his god," was the dramatic conclusion of Nidal Al-Achkar, Lebanese actor and director, who dreams of living in a civil society without censorship. Last year, during the Israeli attack on Lebanon, Nidal had gathered children displaced by the war at Al-Medina, a theatre organization founded by her, and tried to direct the anxiety and anger of the young ones into creative pursuits.

Dr Alia Arasoughly, a Palestinian filmmaker, said that gender inequality was grounded in the popular cultural perception of women. Through her films, she tries to create alternative gender portraits to challenge the existing perceptions of the role of men and women in society. Her film, 'After the Last Sky', is the story of a Palestinian woman and two Israeli women who sign a private peace pact of friendship with one another.

At the end of the day, it seems that Arab women feel that patriarchy is the cause of their pain and problems. Instead of challenging the more powerful in society, H.R.H. Princess Loulwa Al-Faisal said, through a message read out at the symposium, that women should practice cooperative diplomacy... inviting stakeholders from both genders to make positive changes not only in the Arab world, but across the globe.