As a child, Nevine Houri was petrified of water, a phobia developed after a near-drowning incident while growing up in the suburbs of western Sydney, far from the country's beautiful beaches. Today, she is one of the three Muslim women who have seized the opportunity to join a small, all-women group of surf lifesavers in Australia.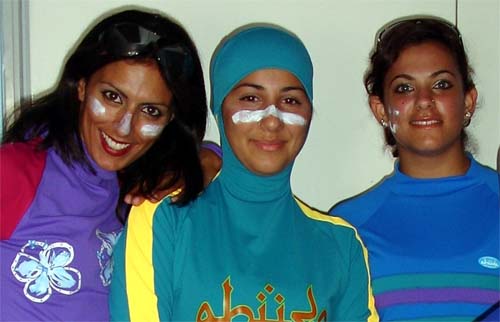 These women were trained under Surf Life Saving Australia's (SLSA) $600,000 national programme - On the Same Wave - funded by the Australian government to directly bring Muslim and other culturally and linguistically diverse communities to the fore.
There was a time when Houri's family thought she would never be able to complete the training programme. However, she eventually did and her daughters were over the moon when she graduated. Says Houri, "The drive to succeed was so strong that after training, we all used to stay back and practice what we had learnt. We bonded and helped each other out with swimming through, on and under the waves. I love swimming with my children, especially now that I know how to spot any danger in the water."

On the Same Wave aims to teach young people of ethnic backgrounds surf skills and basic first aid so that they can become lifesavers. It also focuses on increasing ethnic membership in the 304-affiliated surf lifesaving clubs. There was a time when these clubs were considered to be boys' clubs. Only in 1980 did women succeed in becoming full-time members. And for Muslim girls who chose to wear the hijab (head scarf), there was the additional hurdle to cross. Donning a swimming costume on a public beach was unthinkable.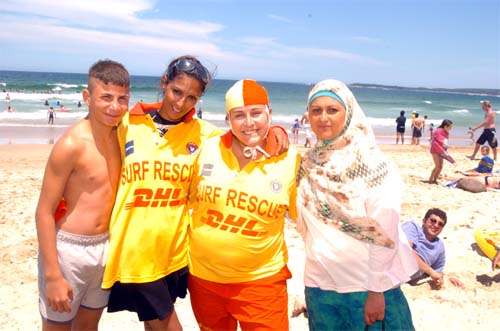 Prior to putting on the scarf, Mecca Laalaa, 20, was a regular swimmer. But later it became a problem, as the several layers of clothing were a hazard. "I only swam and enjoyed water activities in private pools of family and friends," she recalls.

To enable Muslim women to swim at public beaches, Sydney-based designer Aheda Zanetti came up with a unique two-piece swimsuit, the 'burqini', which meets the religious requirements for modesty. "I can now swim without being weighed down and, at the same time, meet my religious requirements, as it is long and even covers my hair. I am able to train as a surf lifesaver and feel limitless with this revolutionary garment," adds Laalaa.

Similarly, for Houri's mother, who migrated from Lebanon, the 'burqini' has come as a boon. "My mother had not swum in years... but with the lightweight easy drying 'burqini', which is also UV-protected, she can now enjoy swimming," says Houri.

Surf clubs are still seen as the exclusive and private domain of men, what with plaques and portraits of stern-faced white men lining the walls. An intensely militaristic backdrop hasn't helped attract women from ethnic backgrounds, either.

"By becoming a surf lifesaver, I want to break the stereotypical notion that Muslim women, especially those who wear the scarf, are uneducated, oppressed and have no say in their lives," says Laalaa, a graduate in health science, and now majoring in health promotion.

"My family and friends were always supportive and encouraging, but had their fears and doubts about how people would react to a veiled Muslim girl training as a lifesaver. The risk of being out at sea was the least of their worries - until I came home with a sprained ankle," adds Laalaa.

In 2000, SLSA commissioned a report, which found that 86 per cent of surf club members surveyed had at least one parent born in Australia, and most lived close to the beach. Parental fear of sharks and drowning has also played a part in the reluctance of girls from ethnic backgrounds joining surf clubs.

However, Malaak Mourad, 18, who has grown up in Australia says, "The dangers of being out in the sea didn't worry my parents as we spent a lot of time on the beach - swimming or relaxing on the sands. In fact, my family encouraged me to try new things and was very supportive of my decision to join surf lifesaving."

In a country obsessed with sports, these girls have enjoyed outdoor activities. For Fatima Kourouche, who migrated to Sydney from Beirut at the age of 11, it didn't take long to realize the importance of sport and the role it played in the development of social and personal skills. While she wasn't interested in swimming or surfing, she played hockey at the state level and is currently Lakemba Sport and Recreation Club's secretary.

Says Kourouche, "It's a bold initiative to increase the awareness of the beach among the Australian multicultural community. The SLSA staff and our participants exchanged cultural information to ensure both could work comfortably with each other."

The need to increase diversity among SLSA members became even more pressing after the December 2005 Cronulla beach riots that broke out after a confrontation between volunteer surf lifesavers and ethnic youths. Violence and vandalism had spread to the surrounding suburbs, leading to an unprecedented police lock-down of Sydney's beaches, from Wollongong in the south to Newcastle in the north. Mourad feels more ethnic surf lifesavers will help ease tensions between different cultures on the Australian beaches.

SLSA is a major water safety and rescue authority providing patrol services on around 300 of the 11,011 beaches around Australia's 36,735 km coastline. Since the formation of the Surf Bathing Association (SBA) of New South Wales in October 1907, Australia's trained surf lifesavers have rescued more than 5,20,000 people and provided first aid to a million others. Of SLSA's over-1,13,000 members, more than 34,000 actively patrol Australian beaches. The 46,596 female members comprise around 41 per cent of the membership.