Let Gays Rejoice, Not Exult!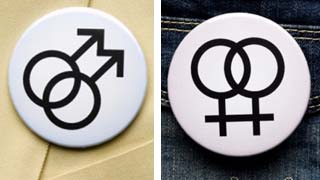 The Delhi High Court judgment which decriminalized private sex between gay adults is welcome. Hopefully, the Supreme Court will endorse the judgment to make it applicable throughout India . That should end harassment and insecurity among gays. But there is need for caution and restraint while welcoming this measure. The first reaction by media and the gays who participated in a parade and hailed the judgment later was far from encouraging. They went overboard. French kisses in the street between gays for the benefit of media cameramen were not only offensive ' these violated the anti-obscenity law. Our law and order machinery may be too lax to take note. In the days to come the public may be less forgiving.
If gays view reform as a license for exhibitionism and the right to indirectly propagate their culture through an overactive gay community they may invite big trouble. Gay rights are fine as far as constitutional rights of individuals to pursue in private their sexual orientation are concerned. But any perceived intended or unintended attempt by them to alter the moral norms of society could provoke a public backlash of tragic dimensions. The court has decided the constitutional issue. It is not equipped to judge the moral issue. In that sense Dr Murli Manohar Joshi was right to assert that only society as a whole and Parliament representing it will have the last word in determining the limits of gay rights.

Attitude to homosexuality raises questions of morality. Morality changes from time to time and from place to place. It is not rational. But it does reflect the will of society. It can change only by the will of society.

"Every civilization is established and consolidated by observing a strict sexual moral code, is maintained while this strict code is kept ... and decays when sexual license is allowed...'
' J.D. Udwin
Commentators who describe public disapproval of homosexuality in India as a legacy of Victorian England and alien to Indian culture are spreading dangerous nonsense. Whatever the reality might have been during the Kama Sutra era and during the era preceding British colonial rule, the Indian public by and large frowns upon homosexuality. It would be dangerous to ignore this truth. That is why gays had best consider their sexual preference to be a private affair and refrain from overt exhibitionism that could provoke a reaction.

Arguments for or against the moral codes of existing societies are futile. These are a reality. They can change only by the willing consent of societies. Thus President Sarkozi of France considers the burqa immoral because it demeans women. A Muslim critic considered Sarkozi's wife immoral for flaunting her nudity for the world to see. In the wide gap between the veil and exposure there lies a glut of moral codes that differ from each other. Who is to decide which moral code is right and which is not? Society is quite arbitrary in deciding its moral code. Change should be attempted only through delicate moves and by consent. The impression is unavoidable that mainstream media's over-reaction to the Delhi High Court judgment reflects a pathetic attempt to appear politically correct in western eyes. The tendency to approximate to prevailing cultural mores in America and Europe is derived perhaps from the belief that it signifies progress. But societal change is not necessarily progressive. It can equally signify decline.

Empirical studies by historians of numerous civilizations have established that the decline and demise of each civilization was preceded by excessive promiscuity and permissiveness in its culture. J.D. Unwin who authored Sex & Culture wrote: "Every civilization is established and consolidated by observing a strict sexual moral code, is maintained while this strict code is kept ... and decays when sexual license is allowed...' Aldous Huxley fully endorsed Unwin's book and said: "The evidence for these conclusions is so full, that it is difficult to see how they can be rejected."

Along with political and economic reform India needs social reform. But it should be introduced with restraint and on India 's own terms. The priests of all the major religions in India decry homosexuality. They are by no means infallible. Some of them are indicating acceptance of the judgment decriminalizing homosexuality. Their support should be welcomed but their concerns should be addressed. We should not be so reckless as to ignore the large section of our public that heeds the priests. Gays are attempting to integrate with mainstream society. That calls for restraint and decorum. Otherwise it could result in traumatic alienation.
04-Jul-2009
More by : Dr. Rajinder Puri
---