Common Gods, Shared Values Thread India, Sri Lanka Together
From kings to gods, from rivers to religion, from languages to entertainment, a shared heritage born centuries ago continues to embrace India and Sri Lanka even in this modern age.

"Sri Lanka is culturally akin to India," says A. Sabarullah Khan, a veteran diplomat from the exotic island nation based in New Delhi. He should know. Like most Muslims from his country, Tamil is what he speaks at home - and the language came from India. Again, like millions of his compatriots, Khan is perfectly at home in the Indian capital and could be easily mistaken for a local on the streets.

Few countries in South Asia share so much in common as India and its neighbor across the Palk Straits Sri Lanka.

The founder leaders of Pakistan and Bangladesh may have once been part of the larger India. But they only heralded modern nation states. Sri Lanka, separated from India by a sea that itself is seeped in history, on the other hand counts an Indian prince, Vijaya, as one whose arrival led to the birth of the very Sinhalese race, finally leading to the island becoming a haven for Buddhism.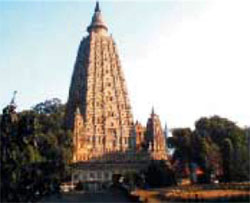 Buddhism is the strongest and most visible link between the two societies, a powerful thread that translates into deep emotional attachment for the Sinhalese for India. The fact that Lord Buddha attained enlightenment at Bodh Gaya in India well over 2,500 years ago makes the country the first choice of pilgrimage to Sri Lanka's majority community.

It is not just the Buddhists who revere India. To the Hindu Tamils too, there is religious sanctity about almost everything India. This ranges from the holy Ganges to the hundreds of imposing and historical temples across the country - places that beckon the Tamils at birth, during weddings and other occasions and, sadly, also at death. Of course, Hinduism itself came from India.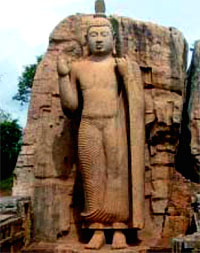 "Sri Lankans see India as the Land of Buddha," explains the scholarly Romesh Jayasinghe, a Sinhalese and Colombo's top envoy in New Delhi. "The Hindu symbols are also profound. Sri Lankans in general see India as a factor that so profoundly influenced their nation."

Adds a Tamil woman who lives in London but was born in Jaffna, the Sri Lankan Tamil cultural heartland: "Where can we go to except India? For marriages we come to India to buy saris and jewellery. For vacations and holidays we come to India. We feel at home in India."

Those who have come to identify Sri Lanka with turmoil fail to recognize that almost every Buddhist Vihara displays portraits of Hindu gods and goddesses, including Shiva, Ganesha, Kali and Murugan (Karthik). This is a rare common heritage perhaps not even seen in India. Both Sinhalese and Tamils pray at the Kataragama temple, dedicated to Lord Skanda, in the southern part of the country.

Even in food and entertainment, there are strong linkages. Much of the cuisine the Sinhalese and Tamils relish have a strong resemblance to the food taken in coastal India, particularly Kerala - string hoppers, known as iddiappams in India, eaten with coconut milk based vegetable stews being only one example.

As for entertainment, Hindi and Tamil movies and songs have a domineering influence in Sri Lanka.

The name of the country itself underscores the deep bonds.

Early Sanskrit works referred to the island as Lanka. Tamils subsequently started to call the country Ilankai, a word that also figures in the Tamil classical Sangam literature (1st-4th centuries). The country came to be called Sri Lanka in 1972 - a name familiar to Indians from their Ramayana.

To millions of Hindus in India in particular, Sri Lanka is the Lanka of their Ramayana, the place to which its king Ravana forcibly took away Sita, the wife of their beloved god Rama. Sri Lanka does not subscribe to this theory. Yet, traces of a bridge an army of monkeys said to have hurriedly built over the sea to help Rama cross over from Tamil Nadu to the land of Ravana can still be seen. It is today called Adam's Bridge.

"We have shared values of civilization and historical experiences," adds diplomat Jayasinghe. "The values we have in common have extended to today's age. Both India as well as Sri Lanka believe in the values of tolerance and pluralism." To this one may add one more: cricket!

30-Mar-2007
More by : M. R. Narayan Swamy
---