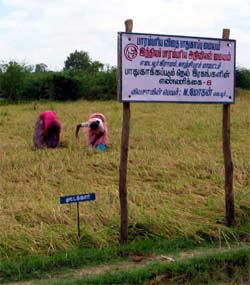 Looking to the west for new and better technologies in every sphere of life is the norm in many developing countries; and the ancient traditions and knowledge of the region are often dismissed as irrelevant.

However, thanks to the efforts of Dr. K Vijayalakshmi and A.V. Balasubramanian of Chennai, thousands of farmers have rediscovered the wealth and potential of traditional sciences.
The Centre for Indian Knowledge Systems (CIKS) was formed by the duo in the early 1990s to develop indigenous knowledge in the field of agriculture. Citing the core concepts of the organization as biodiversity conservation, organic agriculture and vriksayurveda (the ancient science of plants), Vijayalakshmi says, "Our organization is involved both in research and extension. We conduct research on various organic farming technologies, both on our experimental farm and in the farmers' fields." Tested practices and technologies are then disseminated through training programmes and publications.