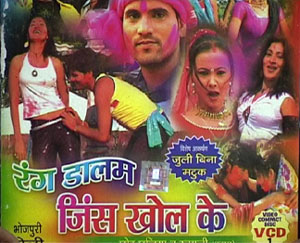 An entire music industry is thriving in Bihar by propagating women as nothing but sex objects. Even the burgeoning Bhojpuri film industry has also taken a cue. The raunchy lyrics have overt sexual titles such as: "Rang Daalam Jeans Khol Ke", "Choli Me Rang Daalam", "Laden Ghusalbaa Lahangvaa Me", "Bada Jaalidaar ba Tohar Kurti" ... unfortunately, the list goes on.

It was not without reason that Bihar Chief Minister Nitish Kumar publicly took note of the phenomenon. Speaking at the inauguration of the Patna Film Festival earlier in February this year, Kumar warned that women should not be represented as sex symbols. "Projecting them thus reduces them to a matter of ridicule and also makes for unhealthy entertainment," he said. He also said that women panchayat (village council) members have complained to him about the offensive representation of women in Bhojpuri songs.
The song sequences and lyrics depict women as flirts, adulteresses, inviting, nymphomaniacs and characterless. The lyrics, which make sex synonymous with women, rely on double-entendres and sexual innuendoes.

Come Holi and the demand for such songs shoots up. This year that demand has been met with around 50 new music releases. Amongst them, the T-Series album 'Rang Daalam Jeans Khol Ke' seems to be a sell out, probably because of the number inspired by the much-publicized extra-marital affair of Matuknath Choudhary, a professor of Patna University, and the young Julie, a student half his age. A cassette dealer of pirated cassettes says this Matuknath Choudhary-Julie number is a favorite among the 'neta log' (politicians).
Sunil Kumar, a small shopkeeper in Patna city, says he has recently sold more than 500 cassettes of "Rang Daalam Jeans Khol Ke" alone. Other shop owners also mention that such cassettes record a "bumper sale" with as many as 200 being sold per day. The albums are very popular among all classes of society and fairly affordable compared to other cassettes and CDs. For instance, "Rang Daalam Jeans Khol Ke", in both cassette and CD form, is priced at Rs 25 (US$1=Rs45).

In the Bakarganj area of Patna, a number of shops run a brisk business with the sale of such music cassettes. Of course, in addition to the shopkeepers, the Bhojpuri music industry also nurtures the growing music piracy trade - yet again highlighting the growing demand for music and videos hinged on the lewd portrayal of women. So much so that while auto and truck drivers were earlier patrons of such tunes¸ the general public can now be heard humming notes of the songs and adding to the coffers of the industry.

Founder director of the Patna-based theatre group Nirmaan Kala Manch, Sanjay Upadhyaya cautions that the trend is dangerous as it is giving rise to a lumpen culture. "It is distorting the rich folk tradition of Bhojpuri," he says, adding that the role of women is reduced to titillation.

"It also affects the perceptions of the youth who begin to identify the cheap songs with traditional Bhojpuri music. They need to be told that the culture has been hijacked by the demands of the market. Mushrooming production companies run by non-Bhojpuri people are cashing in on the emotions of the people to make a commercial success," he avers.

Says well-known writer Usha Kiran Khan, who has written extensively on the culture of Bihar, "These songs are giving rise to a 'seeti' (cat call) culture and are doing nothing worthwhile for Bhojpuri culture. Bhojpuri is known for loud songs and eroticism to a certain limit. But previously, the songs were not played loudly in the open as a mark of respect for women." She adds, "The current trend has been influenced by Hindi films, which are selling well because of the sexual content."

Noted writer and editor Ramji Rai is of the opinion that the ugly face of capitalism has distorted the Bhojpuri cultural fabric. "The beauty and grace of Bhojpuri music is nowhere to be found in the modern version that is centered on sex alone," he says, adding, "While Bhojpuri folk music did have the tradition of erotic composition, these were normally sung during weddings or during festivals like Holi."

"If a song is sung in an isolated region as part of a tradition, it doesn't create any sensation; but the recent trend believes in the marketing and publicity of such songs with the aim of earning huge profits by targeting the base instincts of a person," says Rai. "Songs can be erotic, beautiful and touching at the same time, but it all depends on the presentation and the motive."

And what does Chhotu Chaliya, lyricist and singer of titillating songs have to say? In his inimitable style, Chaliya sums it up in a in a line: "Jo hit hai so phit hai (What is a hit, is fit)". And also, "Jo dikhtaa hai, voh biktaa hai (What is titillating, sells)". The lyricist goes on to add that while shops may sell books, playing cards and his music, customers are free to buy what they wish. He admits that such songs are the demand of markets, producers and the public.

Star of the "Rang Daalam Jeans Khol Ke" video album Priya Kapoor denies that there is anything wrong in such a portrayal. "These days people are talking of hot pants, my album only targets jeans," she says. She feels that vulgarity is in the mind of the people and they are free to think of it in whatever way they like.