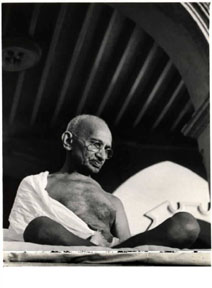 Mahatma Gandhi was assassinated by Nathuram Godse on January 30, 1948. Godse was accompanied by Narayan Apte. Both were hanged. The two traveled from Bombay to Delhi via Gwalior to perform the murder. Some of the named conspirators in the murder were already under police surveillance because they owned small arms. The authorities therefore must have been aware of the impending danger.
Despite India's independence the administration remained under British control, run by officers in key posts appointed by the British, with Lord Mountbatten as Governor-General and General Boucher as the Army Commander in Chief. Total British control becomes evident from the Mountbatten Papers in which Home Minister Sardar Patel is quoted repeatedly complaining to Lord Mountbatten that the police and army were abetting the communal riots. Clearly the Sardar was powerless.

After the assassination a leading freedom fighter alleged that the Home Ministry was criminally negligent by allowing the murder to occur. The leader blamed the government and Sardar Patel for allowing the murder to happen. That leader was Jaya Prakash Narayan.

On June 3 1947 the Congress Working Committee passed the resolution accepting the Partition of India. There was communal tension but no communal riots to speak of in Punjab. Gandhi observed 'maun vrat' (day of silence) on that occasion. He was reportedly isolated by Nehru and Patel and was unhappy. Mountbatten visited him and said he hoped that Gandhi would not oppose the Partition under the Mountbatten Plan. Mountbatten also noted that he was surprised that Gandhi should have observed his day of silence on such a crucial occasion. Gandhi wrote on a scrap of paper his reply: 'Have I ever opposed you?' Mountbatten preserved that paper as historical evidence and it is still there in the Mountbatten papers.

But as India became independent on August 15, 1947 Gandhi became increasingly unhappy. He was sidelined by Nehru and Patel who moved about in ministerial flagged cars. Gandhi was a marginalized figure. The riots that escalated after Independence brought about the biggest transfer of populations in recorded history. Inder Gujral's father and Bhimsen Sachar, who opted to stay on in Pakistan, along with millions of Hindus, were forced to flee to India. An estimated million people were slaughtered in the engineered riots while the police and army stood aside. Over ten million were rendered homeless as they fled their homes to uncharted territory to become refugees.

Gandhi became restive and realized his blunder in compromising. He started plans to undo his mistake. The intelligence that kept watch on all activities in Birla House, where Gandhi stayed, was aware of his unhappiness. That is why Mountbatten met Gandhi and advised him not to oppose the Partition. By doing so he would harm the future of Nehru and Patel who were his creations and disciples. But Gandhi persevered with his plans. He gathered 50 Punjabi refugee families, most of them housed in Delhi's Purana Quila camp, and finalized plans to travel to Lahore and settle down there to create peace and harmony between India and Pakistan. Gandhi had already written to Jinnah about his desire to settle down in Pakistan. Jinnah said Gandhi was most welcome and invited him to come to Karachi. But Gandhi decided to travel by road to Lahore and settle down there. Plans were finalized for Gandhi and the fifty families to start their journey to Lahore on February 14, 1948. Exactly one fortnight earlier Godse assassinated Gandhi.

Did Gandhi suspect he would be killed? On the day he was killed he finalized his last will and testament by which he recommended that the Congress Party should be dissolved and converted into a social organization named the Lok Sevak Sangh. Had Gandhi carried out his plan he would have been a nuisance for Mountbatten, Nehru and Patel because he would have worked for Indo-Pakistan reconciliation. He had already been totally marginalized in the Congress thanks to his erstwhile loyalists, Nehru and Patel. But the same Gandhi after death became the global brand image for the Congress Party. Surprisingly there is little or no mention by historians of Gandhi's plans to settle down in Lahore. Why? Because his assassination aborted the plan?

For some strange reason Godse's trial was held in camera. Godse's defence was not allowed to be publicized by the Indian government. It was whisked away to Britain. One British weekly published it. Years later it was available to those who searched for it. It is now available on the Internet. The demands for truth about Netaji Subhash Bose are still resonating. Should not the truth about Gandhi's assassination also be reappraised? Godse's legal defence, which counters several allegations of the prosecution regarding the assassination, could provide a starting point.