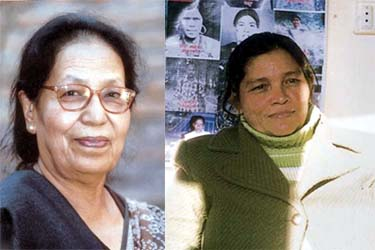 Lifetimes spent in the women's movement in Nepal - though a generation apart - is not the only link between writer Shanta Shrestha and Maoist activist Manu Humagai. There is a far more immediate, raw kinship between these two women - one urban, the other rural. It dates from the dark days of the Emergency in 2003 when the proverbial midnight knock became a horrific reality for Shrestha, one of Nepal's foremost women writers, after she sheltered Humagai, then on the run from the police.
"Manu and two other Maoists had stayed in hiding with me. Luckily, they had left two days before the police came. Had they found Manu, they would have shot her," recalls Shrestha.
The association between the two women is symbolic. Shrestha, now 72, was at the forefront of the women's movement in Nepal that was initially spearheaded by urban, educated women. Today, the movement appears to have come of age, encompassing rural women leaders and, indeed, owing much to village activists such as Humagai and her comrades.
There is a feeling even in non-political circles in Kathmandu that, when the elections to the Constituent Assembly are held in mid-2007, the Maoists will garner the most seats. Much of this acknowledged support for the Maoists is owed to the door-to-door political mobilizing done by activists like Humagai. Yet, if Humagai is the Maoist movement's earthy face, Shrestha provides it an intellectual one without which it cannot do.
For instance, it is Shrestha who can defend, more convincingly, the human and social toll that the decade-long Maoist insurgency has extracted in the countryside. Asked about the 13,000 deaths over this period, Humagai can only offer ideology: "The movement has had its martyrs. We, and the families of those who have died, are proud of their sacrifice for the revolution. We are working for the revolution and if suffering occurs, ours is not to question why." But Shrestha points out that, at the start of the "people's war", Maoist activists had fanned out throughout villages to use song, dance and theatre to rouse political consciousness peacefully. It was when the police tried to quell the movement by killing these peasant artistes that the Maoist cadres stepped up militancy.
Interestingly, Shrestha - a feisty, beautiful and intellectual woman leader - became a Maoist sympathiser after supporting the Nepali Congress for 55 years. But the sickle had lurked in the background for much of her life. Among the many photographs of a lifetime that adorn her home in Kathmandu is a faded one of a group of serious, sari-clad young women. Standing in the back row is the legendary woman leader and Left politician, Shahana Pradhan. Alongside is the mother of Hishila Bhattarai, currently one of the foremost Maoist leaders. And in the front row is a 12-year-old Shrestha. "It was the first meeting of the Nepal Women's Association in 1947," recalls Shrestha.
Shrestha was to grow up and be involved in the women's movement. Educated in colleges in Lucknow and Allahabad, in India, she joined Radio Nepal. Her 35-year tenure with Radio Nepal is much admired in Kathmandu's informed circles due to her campaign against corruption in the broadcasting service. The authorities retaliated by never confirming her as a staffer.
In 1960, Shrestha visited Israel for a training programme in community development. On her return, she met Queen Ratna ( wife of King Mahendra) and submitted a proposal for 25 hectares of land taken from villages under panchayat rule to be restored to them. The queen passed on the proposal to some quarters but the land was never restored, eventually being sold to private developers and becoming the site of a hotel.
This issue was a pivotal point in Shrestha's switch to the Left. "In the 1996 elections, when Vidya Bhandari was the Communist Party of Nepal Unified Marxist-Leninist) candidate, I decided to support her because I thought she would do something to restore the land to the village women to whom it originally belonged." In the event, Bhandari was powerless but Shrestha became a friend of the Maoists and of women like Humagai.
The change in political stance cost her dearly. In 2003, when the police arrived at her house at midnight, she was shown no arrest warrant in a typical case of human rights violation. "It was hardly an arrest, it was a kidnapping," is her wry comment. She was detained for nine days. Ten months later, the same scenario replayed itself. This time, though suffering from typhoid, she was detained for 21 days without medicines or even boiled water.
"They gave me two meals a day, only dal-bhaat [lentils and rice], a wooden cot without a pillow and only one blanket, which I used to fold in half and put under and above me. My cell was next to a smelly toilet. I was isolated from other prisoners, and never allowed to go out in the sun. And they kept me blindfolded," she narrates. Shrestha, who was then 69 years old, has documented her incarceration in a book, 'Andhakar Bhitrako Andhakar'.
Humagai, 50, whose happy face belies the years of a hunted existence, has had a passionate commitment to the Left over three decades. She was influenced by Marxist ideology during her schooldays in Sangja village near Pokhara. As a college student in Kathmandu, she turned to atheism and a belief in science and rationality. Marriage followed and for some years she owned a pashmina goods and carpet business. Eight years ago, she began working full-time for the Communist Party of Nepal (Maoist) and is now treasurer of the All-Nepal Women's Association (Revolutionary) - its women's wing.
With her atheism, political activism and financial independence, Humagai a classic example of the changes wrought in villages by what both she and Shrestha emphasize - "the work done by the Maoists at the grassroots level to raise women's awareness and political consciousness".
Humagai has been working to further that consciousness - and repaying her personal debt to the Maoist movement. Today, after years spent underground, she sits in an office in Kathmandu where rural women come for redress of problems. The most common complaints relate to property issues and women being trafficked to brothels in India.
But Humagai's women's association has functioned somewhat in the tradition of radical organisations delivering instant justice. A watchdog consisting of the armed, militant young men and women of the Jan Mukti Sena (People's Liberation Army) enforces its 'judgments'. After the November 22, 2006 peace accord between the Maoists and the seven political parties that ended the insurgency, the authorities are rounding up the guerrillas and their weapons. It remains to be seen whether, in the fluid situation that exists in Nepal today, the social achievements of the Humagais abide.