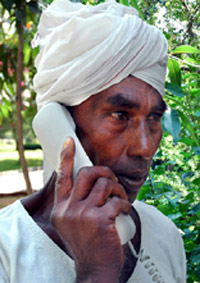 It's a hectic morning at the Pitampura (East Delhi) Operations outlet of the Kisan Call Centre (KCC). Ramu, a farmer from Sultanpur, has called in on KCC's toll free number to find out how to tackle the menace of fungus on his brinjal plants. In the meantime, Bidayi, a woman farmer from Nangloi, is enquiring about what can be done to augment the size of the miniscule guavas in her orchard. On Line Three, Sunehri is expressing consternation about her cow not being able to carry a calf to term!
A flood of other queries -- about kisan credit cards, women farmers' loan schemes, organic farming, pesticide and insecticide prices, agricultural waste, water drainage will follow through the day as KCC's experts provide the answers from six am to 10 pm, as they do six days of the week.
Set up by the Department of Agriculture, under the Ministry of Agriculture, in January 2004 with an initial investment of Rs 100 crore (US$1=Rs46), the Kisan Call Centers - a single-knowledge pool catering to Indian farmers across the country - are proving to be a boon for the farming community. Farmers can dial the toll-free telephone number - 1551 - to get specialists, positioned at 84 call centers across the country, to answer a repertoire of questions related to agriculture and allied fields.
"These call centers provide Level One support to farmers," elaborates M.K.Sharma, Supervisor of the Pitampura KCC. "And when the agents are not able to handle the query, the calls are diverted to Level Two, comprising experts identified by the Department." All unanswered calls and recorded calls are sent to the respective directorates (Level III support) for answering in an offline mode, through the post. Call centre agents are usually agriculture graduates or people with an orientation in science, agriculture and dairy farming.
According to Sudeep Banerjee, Additional Secretary (Agriculture), Department of Agriculture, Ministry of Agriculture, the KCCs are the first-of-their-kind knowledge pools and information support centers for Indian farmers. "The idea behind the project," he explains, "was to put into place a channel that could address issues raised by farmers, instantly, in their local dialect. There are call centers for every state that handle traffic from all parts of the country."
According to Banerjee, the KCCs are a synthesis of two diverse technologies - Information and Communication Technology; and Agricultural Technology. "To optimally utilize the strengths of both these systems, we draw upon the established network of a professionally-managed call centre mechanism and dovetail it with a specialized subject matter. Specialists such as agricultural scientists and extension officers further help facilitate the centres' reach to the farming community."
In other words, the KCCs capitalize on the existing specialized infrastructure of call centers to make this communication backbone available to specialists in the field of agriculture, horticulture, animal husbandry, marketing and other related areas.
The KCCs consist of three operational levels: Level One - the basic Call Centre interface - which has a high quality bandwidth and a local language-proficient agriculture graduate; Level Two - this has subject-matter specialists - connected through good bandwidth telecom and computers; and Level Three - the management group that ensures the ultimate response and resolution of all queries not resolved at Level-II. Level Three functions through an offline mode.
Telecom consultants work closely with the Department of Agriculture to define key objectives and long-term strategic plans for continuous improvement. "We have to continuously evaluate, upgrade and implement new methodologies for the long-term success of the project," says Banerjee.
The government has so far spent about Rs 100 crore-plus on the KCC project, a pittance considering that last year's budget had a plan outlay of Rs 13,996 crore for rural and agriculture growth activities.
Despite the initial euphoria, agriculture experts are sounding a note of caution. Their concern is largely about the KCCs' limited accessibility as, without a 24 x 7 environment, the project is short of realizing its optimum potential. The call centers function during the day when farmers are out in the fields and close shop at 6:30 pm, approximately when the farmers would be back from their fields and would have the leisure to call.
Furthermore, KCC agents often fail to comprehend the queries. Farmers are mostly illiterate and unable to express themselves well. Also, language is a big divider - Punjabi/Bhojpuri farmers can only speak in their dialect, in an accent comprehensible only to a few. And thirdly, the call centre agents aren't specialists so they too take time to understand and diagnose the problem. Hence, the KCCs are now brainstorming and also planning to get in touch with local panchayats to address this problem. Not all but many unattended Level One queries go to Level Two or Three.
Another issue affecting the efficacy of the KCC project is telephone connectivity. With the toll-free number accessible only through BSNL phone lines, farmers subscribing to GSM and other basic service providers or using CDMA phones cannot avail of the facility.
This service becomes all the more critical in view of the fact that the challenges before Indian agriculture today are immense. And this sector needs to definitely grow at a faster clip than in the past to allow for a higher per capita income and consumption.
As Prabhash Swaminathan, a Mumbai-based agricultural consultant points out, about 70 per cent of the Indian workforce directly or indirectly depends on agriculture for its sustenance. "This sector generates about 28 per cent of the country's GDP and 20 per cent of exports," says Swaminathan. "Rising consumer prosperity and a search for higher incomes by farmers will simultaneously drive crop diversification. Export opportunities for agricultural products are also spiraling, provided India can measure up to the demands of foreign trade and consumers and maintain its edge as a low-cost producer."
In such a scenario, greater use will have to be made by researchers and farmers of available modern information technology and communication. "In fact," adds Swaminathan, "a quick and continuous two-way interaction between the farmers and agricultural scientists is the key to the success of the KCC project."
But it is not just technology and information that the KCC operators have to focus on. Customer relations, in other words a humane and empathetic farmer-sensitive approach, is required. And it is here that the call centre agents play a catalytic role. Says Sharma, "All our staff is coached to be farmer-friendly. They are required to speak in the farmer's dialect and to be empathetic. Easy words, short sentences and a patient hearing to understand the local conditions and the farmer's problems are critical requirements for our project to succeed."