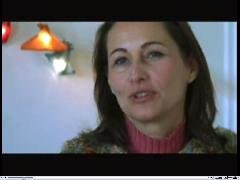 After more than a decade of President Jacques Chirac's right-wing administration, France is ready for a change - but is it ready to appoint a woman to the nation's top job? In November, France's Socialist Party decided it was when it chose Segolene Royal, widely regarded as short on policy, but long on media appeal, as its candidate for next year's presidential election. She will stand against Interior Minister Nicholas Sarkozy, leader of France's main centre-right party, the UMP (Union pour un Mouvement Populaire), in a contest the French have dubbed the "Sarko-Sergo race".
Given the nation's desire for reform, Royal herself has said the fact she is a woman could be in her favor. "It's a symbol of change," she has said. "Where men have failed, people think ok, maybe we'll try a woman."
In many ways, France has done much for women, with, for instance, employment legislation that makes it relatively easy for mothers to return to the workplace after having children. But the political classes have remained overwhelmingly male and, compared with most other western European countries, France has very few female politicians. Only around 12 per cent of the current members of France's National Assembly are women, compared with some 47 per cent in Sweden, which has been the most successful in promoting women politicians, according to figures compiled by the Swiss-based international organization of parliaments the Inter-Parliamentary Union.
Even within her own party, Royal has encountered bitter and chauvinistic opposition. For instance, former prime minister Laurent Fabius very publicly asked who would look after Royal's four children if she went for the presidency. Setting aside such concerns, an overwhelming 60.6 per cent of the Socialist Party's roughly 220,000 members eligible to vote backed her candidacy. Former finance minister Dominique Strauss-Kahn had the support of 20.8 per cent and 18.5 per cent opted for Fabius.
France's left-leaning newspaper, Liberation, commented: "The issue was not to choose the candidate most suited to represent the party at the presidential elections" but "the candidate most able to beat the right". Many other commentators have also said Royal's appeal has little to do with her policies which, to a large extent, are unknown.
"For the moment, Segolene Royal is an empty shell," said Arnauld Miguet, lecturer in European policy at the London School of Economics. "We don't exactly know what she stands for ... She is not the radical socialist of the Mitterrand era. She's more at the centre of the party." Whether she could win the presidency could largely depend on her advisors, he said, as relative to other candidates Royal lacks political experience. Rather than following the traditional path of finance and foreign affairs to the presidency, Royal has overseen the environment and family matters.
As France's Minister of the Family from 2000-2002, she was responsible for laws including introducing paternity leave and recognizing the right of divorced fathers to play a larger role in child rearing. Her questionable political credentials have been no obstacle to her becoming a glamorous media darling, running high in opinion polls and not just in the party's ballot. "She's a new, fresh face. I think it's not only based on gender, but that has probably played a big part. The advantage she has is that she's a woman. She's not part of the old political class ... which is extraordinarily male-dominated," said Miguet.
The general public's opinion on Royal has been widely canvassed through her own website, Desirs d'avenir (Future desires) and a rash of blogs. Everyone is talking about her. Blogger Anne from Paris described Royal as "a political product, a visual product - she has had a makeover". She considered she could become president, even though "there is no real content in her speeches". "I am not a huge fan of Segolene Royal, but I think the fact she has succeeded despite an incredibly sexist, old-fashioned father and in one of the most male arenas probably makes her case sympathetic," said Emily, a fashion designer from Paris.
Royal's late father was an army officer and reputedly very severe on his eight children of whom he was fond of saying, "I have five children and three girls. The boys should do their duty and serve the country and the girls should support their husbands." But Royal rejected traditional roles. Speaking of her Socialism, Royal has said: "Before embracing the Socialist ideal, each and every one of us has stood up against an injustice that seemed to them intolerable. ... For me, it was the rejection of the place traditionally assigned to women that opened my eyes and forged for ever my political engagement."
In spite of her father, Royal won a place at the prestigious Sciences Po university in Paris. She then moved on to the Ecole Nationale d'Administration (ENA), the training school for France's elite civil servants and politicians. It was there that she met Francois Hollande, father of her four children, to whom she is not married - another contrast to previous presidents. The couple are, however, bound by the civil solidarity pact which provides for a civil union between adults regardless of gender. As head of the Socialist Party, Hollande himself had presidential ambitions - but that was before his partner's spectacular rise.
Her children were born in 1984, 1985, 1987 and 1993 respectively. Reportedly, when the children were young, she would put them to bed and then go back to work. The French press had said that one way of juggling work and family was to skip inefficient work lunches and dinners. She told the French magazine, Paris Match: "Every day at noon, I would go home and see my children." Royal plays on the image of being a feminine, rather than a feminist, politician. And it seems to win her both conservative male and female voters.
Royal worked briefly as an au pair in Dublin, Ireland, during her student years. Following graduation, she worked as a junior civil servant, then quickly moved into politics. She was noticed by President Francois Mitterrand's special advisor Jacques Attali and recruited into his staff in 1982. In 1988 she became a deputy for the French National Assembly and took her first ministerial job as minister of environment from 1992-93.