The Year of Indian Diaspora - 2006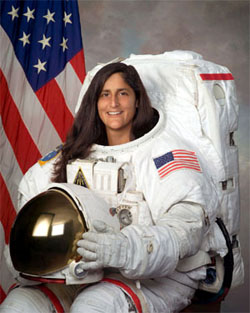 When Sunita Williams soared into space with a container full of samosas, the term 'Indian diaspora' acquired a new meaning altogether. With samosas to munch on and the holy book Gita to read, Williams will be in space for six months where she will be the flight engineer of the International Space Station. So, for the next six months at least, the 20 million or so Indian diaspora will not only be spread across 110 countries of the world, but one of them will be in space as well!

Sunita's father is of Indian origin while her mother is Slovenian. "I am half Indian, I'm sure Indian people are looking forward to seeing (another) person of Indian origin (after Kalpana Chawla) flying up in space," she said. With her achievement coming in the last month of 2006, Sunita has capped what has been one big year for the Indian diaspora. Indian origin people made news in all fields, be it sports, industry, entertainment, politics or literature.

In March, Mudhsuden Singh Panesar, popularly known as Monty Panesar, made his debut as a spinner in the England cricket team against India in Nagpur. In the 10 Tests he has played till now, he picked up 32 wickets, including a series-winning display against Pakistan, making him a national icon in England.

Only the other day, in the course of the ongoing Ashes series Down Under, the turbaned 24-year-old from Luton became the first spinner to take five wickets at Perth, widely considered a fast bowler's paradise. Nicknamed 'Python', he also signed a 300,000-pound book deal in his very first year in global cricket.

At the FIFA World Cup in Germany, a footballer of Indian origin came under the spotlight. Vikas Dhorasoo took the field for France against Switzerland in a group match, playing in the midfield alongside Zinedine Zidane. In the process, Dhorasoo, whose forefathers migrated from Andhra Pradesh to Mauritius, became the first footballer of Indian origin to play in the World Cup finals.

Also in June, news came involving another member of the Indian diaspora that shook world industry. European steel maker Arcelor, the world's largest steel company, agreed to an Euro 26.5-billion takeover bid by NRI steel tycoon Lakshmi Narayan Mittal.

August was indeed a big month for the Indian diaspora. On Aug 14, India-born Indra Nooyi was appointed chief executive officer of $33-billion global convenient foods and beverages company PepsiCo. She became one of only a handful of women to head a top US company.

Soon after her appointment, Forbes magazine named the 49-year-old Nooyi as the world's fourth most powerful woman after German Chancellor Angela Merkel, US Secretary of State Condoleezza Rice and Chinese Vice Premier Wu Yi.

On Aug 23, Anand Satyanand, a person of Indian origin (PIO), took over as the new governor general of New Zealand. He is the first person of Asian ethnicity to become the Queen's representative in New Zealand.

Satyanand began his speech on the steps of New Zealand's parliament in Wellington with a "Namaste, Namashkar, Sat Sri Akaal, greetings to everyone!"

Soon afterwards, another PIO, Bharrat Jagdeo, was re-elected president of the Caribbean nation of Guyana. This is his third consecutive term in office since he took charge in 1999.

And in October, Kiran Desai, daughter of prominent Indian origin writer Anita Desai, created literary history by becoming the youngest woman to win the prestigious Man Booker Prize for Fiction at the age of 35.

Desai won the award for her second book, 'The Inheritance of Loss', described by reviewers as "radiant, funny and moving family saga" and "the best, sweetest, most delightful novel". Born in India Sep 3, 1971, Desai is currently a student at Columbia University's creative writing course.

Hardly had the euphoria of Desai's achievement died, when India-born Western classical music conductor Zubin Mehta was honored by the John F. Kennedy Center for the Performing Arts in December.

Born in Mumbai April 29, 1936, Mehta has conducted some of the most prestigious orchestras including the Israel Philharmonic Orchestra, New York Philharmonic Orchestra, Montreal Symphony Orchestra and Los Angeles Philharmonic Orchestra. Kennedy Center chairman Stephen A. Schwarzman called Mehta "a world treasure".

Among other recognitions, Thomas Kailath of Stanford University was inducted into the Silicon Valley Engineering Hall of Fame; Indo-Canadian scientist Asit K. Biswas received the 2006 Stockholm Water Prize, known as the Nobel Prize for environment; Kamla Persad-Bissessar became the first woman to be made leader of the opposition in Trinidad & Tobago's parliament; Indian American pioneer Appu Kuttan was awarded the 2006 Champions of Digital Literacy Inspiration Award; NRI industrialist Lord Swraj Paul was appointed the inaugural chancellor of University of Westminster; and Lord Karan Billimoria became the first Parsi to enter Britain's House of Lords.

At the year-end, India's ministry of overseas Indian affairs was feverishly engaged in putting the final touches to the Pravasi Bharatiya Divas, the annual conclave of the diaspora, whose sixth edition is to be held in New Delhi Jan 7-9. Prime Minister Manmohan Singh will inaugurate it. The government will, like previous years, honor key diaspora performers and achievers.

From a time when the diaspora and the mother country had drifted poles apart, efforts on both sides have not only revived the emotional umbilical bonds but put the diaspora on the national agenda and made the country proud of the achievements of its sons and daughters who had left the country's shores to make their mark around the world.
27-Dec-2006
More by : Aroonim Bhuyan
---