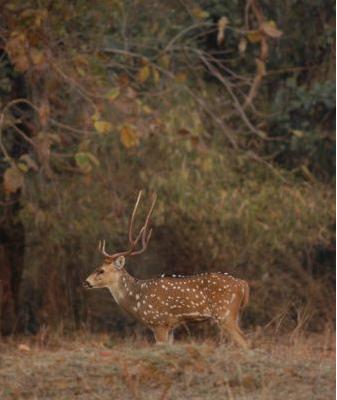 All over the world, countries are creating nature reserves as more and more land, with all that nature has to offer, is harnessed for industry, agriculture or plain urban expansion. The intention is to conserve a slice of nature with its native biodiversity and other special features so that these are not lost to humanity forever. While study and research are generally permitted, efforts are made, by and large, to keep them insulated from human impact. Tourism, therefore, in such reserves is mostly "no no". Yet, authorities permit treks on trails, either natural or specially created, imposing, generally, a cap on the number of trekkers consistent with the reserve's carrying capacity. The idea, as is obvious, is to allow nature to thrive in all its magnificence undisturbed by the destructive and deleterious influences of humans.

India, too, has reserves of various kinds – from biosphere reserves, wild life reserves, dedicated tiger reserves, protected areas to nature reserves – where nature was supposed to play out its, shall we say, symphony to the script. That did not quite happen mostly because of human interference. Not only human settlements happened to be located within the reserves, tourism, especially eco-tourism of our malefic kind, did not allow nature full and unrestricted play. Pressures of rising population within the reserves and without, as also rising incomes fostering inordinate increase in footfalls of the well-heeled and insensitive coupled with lax and ineffective enforcement mechanisms, prevented the state from acting up to the objectives of conservation. Abandoning its earlier policy of conservation, the Government of India fell for the temptation of easy lucre that rising numbers of visitors bring. The consequences that followed were inevitable. Natural ecosystems were ravaged. The tourism industry in India has seldom exhibited restraint or the gracious traits of "responsible tourism". Thriving on numbers, it is constantly in pursuit of "mass tourism" unmindful of the threat it might pose to the very goose that lays the golden egg.

The state's inability to care for nature reserves has so tightened the stranglehold of tourism that without spin-offs from it such reserves, seemingly, cannot be sustained. A ready example is the new Dumna nature reserve which is, reportedly, being developed near the central Indian town of Jabalpore primarily as a tourist spot. Spread over about 900-odd acres of forested land with a healthy population of wildlife the Dumna reserve constitutes the catchment for a lake by the name Khandari. The Jabalpore Municipal Corporation, the owners of the land, had wisely handed over the work of developing the reserve to the state Forest Department who have made provisions of fishing and have developed nature trails. What, however, seems to be highly disconcerting is that the state Tourism Development Corporation has been asked to construct an eatery, a children's park and other facilities including parking on a two-acre plot right inside the reserve. The Tourism Corporation is surely happy to spread its tentacles at Jabalpore which is the staging post for the world famous Kanha Tiger Reserve. Keen on numbers and, necessarily of an invasive kind, one never knows how far into the forest the tourism development outfit insinuates itself.

Once again, as it would seem, tourism has jumped ahead of conservation in priority. Soon the nature's tranquillity and quietude at Dumna will be traumatized and shaken up. The mellow music of nature will be drowned by the harsh noise of vehicles of the picnickers (with scant respect or curiosity about nature's offerings) and the shrieks and screams of their children at play. The intrusive humans will smother the freedom of nature to be by itself and thrive.

This is not why nature reserves are created and this is not how they are maintained. Wikipedia, the free encyclopedia, defines nature reserves as a protected area of "importance for wildlife, flora, fauna or features of geological or other special interest, which is reserved and managed for conservation and to provide special opportunities for study or research". Nowhere tourism is given the pride of place in such ecologically important sites.

Even China, where mass tourism was virtually the rule in its extensive nature reserves, has now realised the benefits of proper upkeep of natural sites and sustainable tourism therein. As tourism in Sichuan, a province of diverse ecosystems and historical interests, grows, Chinese are restricting the numbers of tourists in accordance with its carrying capacity. "We want to put conservation first" seems to be the new watchword. The province's Jiuzhaigou Nature Reserve is a tourism hotspot which apart from being a World Heritage Site is also a World Biosphere Reserve. In 2006 two million people visited it and yet the number of visitors daily was not allowed to cross the imposed cap of 18000 and every effort is made to mitigate the impact of this sizable horde. A fleet of hop-on, hop-off bio-diesel buses shuttle the people around allowing them the freedom of walks on nature trails. Wardens and CCTVs infest the place. Tourist accommodations are kept away from the reserve and local people are encouraged to build guesthouses of traditional style to offer the visitor an exotic experience. Eco-tourism is nothing if it does not benefit the local community!

Chinese have learnt to conserve the environment the hard way. Over exploitation of their natural resources and break-neck pace of industrialization wrought havoc with their air, water and the forests and resulted in increasing desertification. There were popular protests against the general environmental devastation. Frightened by the peoples' fury and nature's violence they had to pull back and they did do so from the very edge. Having done so, they are going the whole hog to preserve their environment. And, as in all other spheres, they will do all that is necessary whatever that takes.

No such fear, however, is in evidence in India. Here it is "business as usual". Climate change may already be upon us, our air may be foul, water contaminated and our forests may be shrinking but environmental conservation is yet to register on us as a necessity. As in everything else, things will happen if only there is that ever-elusive political will. The new Central Minister for Environment, Jairam Ramesh is the only semblance of hope. Laboring to crank up the rusty machinery, he is like the distant light at the end of the tunnel. One hopes the best for him. If he, for any reason, happens to fail, redemption will be unlikely.