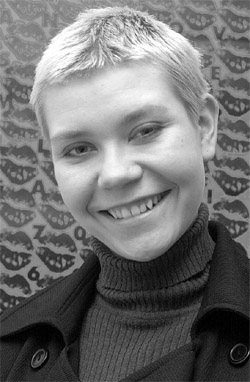 Susanna Paasonen, Assistant Professor in Digital Culture at the University of Jyvaskyla and a Reader at the universities of Turku and Tampere in Finland, has been working on online pornography for the past three years. She is the author of 'Figures of Fantasy: Internet, Women and Cyberdiscourse' and co-editor of 'Women and Everyday Uses of the Internet: Agency and Identity'. She is currently co-editing a book, 'Pornification: Sex and Sexuality in Media Culture', that looks at the infusion of pornography in mainstream media. Elsa Sherin Mathews spoke to her during her recent visit to New Delhi.
Q. What is your view of the portrayal of women in online pornography?
A. Women are portrayed in all kinds of ways in online pornography. It depends on what kind of pornography you focus on. Plenty of attention has been paid to "alternative pornographies" (on websites such as 'Suicide Girls') that display so-called alternative body aesthetics (subcultural codes, body piercing etc). There is a fair amount of amateur pornography as well on sites catering to specific tastes. Women are also making their own pornography. So there's the question of self-representation as well. My own research material is about commercial porn, and closer to the aesthetics of mainstream porn, as featured on video and in print.
The question is, for me, more about what kinds of fantasy scenarios are recycled and how these connect - or fail to connect - to social relations and operations of power. The 'porn spam' I have analyzed makes evident the popularity of scenarios of male control over women, like portraying Latin American women as 'willing-to-do-anything-for-citizenship' and getting sexually exploited by touts. Or, portraying young girls 'willing-to-do-anything-for-college-money' and ending up having sex with men. While I am not suggesting that these should be understood as power relations, it cannot be said that the two are disconnected either. Also, the number of adjectives for women are many more than those used for men. While men may be just described as 'horny' or 'hot', women are described as 'sluts', 'bitches' 'whores' and 'desperate'.
Q. Does the pornography industry throw up unrealistic images of women, sex and sexuality?
A. Basically, porn exaggerates everything. It is not concerned with realism. I think Steve Marcus' term 'pornotopia' is really useful in untangling the specificity of the world depicted in porn: abundance of sexual pleasures unlimited by the conditions of everyday life. In other words, porn as a genre does not have much to do with realism.
Q. How would you place your understanding of pornography in the context of popular culture?
A. The question of porn versus mainstream pop culture really is a large one.
'Pornification: Sex and Sexuality in Media Culture', the book I'm currently involved in editing, looks at how the boundaries between porn and mainstream media culture have become blurred and it looks at the implications of this development. Mainstream media, at least in the US and Europe, have been flirting with porn for a while now and especially various soft-core aesthetics have been appropriated in advertising, music videos and such. But this is a complex development that I really cannot sum up in a few words.
Q. Is pornography legal in Finland? What is the general attitude of society?
A. Pornography used to be illegal in Finland. However, over the last few decades, society has opened up to pornography. A new law on pornography was introduced in 2001, which states that porn is legal as long as it does not depict children, animals or violence. Finnish society is largely unperturbed by porn films shown regularly on paid channels. Porn is seen more as a leisure activity, even considered cool among youngsters. There is only a small section that considers porn to be objectionable - the argument being that watching porn negatively impacts people, especially the young, for life. My book, 'Pornification', is an attempt to create awareness about the rising levels of porn in society.
Q. You mentioned that women produce porn. Could you tell us something more about that?
A. There are many women involved in the production of porn, both in the US and Europe. They make their entry by starring in porn films and then later move to producing and directing it themselves. Their argument is that they enjoy making and watching porn, and that it is to be enjoyed by everyone. In Finland, there is Rakel Liekki who presented the 'Shag School' on TV, and made a porn film called 'My Film'. However, she stopped producing movies after the age of 25, as she believed women look old after that age. In Finland, there was also another group of women called Els, who were also in the forefront of porn. However, they disappeared. In fact, the number of women in the porn industry has declined now - unlike in America, where women like Candida Royalle and Nina Hartley are able to hold their own.
Q. In terms of impact, is Net porn different from pornography in print?
A. Most of the pornography on the Internet is recycled from the print. But the Net is becoming a popular place. For example, Hustler makes only 20 per cent profit out of its magazine sales. The rest of it is through exposure on the Net. The most famous example is that of 'Penthouse' magazine which went bankrupt. The Internet seems to be the best place for pornography because of its easy accessibility and anonymity.
Q. Can pornography be considered mainstream media?
A. It is difficult to classify pornography as mainstream media.
Q. Is academia open to the idea of research on pornography?
A. The US academic Establishment is known to be very closed to research into pornography. Only academics with a regular job at a university can safely do research on pornography - after, say, 10 years of teaching - without it being a threat to their careers. Finland, on the other hand, has a Porn Academy, which is in turn funded by the Finnish Academy. Scholars from history, comparative studies and literature are a part of the Academy. Pornography is studied seriously by media and cultural studies experts in Finland.