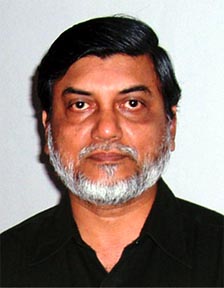 Dr. Anil K. Rajvanshi the Director of Nimbkar Agricultural Research Institute (NARI) has been invited to give a talk in March 2007 at the prestigious Patel Center in the University of South Florida in U.S. Dr. Kiran Patel Center for Global solutions is a 54 million dollars center set up in the University.
Besides the work on sustainable development, Patel center sponsors the Globalization speaker series and has invited in the previous years world leaders in sustainable and global issues. They have included Nobel Laureate Wangari Maathai; Jared Diamond � the world-renowned author of book �Why Societies Collapse�; Dr. G. Brundtland, WHO Director General; Dr. Jagdish Bhagwati, the world famous Economist among others. Dr. Rajvanshi will give a talk entitled �Energy for Poor-Challenge for Global Community� in which he will showcase the work done at NARI.
Dr. Rajvanshi who did this B.Tech in Mechanical Engineering from I.I.T. Kanpur in 1972 has also been invited to give a talk at PAN IIT 2006 meet which is being held in Mumbai from 23-25th December. Dr. Rajvanshi is one of the 40 speakers invited for this meet. Around 3000 IITians are attending this meet from all over the world which will be inaugurated by President Dr. Abdul Kalam. Others who have been invited to speak include Mr. Sam Pitroda (Knowledge Commission Chairman), Dr. Montek Singh Ahluwalia (Deputy Chairman Planning Commission), Mr. Jairam Ramesh (MOS, Government of India), Mr. K. V. Kamath (ICICI Chairman), among others. Dr. Rajvanshi will talk on the work that NARI has done in decentralized energy research.
Recently NARI�s work on sweet sorghum has been recognized internationally. Thus the Madhura sweet sorghum variety has been grown in Zambia, Portugal, Mexico, Uganda etc. NARI has also developed lanterns and stoves running on 50% (w/w) ethanol-water mixture. This is a very safe mixture to use as fuel, is very easy to distill and requires much less energy to produce than the existing ethanol. Development of stoves and lanterns running on low grade ethanol is the first such invention anywhere in the world and suitable patents have been filed for both the stove and lantern. The ethanol lantern produces light equivalent to that from a 100 W bulb and the stove is like an LPG stove with both high and simmer settings. Large number of enquiries for stove and lanterns has been received from all over the world.