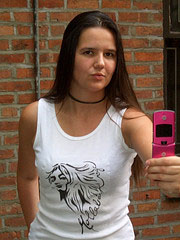 In the summer of 2005, when a man in the New York City subway fondled his genitals in front of Thao Nguyen, she decided she had had enough. So she snapped his picture on her cell phone and took it to the police. They were not interested in her evidence. Then she posted the picture on the web with a message to watch out for the guy. The New York Daily News picked it up and ran the photograph on their front page, prompting more women to identify the perpetrator. He was subsequently arraigned in court on four counts of public lewdness.
"Street harassment happens to all women on a daily basis," says Emily May, one of seven founders of Holla Back, a group that encourages women to take pictures of their harassers and then post them online in a forum called Holla Back NYC. "Men do not understand the extent or effect of the harassment, and harassed women - like other women coping with violence against women - are in denial. That is why we wanted to give them a safe space to talk about it. We thought it would be therapeutic."
She is talking about the group of seven people - four women and three men - all in their 20s, who founded Holla Back in September 2005. "We were having a conversation about street harassment and the lack of legal response to it. We all felt angry or depressed and wondered how to respond." That is when they came up with the idea of a website that would post the pictures of harassing men and allow women to tell their stories.
Lauren Spees, a Holla Back founder, was walking down the street one day in a pair of cowboy boots when a man shouted to her, "I want to be your pony." "Street harassment happens so much that people think it's okay. But it is not okay to have to avert my eyes and feel the need to speed up. On the street there may be no witnesses, but now there's a place for women to share their stories." "If You Can't Slap 'Em, Snap 'Em!" the website urges.
According to Emily May, whose day job is Development Director for an NGO in Manhattan, "We're not targeting street harassers or trying to demonize them, or to create a catalogue of them. You cannot even identify many of these people because of lighting or blurriness. The idea, really, is to empower the women." She says that in the US, it is legal to photograph people in public places and to share those photographs. (In Europe, legal questions do arise.) And to date, no one has threatened Holla Back with a lawsuit nor has anyone denied a posted story.
Since October 2005, when their website was launched, Holla Back has received about 100 postings. In addition, they now get 1,500 hits a day internationally from people wanting to tell their stories or to ask for information.
While their website carries a disclaimer - about affiliation with other Holla Backs that have started in cities like Boston and Washington DC, states like Texas and Arkansas, and regions like Cape Ann, Massachusetts - the New York group that started it all does communicate with these organizations and offer assistance. It also collaborates with groups like the Street Harassment Coalition in New York.
Holla Back is also planning an event with a sister group in India called The Blank Noise Project. Operating now in Bangalore, Mumbai, Delhi, Chennai and Hyderabad, the project has launched a campaign in which they ask women to "stop blaming yourself, your body, your clothes". To this end, they have asked women to send them the clothes they were wearing when they were subjected to 'eve-teasing', as street harassment is known in India. The clothes, along with women's stories, constitute an exhibit called 'Did You Ask For It?', which will be shown in New York in collaboration with Holla Back to demonstrate that it does not matter what women wear; street harassment occurs and it is a sexual crime.
Holla Back plans more events like that and will also step up its lobbying for cultural and legal change. In the longer term, the group wants to mount a large media campaign, including posters on buses and in subways, to raise awareness on the problem. They also plan to conduct speaking tours, and perhaps publish a book.
In an interview with the New York Daily News, Thao Nguyen said, [street harassment] is not something mutual. "You're not consenting to it. I don't think women should take that and I'm glad women are doing something about it."
So, too, it seems is the New York City Police Department. Recently they launched a sting called 'Operation Exposure'. Over a two-week period, four undercover women police officers arrested more than a dozen men for "rubbing, grabbing and flashing women". The police department's Transit Bureau chief acknowledged that street harassment "is a heavy quality of life crime".
"It's very exciting to be in an activist campaign that is getting attention," Emily May says. "We are demonstrating that 'the personal is political' and, unlike the gay rights movement or the civil rights movement, we haven't had to wait for a critical moment. We created it via the Internet."