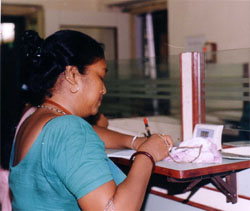 "In the beginning, we didn't understand what Usha Multipurpose Cooperative Society (UMCS) was all about. Once we did, we began to use its facilities. Because of Usha, I have been able to save some money," declares Maya Sharma, 45, a sex worker in Kolkata.

"Today, I am in a position to turn away a client who refuses to use a condom. I know I can withdraw money from the bank and buy food for myself," says Maya.

Usha (literally, sunrise/ beginning) is a cooperative bank started by sex workers in 1995 under the aegis of the Durbar Mahila Samiti, a Kolkata-based sex workers' collective. Over the past 11 years, UMCS - which operates from Durbar's premises in the Sonagachi 'red light area' of Kolkata - has emerged as a successful example of initiative and intent.

Minu Chakraborty, 35, has been able to secure her future, thanks to UMCS. "I took a loan of Rs 20,000 and was able to build a house away from the red light area. My sons are studying now. The atmosphere of a red light area is not right for them." Chakraborty has bought a house outside Sonagachi, where she lives with her children. In Sonagachi, she uses her 'field' room to work from.

In 2000, UMCS was able to help only 40 members with loans. Today, about 2,600 members have sought and been given loans, and the number is growing by the day. The highest loan so far - Rs 1.6 million (US$1=Rs 45) - went to a woman who wanted to open a garment factory.

Purnima Naik, a sex worker in her mid-thirties, recalls the initial days of the bank. "I was the first public relations officer and my job was to try and convince my colleagues to deposit their money in the bank. In the beginning, success was minimal. Of about a hundred women we would speak to, only two would agree. Slowly, though, they began to understand that the bank was for their welfare."

Before the UMCS was set up, sex workers faced daily harassment from moneylenders, local goons and the police. Moneylenders would demand as much as Rs 10 a day as interest on a 100 rupee loan. "When we launched health and other intervention programs, the women would say that we should first do something to improve their lives and then talk about interventions," recalls Durbar's Programme Director Bharati Dey. This is how the idea for UMCS was born.

Swarojit Jana, the brain behind Durbar and UMCS, explains further: "We have to advocate to create and better an enabling environment where individual sex workers can enforce condom use by their clients and to do that we have a strategy what we call the community-led structural intervention. That means that the targeted community - that is the sex workers - has to lead in the front. Durbar has been planning to build its own resources in many ways and one such mechanism was the UMCS."

"We want to offer these facilities to sex workers across the state. This is why we are opening branches in 12 other red light areas in West Bengal, starting with Durgapur and Asansol," says Rekha Chatterjee, President, UMCS. "To begin with, we will introduce our daily collection scheme."

Daily collection is the most popular service offered by the bank. The daily collectors - usually hired staff - collect whatever amount the women want to deposit. The average collection per day is about Rs 45,000. "This is very helpful for me. Even if I can't go to the bank, I can conduct bank transactions sitting at home," says one account holder. "Sometimes I give Rs 5, sometimes Rs 10. Earlier, I didn't know how to save my money. Today, I have a bank balance."

The bank has a range of thoughtful and innovative services to make the idea work for the women. A large number of the members of UMCS are illiterate. The bank staff patiently explain banking procedures to them. If that does not work, they make special presentations. Sometimes, they go to the women's homes to demonstrate how to use a bank account. Those who cannot even sign their names can open an account with a thumb impression.

Shantanu Chatterjee, in charge of the credit division, says that UMCS is now looking towards increasing its working capital to Rs 160 million over the next five years. "We would like to get into auto loans and release funds in the corporate sector. Increased turnover will mean increased dividends for our members. We operate according to the stipulations of Durbar, our parent organization. For us, the welfare of the sex workers is of primary importance."

There are also plans to invest in a petrol pump, a medicine shop and a polyclinic. "We have already ventured into the grocery and cosmetics business. We also want to open a beauty parlor and a polyclinic in the Kalighat area. We shouldn't need to go outside for anything," says Sujata Dutta, Secretary, UMCS.

For many women, the bank gives them the opportunity to live their dreams. After decades of social ostracism and isolation, they have found the confidence to lead a full life. Today, in Kolkata, sex workers can look forward to a more healthy and secure life.