The 80,000-odd people, living in the coal belt of Jharia in Jharkhand's Dhanbad district breathe fire - quite literally. The Jharia mines produce the best quality coking coal (used in blast furnaces) in India. However, the area, mostly inhabited by tribals, has been smoldering with underground mine fires for several decades now. The fires emit huge quantities of carbon monoxide, carbon dioxide, Sulphur dioxide and methane, leading to air pollution, breathing problems and skin diseases.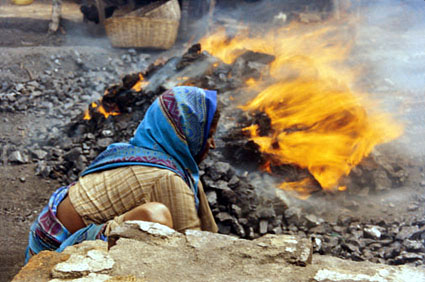 "Our house is always very hot and smoke continuously billows out from under the floor," says Aduri Devi, in her 70s, of Nadiper Basti. For the past five years, she and her family of seven have been living under a tree outside their basti (settlement). "We cannot inhale the gas that the coal mines emit," she says, coughing as the foul smelling emissions enter her nostrils.
Mining in Jharia started in 1894. In 1916, the first coal mine fire was detected. In 1971, when it was nationalized, Bharat Coking Coal Limited (BCCL), the chief coke-producing company in the region, adopted opencast and slaughter mining methods - where only top-of-the-mine coal is extracted. This involves digging massive pits to procure coal, and is cheap and efficient. This causes fires in the abandoned mines, which are exposed to the atmosphere and are susceptible to spontaneous combustion. These fires cost the company 37 million tonnes of coking coal through fires and also caused pollution levels to soar.
The local administration and BCCL - which operates 76 mines in India; 74 of these are in Jharia - have declared Jharia a danger zone, and have asked residents to leave the area. So far, 40 bastis in the collieries are in the process of being evacuated. Under a pilot project to resettle the people, BCCL, in collaboration with the state government, has spent Rs 610 million (US$1=Rs45) to construct houses for 9,000 families in Jharia. The Union government has also sanctioned Rs 75 billion for the rehabilitation of the 80,000 families threatened by mine fires and subsidence or caving in of earth - caused due to the weakening of the soil due to the increase in the level of sulphuric acid - in the coalfield area.
The people, though, refuse to leave. "Jharia is the land of our ancestors. It is difficult for us to move to another place. BCCL has been promising us jobs for over 20 years, but no one from Jharia has been employed yet. How can we trust these same people to provide us homes outside Jharia?" asks Prakash Narayan Bagchi, secretary, Jharia Bachao Samiti, a committee formed by the people of Jharia to fight against the eviction orders. "For over two decades, the state government has been promising us land. Their actual aim is to evict people from their own land, and extract even greater amounts of coal from the region," says Gour Kumbhakar, now in his 60s, a resident of Nadiper Basti area.
H Chakravarty, superintendent, engineering cell of environment department, BCCL, attempts to clear the air: "We are asking them to move due to the health hazards that the region presents, and are also running awareness camps on this. During the camps we show films on coal fires and the hazards of living near them. We also hold meeting on holidays and evenings to spread to inform the people." He says that the affected are enquiring about rehabilitation schemes after attending the camps.
In 1972, there were about 70 active fires over an area of 17 square kilometres in Jharia. In spite of numerous plans to control them, so far only 10 fires have been controlled through techniques like 'blanketing', 'nitrogen flushing' and 'stowing'. "Controlling coal fires is a costly and time-consuming process because it is difficult to say how the fire is spreading under the mines," he explains.
Meanwhile, people attempt to survive in the fire zone. Guriya, 9, Kumara basti has been suffering from high fever for the last three months. "When she discontinues her medicine, she falls sick again," says Swiju Devi, 23, her mother. A few months back, Guriya suffered from chronic breathing problems. Life is equally hellish in neighboring bastis like Lodhna and Kumara.
"Most of my patients suffer from tuberculosis, chronic lung disease, bronchial asthma and pneumoconiosis. About 80 to 85 per cent of them are suffering from breathing difficulties," says Dr Rajiv Agarwaal, a local doctor. Earlier, he says, the majority of his patients were in the 30-35 age group. Now they are between 20 to 25 years of age. "Poisonous emissions from the blazing coal mines are getting mixed with the residents' haemoglobin," he feels.
Mira, 27, who stays at the old Jharia station basti, has already lost two children to malnutrition. Now into the third month of pregnancy, she suffers from tuberculosis and breathing problems. "Even though I eat adequately and have medicines, the doctor says I am anemic. My husband is a rickshaw puller, so this is all I can afford," she says, adding, "I think am going to die, like my mother and my friend, of tuberculosis."
In an area dotted with hospitals for BCCL employees, the district administration proclaims that it has set up primary health centers near the collieries to provide free treatment to the coal mine-affected population. However, residents say these centers do not have enough medicines, and the people are forced to go to expensive private doctors for treatment. If they do not have money for the doctor, they just ask the pharmacist to prescribe medicines.
"We have always stocked tuberculosis and asthma medicines. But, in the last five years, the demand for these medicines has increased. Sometimes, people approach us for treatment and we know that if we do not give them medicines, they will die. Sometimes we ask doctors to help them with their treatment," says Swaroop Mondol of Ranchi Medical Store, which set up shop about 20 years ago.
BCCL authorities claim that, in the last 16 years, they have taken various pollution control measures. One of these is converting 3,374 hectares of degraded land into a green belt. "Since 1980, we have been working in these areas, planting 25 trees like teak, acacia and neem in the affected areas," says Chakraborty. Areas such as Jogta, Gopalichak, Sandra Bansjhora, where coal fires had been blazing since the early 1960s, are now green. Explaining the putting out fires is also a priority, he says that the best technique is digging out the fire from the fire zone and then blanketing it with sand and soil to cut off the oxygen.
Meanwhile, the state government has set up a Jharia Rehabilitation and Development Authority to resettle affected families. It is now waiting for the Union cabinet to give the go- ahead for implementation of the resettlement plans. But all these efforts will come to naught unless the government and BCCL can convince the residents of Jharia that they must step off the fire zone. The authorities must then ensure that their grandiose plans are not another link in a long history of betrayals.