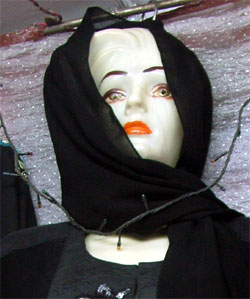 There's a burqa (veil) revolution on. After many years of having been the chosen outer attire of begums of Bhopal, the women's veil has now become a fashion statement in the city. From plain unrelieved black, burqas are now colorful, embroidered - and plain stylish.
It is perhaps the association with the erstwhile female rulers of Bhopal that gives the veil an acceptability that isn't necessarily associated with obscurantism. Bhopal was known for the begums of its last four nawabs: they actually reigned in lieu of their men. After the decline of the Mughal empire and the rise of the nawabs, Qudsia Begum (1819-37), Sikander Jahan Begum (1844-68), Shahjahan Begum (1868-1901) and Sutanjahan Begum (1901-26). The peaceful rule of the begums gave Bhopal a unique culture - cosmopolitan and peaceful.
Few garments or even religious symbols evoke the kind of passionate debate that burqas evoke. Feminists have debated long and hard on the moral and religious rightness of wearing a veil - amongst themselves and with religious leaders. Does the veil liberate a woman from society's sexual gaze, leaving her free to explore her potential as more than a sexual or physical being? Or does the veil imprison women in tenets that have no place in the modern world? Does Islam require women to wear a veil? There are no clear answers to these and a hundred other tricky questions.
But largely impervious to these debates, young women in Bhopal are reclaiming the veil as a fashion statement.
Since she was a child, Rehana Khan, 29, had been going out in a black burqa. But with changing fashions, she began wearing colored ones. "Designer veils cover my body completely, and look smart and fashionable at the same time," she says. College-going Muslim girls are some of those in the forefront of the burqa revolution.
Izhar Khan, who makes the burqas in the old city, says that over time the veil has changed entirely: today, the work on the veils is eye-catching and irresistibly draws admiration.
Many residents of Bhopal believe that the designer burqa trend began when Muslim women started joining social groups and political parties in large numbers. "The women who joined these 'religious' parties started the trend of 'religious fashion'. Wearing a burqa and gloves to cover their faces and hands, they started giving lectures to new recruits, encouraging them to wear a hijab or burqa," says Afaq Ahmed, an educationist and expert on Muslim issues.
In fact, the number of women opting for the traditional black veils has come down significantly. Veils that are decorated with embroidery and designs are preferred. Women want as much decorative work on a burqa as it takes to make it look like a salwar-kameez suit. Chikan and zardozi work are preferred. "I used to sell anywhere between 630 and 700 black burqas every month. Now, I barely sell 400," says Khan.
Traditional burqa designer Mumtaz, 41, believes that the burqa is no longer used only to cover the body: it's become a work of fashion. There has been a sudden increase in the number of women who come to her to get their veils patterned or designed. "As recently as 2000, I would get only five to seven orders a month for designer burqas. Now, I have at least 40 orders every month," she says.
Fatima Jahan, 21, attended class for many years in a black burqa. The new style pays attention to both tradition and modernity: in the eyes of her family members, she observes the purdah, which they consider central to Islam; at the same time, wearing designer burqas, she is as smart and stylish as other girls in college. Adds Asma Wahab, a 20-year-old student, "A black veil represents a dress that our parents have forced upon us, but a designer burqa represents a choice we have made."
Naturally, not everyone is pleased with this new trend. Bhopal-based writer Razia Hamid, 54, argues that the new designer veils defeat the very purpose of the garb. The veil, she says, is necessary for Muslim women because it protects them from being noticed by men, but the new and beautiful designs will only attract more attention.
Gazala Khan, 33, who heads the NGO Care India, says that this trend shows that Muslim women want to move with the times. Nusrat Bano Ruhi, a women's rights activist and member of the All India Muslim Women's Personal Law Board, agrees. A designer burqa, she says, sounds more appealing. "It is no longer a symbol for women's oppression."
An ordinary black veil in Bhopal costs Rs 200. The price of a designer veil is fixed according to the amount of work done on it. On an average, a lightly-embroidered veil could cost about Rs 600 and heavily embroidered veil could cost upwards of Rs 3,000.
Ateek Ahmed, 31, who designs veils, says that this new fashion statement is proving profitable for him. For occasions such as marriages, women prefer veils that have expensive designs on them. These elaborate veils sometimes cost even more than the wedding clothes themselves!