"I love my teacher, she is always in a good mood and smiles to us in class," says Li Shunye, 9, a student of Shuiquan Elementary School in Central Gansu Province of China. "Nowadays, students are encouraged to play a game or sing a song when class begins. Those who get the right answer are applauded by their classmates. It makes the atmosphere livelier. It's much easier to concentrate now," says Shunye.
Until recently, the young faces did not smile too much in school. The walls of the building sported comprehensive school regulations and slogans encouraging students to study hard. Much has changed since 2004, though, when UNICEF included Shuiquan in its child-friendly school framework.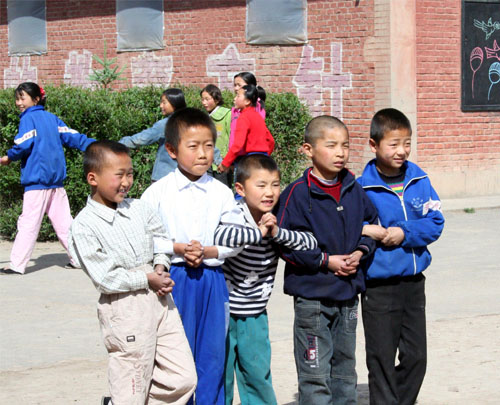 The framework emphasizes activity-based learning and encourages the participation of children. The framework has touched almost 500,000 students in at least 1,000 rural schools in 20 counties in China's 10 provinces. Almost 13,000 senior teachers and headmasters have been trained under the programme in China since its introduction in 2001.
"Education should not overload students; it should help them to build confidence," says Guo Xiaoping, a UNICEF-China education official. The child-friendly school framework was first introduced in Thailand in 1997. It was conceived as a means of implementing the ideas of the United Nations Convention on the Rights of the Child in the classroom.
It replaces the traditional chalk-and-talk approach to teaching, where a frowning teacher, a bullying father or a pleading mother browbeats the child into studying harder. "This is in accordance with ongoing educational reform, shifting from traditional teaching methods that favor authority and discipline to active, cooperative and democratic learning methods which promote students' creativity and autonomy," explains Xiaoping.
According to the child-friendly school framework, schooling consists of the following:
* inclusiveness;
* effectiveness;
* health, safety and protection;
* gender-friendliness; and,
* the involvement of students, families and communities.
"Inclusiveness means enabling the participation of all children, irrespective of ethnic, cultural, linguistic and socio-economic differences," says Joachim Theis, UNICEF East Asia and Pacific Regional Office Youth and Partnership Project Officer. Theis believes that teachers should not marginalize children belonging to ethnic minorities. "It's about learning to talk the same language and understanding each child better," he says. He explains that exclusionary factors may also be culturally or politically sensitive.
"I had thought my teachers and schoolmates would barely understand me," says Qian Li, 11. "I speak Tibetan at home and I am not good at Chinese." Li studies Tibetan, Chinese and English with her Tibetan classmates at Tianzhu Elementary School, another school where the programme is being implemented. There is a Tibetan-language class for the 721 Tibetan students in her school. Her herder parents have rented an apartment in the county town of Tianzhu Tibetan Autonomous County to help Li qualify for a better high school. "I feel comfortable here, speaking and learning my own language while also learning English," says the fifth-grader. "English is not difficult when compared to Tibetan. Maybe, in the future, I can teach foreigners Tibetan."
"A child-friendly school should protect the children physically and psychologically," says Xiaoping. Repairing the playground and making it safe for the children to play was one step taken by teachers at the Shuiquan Elementary School to ensure the children's physical well-being. Encouraging students to participate in classroom discussions and giving their creativity an expression is a way in which the framework seeks to nurture children psychologically.
Wang Hong, 11, of the Shimen Centre Elementary School in Tianzhu Tibetan Autonomous County says, "When I answered a question I was confident about, I found that that the teacher had actually asked another question. It was embarrassing at first," says the fifth-grader. "But the teacher asked me to speak it out again, and then asked the whole class to discuss my question. He told me each question has various answers rather than one solution." Wang says she loves the feeling when her classmates applaud her. "In the past, students just followed the teacher's directions. Now it feels good to be acknowledged by your peers."
Another requisite of a child-friendly school is gender-responsiveness. "After I attended the workshop organized by UNICEF on child-friendly schooling and child participation in November 2005, I realized the importance of interactive learning. It could be applied not only between teachers and students but also among students of different gender," says Li Chunling, a math teacher at the Shuiquan Elementary School who was trained by UNICEF. When she noticed that the girls and boys were sitting in different discussion groups, she asked them to sit together. "After the first class with boys, one of the girls approached me and said it was interesting to work with boys because, in rural places, girls sometimes feel inferior to boys, and even jealous that they are considered the centre of the family," she says. She hopes that gender-sensitive teaching will prepare students to live more harmoniously with the opposite sex when they are adults.
However, the greatest challenge to child participation, according to a trainer for the UNICEF workshop and a professor with China's Women University, is adults. "Adults are gatekeepers," says Professor Jiao Jian. "They create opportunities for children and also set limits for them. Adults will decide how much autonomy should be given to children. Sometimes they find an excuse not to promote children's rights."
Problems include not only parental expectations and examination pressures, but also a lack of boldness in changing the status quo among teachers and education officials. "Some parents tell us to punish their kids as severely and as often as we can, otherwise they worry their child won't study hard. So if we grant children some autonomy, they consider us irresponsible," says Chunling. "Ultimately, it is the society and people who determine how far child participation can go."
But history is on her side, believes Jiao. "China needs a new type of human resource during the shift from an agricultural to a globalized society. That requires sound fundamentals - among teachers and students, as well as parents and children. If we don't let students feel equal in class, they will be completely overwhelmed when they have to cope with society at large."