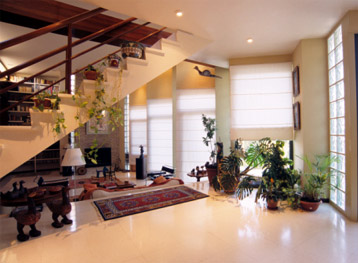 Planning to decorate your home ? While you would be spending considerable time in deciding what the new look should be and how you would define this unique personality you intend to create for your home, practical aspects are often a stumbling block. Outlined below are some of the issues you would perhaps face, and ways in which you could deal with them.
Rule of Clutter
Sneaks in through the back door in almost every home, and digs its heels in. Clutter quickly establishes itself as a member of the family and deludes you into believing it provides a cozy comfort that no home can do without. A broom and a mop cannot get rid of it. The only permanent cure is for the inhabitants to decide that they will not accept its presence and acknowledge its nuisance value.
The Numbers Game
Budget works for you if you work at it. If you have not figured out how much you are willing to spend you will be unable to decide what you can afford to do. Numbers bring focus and detail. If you list out all the things you need to budget for, you will have a better idea of the actual figure, and be able to assess what is possible and what needs to be put on hold. Work out the numbers for each room and not in categories, as you should be able to complete at least one area to your complete satisfaction.
Cling-on Phenomenon
There are many things we do not want to let go of. Sometimes it is a piece of furniture or a particular style of décor. Willingness to let go allows you to think about new possibilities. You may be able to bring it into the new scheme of things, but you should not be restricted by it.

Practical Color
We live in a tropical country, but often choose the most staid colors in décor. Maintenance quotients are important but one should be able to experiment with color. If a white sofa is impossible to maintain at least choose a vibrant color and offset it with neutral backgrounds. Too much color is an eyesore and too little works well when there is an abundance of light and minimalist décor. In the absence of either or both, you would do well to experiment with a splash of color.
Do Not Need a Professional
While it is a lot of fun to put your aesthetic skills to good use, when in doubt, consult a professional. Hiring one may eventually prove to be more cost effective as they may come up with ideas that you may not have considered. If you absolutely cannot afford one, try and ask friends whose aesthetic credentials you can rely on.
Decorating in Interest Free Installments
While your finances would determine the pace at which you re-decorate, you should try and ensure you complete specific areas and then move on to another. It would be best if you work out the plan for all the areas, and then decide how you intend to finance it. Visualizing an entire space is important , even if you decide to turn the image in your mind into reality, in parts.
Shopping on Impulse
It is basic common sense. Don't buy things till you have figured it all out, as you may want to change everything, when you find that irresistible console you saw at the exhibition a week ago ! If a piece of a jigsaw is missing, find it before you start stripping the paint off the walls.
Keeping up with the Joneses

What looks good in Mrs Bharadwaj's house may not really work in your home. Try not to let the individuality of your home be dictated by the tastes of another. It is one thing to be inspired by someone's home, quite another to assess whether it would work in your unique setting. Home fashion is not something you can put in the wardrobe when you get bored of it. You have to live with it a fairly long time.
Putting your Decorating Foot on the Brakes

Once you have found every piece of the jigsaw puzzle and made it fit together into a beautiful picture, STOP shopping ! Till you want a new picture. There will always be something new and different that will excite you. Store it safely somewhere in the recesses of your mind, and go back to it when you can make it seem like it was made for your home.
Shareholder Issues

Every member of the family will have their own take on how the home/room should be re-decorated. While it is a triumph for individualism, it is a nightmare for decision making. Because normal boardroom rules do not apply. Arriving at a consensus is important, but establishing a chain of command, equally so. The home should have its own personality, and not seem like it was caught between too many personalities.

Rekha I Nambiar is an interior designer based in New Delhi, India and specializes in furniture, window treatments and home furnishings. Her work may be viewed online at http://www.idi-home.com
Image under license with Gettyimages.com