Satyagraha (literally, the quest for truth; Mahatma Gandhi's tool of non-violent political protest) has recaptured the public imagination, sparked off by the film, 'Lage Raho Munnabhai', which argues for Gandhism as the idiom even for our cynical times. But translated into lived political experience, could moral courage stir the conscience of Delhi's power elite?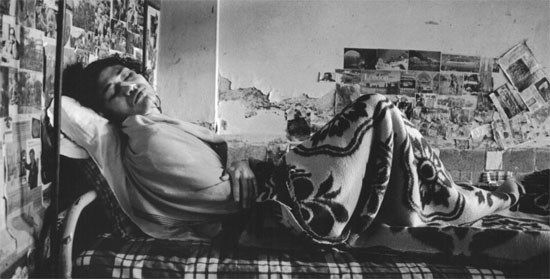 Irom Sharmila Chanu - satyagraha's new icon - believes so. For three days (October 4 to 6, 2006), she took not a drop or water or nourishment. Dehydrated, but full of passionate conviction, she lay at Jantar Mantar - that hub of protests in Delhi.
In November 2000, Sharmila, then 28, resolved to fast unto death to protest against living under State violence in Manipur and to demand a repeal of the Armed Forces (Special Powers) Act 1958 (AFSPA). The security forces had gunned down 10 civilians waiting at a bus-stand in Malom near Imphal on suspicion of being insurgents. It was a routine manifestation of how the armed forces abuse the powers that AFSPA vests in them.
Threatened by Sharmila's peaceful protest, the State took her into custody. For six long years, she has been force-fed through a nasal drip in a hospital room guarded by policemen. Because she is custody on charges of attempted suicide, Sharmila can only be held up to a year. So, on October 3 every year, she is released and then re-arrested. On October 3 this year, Sharmila escaped to Delhi before she could be rearrested. Here, she took up her fast-unto-death again.
Sharmila's agency is remarkable. But in the Northeast, she is not alone. Women of various ethnicities in the Northeast have a history of being at the forefront of struggles for peace and justice - acting as shields, negotiating with the security forces and militants for the safety of their communities, mediating inter-factional violence, and emerging as the frontline against human rights violations. In Manipur, among the Meitei community, women still have childhood memories of the Nupi Lan - the women's war against British regulations on the rice trade. As adults, they became active as the Meira Paibis (literally, torchbearers), who patrolled the streets at night, guarding their sons from being picked up at random by the security forces.
It was one such group of Meira Paibis that on July 15, 2004 staged a nude protest against the killing of Manorama Thangjam, 32, by the Assam Rifles. Alleged to be an 'explosives expert', Manorama was picked up by the Assam Rifles, raped and killed. Anger and desperation at the failure to get justice led 12 women to strip naked holding aloft a banner that read, "Indian Army Rape Us." Asked about rape charges against the security forces, Commander-in-Chief of Eastern Command Lt General Arvind Sharma told the Imphal media, "In a large army like ours, such incidents are likely to occur" but the "wrong side are punished".
Feminist scholarship has established that rape does not 'occur' in war. Rape is used as an instrument of war. Today, this is duly recognized by the International Criminal Court, Rome Statute. Article 8(2) and Article 7(1) recognize rape as a war crime and as a crime against humanity.
In counter-insurgency wars, civilians are the direct targets in the strategy to destroy community support. Disappearances, extra-judicial killings, torture and rape constitutes the language of these wars. And the broad, vague powers under the AFSPA have produced a climate of abuse and misuse. Section 4 enables arrest without warrant and authorizes a non-commissioned officer to shoot to kill on mere suspicion. Section 6 makes it mandatory to seek permission from the Central government before initiating legal proceedings against armed forces personnel.
Not surprisingly, AFSPA was modeled on a colonial Ordinance to counter the Quit India Movement. Introduced in Assam and Manipur to tackle the insurgent Nagas, AFSPA produced a total militarization of the struggle. Finally, in 1997, the government of India entered a peace process with the dominant Naga militant movement, recognizing that the struggle was political and its resolution too must be political. In Manipur, AFSPA was introduced on September 8, 1980, when only four armed opposition groups were operating. Today, there are more than 30 groups and violence has penetrated every facet of life in Manipur. In 1990, the AFSPA was promulgated in Jammu and Kashmir, leading to not only widespread alienation but also a substantive expansion of militancy.
Challenged in the courts as unconstitutional, the Supreme Court upheld its validity and recommended a government review. It took the protest campaign galvanized by Manorama's killing to force the government to constitute the Justice Jeevan Reddy Committee to review AFSPA in the Northeast. The report was submitted in June 2005 but not made public. The Defence Ministry was adamant. They needed AFSPA. According to leaked excerpts, the Review Committee unanimously called for its repeal.
However, with AFSPA removed from the municipal limits of Imphal, and the political opportunity to forge a common front of Northeast civil society groups squandered, the campaign again lost steam. That is, until Sharmila shifted her protest to Delhi.
But her tryst with Delhi has failed to impact the corridors of power - not even enough to make public the Review Committee report. Perhaps the Northeast is too peripheral for Delhi to take notice? Or could it be that the din around national security has drowned out the call for respecting human rights? Perhaps the protest of a woman, traditionally lacking in authority, did not register? At any rate, non-violent protest, Gandhigiri-style, has not worked here.
Sharmila, her life at risk, has been shifted to All India Institute of Medical Sciences, Delhi. The nasal feed has been resumed. Will she become another forgotten Gandhian icon? Or worse still, a martyr?