Happy Dusshera!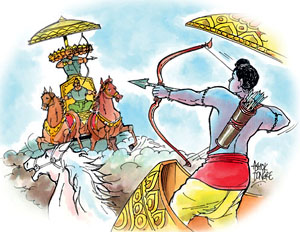 There is this something between the flower people and me. One look at my long hair and they make a beeline for me with their jasmines and roses. I've learnt to appreciate flowers strung in my hair too ever since a flower vendor in Calcutta had held out a length of jasmines (strung for the Goddess) to me and said wistfully, "Phool rakhben? Eikane kaeo phool raakhe na." (Will you keep these flowers? No one keeps flowers here.)

My saris and my glass bangles and long hair and jasmines. And my celebration of being an Indian woman.

They say Indians are the fourth happiest people in the world. It doesn't take much to make an Indian happy. Just a clay idol of Ganesha (the elephant God) on Vinayaka Chaturthi or a Saraswati idol on Saraswati pooja is prize enough. They carry away these idols home, holding them close to their chest, a smile of utter bliss on their faces, a priceless trophy.

This Vinayaka Chaturthi, I watched a man carrying away an idol that was still wet and brown and was just the suggestion of Ganesha. Obviously, he had struck a bargain.

Tomorrow, these idols won�t sell. Tomorrow, these idols have to be carried amidst bursting crackers and dances and immersed in the ocean. In Bangalore, they have built a tank to immerse these idols because there is no ocean there. It is later cleaned up.

That is how high joy and the celebration of living rates on the priority list of Indians.

And then it is Ayudha pooja and all the machines and vehicles and computers get their due quota of vermillion dots and flowers. And sweets are distributed.

The auto rickshaw is to Indian roads, what camels are to the desert. They can ply down all the ditches and puddles and bone wracking cracks and dents that are there. But today, of course the autos are all off the road. They stand in rows, with their vermillion dots and banana saplings and flower garlands. If you are wondering what the pandal and loudspeaker and balloons and color papers are all about, keep such doubts to yourself. Who said that anything and everything should have a meaning to it?

Just celebrate!

Shopping of course is a must. I heard a lady standing at the doorway of a shop and saying petulantly to her husband (who was carrying the baby), "If you can, go in and buy me that sari. Otherwise, take me home. I don't want any other."

Well, what do you know, the man had come all this way and was carrying the baby only to hear her say that. So of course, she must be ushered in, the sari bought and the wads of notes taken out of the pocket and paid. Later, he will have the additional pleasure of complaining to his friends about what a costly maintenance she is.

My paper vendor boy had tied banana saplings and color papers to his van. He had burst crackers early morning and distributed apples and oranges and rice flakes and now he had the loudspeaker going full swing, blasting out the latest songs. Half-hearted complaints on everyone's lips, "I wish he would lower to volume," knowing fully well that Dusshera would not be Dusshera without the right amount of sound pollution.

My landlord in Kolkata was one of the richest guys, owning the whole complex of apartments and shops and the school. He had money enough to feed generations to come and not a day's work to do to earn it. And so he sat all day at the sweet shop.

But unfortunately, he was also Kipte. "Kipte" - that wonderful sounding word means a "miser" in Bengali.

So this Dusshera, he was in a dilemma. He never gave anyone anything, but he had grown fond of me. And so I was startled by a knock on my door and he handed me the smallest mud pot of Prashad there ever was and hurried off leaving me laughing and laughing till tears poured down my face.

Dusshera in Calcutta meant for us, new clothes, going from one pandal to another, looking at the Goddess and asking for Prashad, holding out the hand for the holy water and drinking it and rubbing it over the head. Giant wheels, candy floss, crackers, drums, balloons and fire and incense.

Having parents who dint seem to come from one particular place and having been a part of the floating population of India all my life, wandering from one city to another, I have come to appreciate my Indianess more than a lot of people do.

And so it is that I string jasmines in my hair, tinkle my glass bangles and walk down the road, a happy song in my heart.
08-Oct-2006
More by : Glory Sasikala Franklin
---