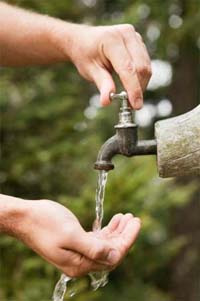 Again the summer season has come and demand for water is boosting up day by day. Water being one of the most essential necessity of life, becoming an increasing scarce resource, needs careful planning and management.

Availability of safe quality drinking water is being reduced due to pollution from sewage and industrial waste. So water should be meticulously harnessed and carefully conserved. It should be economically used and safely disposed off after usage.

Being responsible for the distribution of drinking water to the public, Jal Sansthan is most affected by the wastage of precious drinking water in irrigating lawns and for flushing the toilets. Uttarakhand Jal Sansthan has started a fifteen days campaign from 22nd April to 6th May to make the people aware of the saving of drinking water in summers. Public will be made aware of not wasting water through leaking taps and overflowing tanks.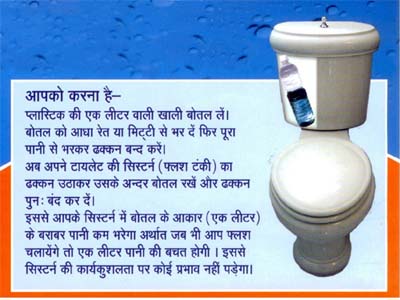 Moreover if we keep a one litre water bottle filled with sand in a flushing cistern of 15 litre, everytime we flush, one litre water will be saved and approximately one lac consumers will save 15 lacs litre water daily. It will be a huge amount saved. All consumers should do their bit to save drinking water.

India lies in the monsoon belt of globe. Over millennia, communities all across the country learnt to collect rainwater, store it and harvest it to last for rest of the year. And thus a fantastic water harvesting civilization took shape in India. So we should use this age-old knowledge and preserve our ponds, lakes, chaals, khals, and naulas and conserve every drop of water.

Our foodgrain production in Punjab and Haryana is also being reduced considerably due to depleting water table there. Recharging of ground water table through rain water harvesting will help to maintain ground water balance. Such measures will help to have reliable and sustainable ground water resource for supplementing the domestic & industrial water supply needs of the people.