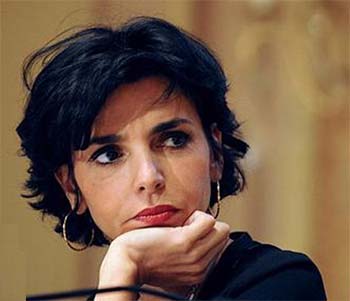 Elections to the European parliament have always had a tendency to drum up voter apathy. But this time could be different, especially for the French. Already the vote, which takes place between June 4 and 7 in 27 European Union (EU) member countries, is the biggest trans-national democratic election in history and EU officials have been working to draw interest from electors, who often feel EU policy is remote from them.

What could add to the excitement is the candidacy of one of France's most glamorous and controversial female politicians - Rachida Dati. A total of 785 Members of the European Parliament (MEPs) are elected every five years and each country establishes its own way of electing their MEPs.

In the upcoming polls, Dati is a candidate for French president Nicolas Sarkozy's ruling centre-right party, the Union pour un Mouvement Populaire (UMP). She occupies the second spot in the Ile-de-France constituency in greater Paris.

Dati rose to international fame as Sarkozy's great symbol of diversity. Despite being a woman and a child of immigrants, she went on to become Justice Minister in the French President's cabinet. Unfortunately, she hasn't managed to hold on to that high office, even though she rushed back to work days after giving birth at the age of 43 to a girl.

In January, she had announced that she would stand from the greater Paris region, a safe seat in the European elections, meaning she would step down in May from her ministerial post. Although officially presented as a voluntary decision, the media, in some of the thousands of words devoted to Dati, maintained that Sarkozy had found an elegant way to maneuver her out of a job for which many say she was spectacularly ill-suited. Reportedly, she alienated subordinates with the cavalier manner in which she implemented radical court and prison reforms. Her conspicuous consumption, magazine shoots and the stirring of intense media speculation on the identity of her daughter's father have also undermined the gravity of her mission.

In fact, Dati has yet to break her silence over the father of her child. "Of course I would have dreamt of having a more conventional family, but life decided otherwise," was the only clue she would give in an interview with French Sunday newspaper, 'Le Journal du Dimanche', in March. She was slightly more open about her ongoing political ambition. "In standing for election as a European deputy, I change responsibility but not mission," she said. "More than ever I want to continue to be a politician, to improve people's lives."

Her European mandate is not in doubt. "She can be confident of being elected - but it will be difficult to see that as a personal endorsement, since the vote will be more for party lists in this election than for individual candidates," said Jim Shields of the University of Warwick in central England.

Dati's fierce desire to succeed against the odds - she was one of 12 children born to a Moroccan builder and his Algerian wife - has inspired many in France, who are no less well-disposed towards her because she has crossed some of the country's most senior lawyers. Talking about her connection with the people, Dati told the newspaper, "People write to me 'dear Rachida,' calling me by my first name. They ask me in the street for news of my daughter."

More objective evidence backs her up. A survey in April by French magazine, 'Paris Match', placed Dati 11th in a ranking of 50 French politicians, with 60 per cent of those questioned claiming to have a good opinion of her. This is much more than the mere 41 per cent who took a positive view of Sarkozy, placing him 33rd in the poll.

But the most popular serving politician, who came second only to former French president Jacques Chirac (74 per cent had a good opinion of him), was Rama Yade, who scored 69 per cent. As junior human rights minister and another of Sarkozy's beautiful women politicians, she could have made the European elections even more alluring if only she had agreed to stand in them. In December, however, the 32-year-old minister declared herself "more interested in a national mandate", prompting French newspaper, 'Le Monde' to report that Sarkozy was "deeply disappointed" by her attitude.

Yade's popularity with everyone else is partly a reflection of the current president's unpopularity - which also explains why a former president topped the opinion poll - and some grudging ministerial colleagues have argued it was easily won. While Dati's position at the head of the justice ministry meant she had to attempt difficult domestic reforms, Yade only had to tackle brutal foreign regimes, rather than upsetting the French.

Yade also differs from Dati in her relatively privileged background. Her father is a Senegalese diplomat and politician and she attended the Sciences Po university in Paris, regarded as a finishing school for the political elite. But both women share the vulnerability of being part of a radical experiment. "For both to hold ministries - and Dati, especially, as Justice Minister - represents a remarkable departure for the French government," said Shields of the University of Warwick.

As far as Sarkozy was concerned, for Dati it proved to be too remarkable and she had no choice but to accept a European role. Yade has managed to refuse so far and has declined to comment on rumours she could be fired in a government reshuffle this year. Many observers say Sarkozy would be rash to lose another high-profile minority minister so soon after Dati, especially given Yade's great popularity, but that alone might not be enough to protect her indefinitely from the challenges of being a woman in a man's world. "The paradox of the current system means that you seek someone out for their differences and then want to pour them into the rigid framework of professional politics ... Her originality, her creativity, her differences ... are qualities less well accepted at the top," commented former French prime minister Jean-Pierre Raffarin on Dati's inability to fit the political mould. A large element of those "differences" was that she was a woman. The "belle et rebelle" (beautiful and rebellious) Yade has yet to prove the extent to which she can adapt.