I have returned to India after years. The enthusiasm and optimism is unmistakable. From Gurgaon to Mohali, everyone is talking about India's meteoric growth. The magical 8% growth rate of the economy is at the heart of every discussion - from the local paanwalla to the sophisticated talk shows on TV. Real estate is on a boom and apartments going for a crore or more (Rs. 10 million) are no longer fables.
The woman who comes to sweep my parents' house owns a color television and watches the same weepy soap operas as my mother. Her son goes to an English school and her daughter is training at a local beauty parlor. Beggars on traffic lights bless me with a job in 'computers' in exchange for a few coins. Chirpy twenty-somethings rake up five figure bills in shopping sprees at air conditioned malls.
I admit that the condition of some people has improved significantly over the last 15 years. While some might argue that the condition of some has improved, maybe much more than others, the effects of development are undoubtedly trickling down to the deprived segment of the society.
However Indians must not rush to pat ourselves on the back. The highway to success is riddled with potholes, just like the roads of Mumbai and Pune. Let's not rush to announce ourselves as a powerful nation when our citizens have to rely on generators to battle power cuts in most metros. The power supply in rural India is even more deplorable.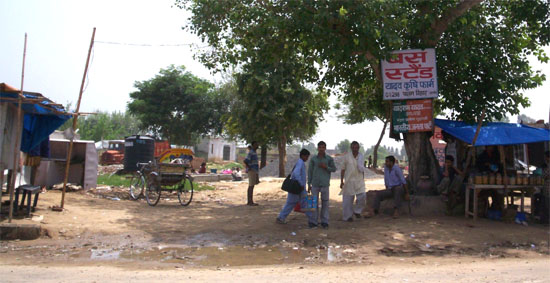 The traffic on National Highway 8, connecting Delhi to Gurgaon, comes to a grinding halt surprised by sudden showers. Within ten minutes the 8 lane highway is flooded with foot-high water. Gurgaon, the city that rose from the sand dunes of Haryana to challenge Singapore and Hong Kong looks more like Manhattan-meets-Meerut. It is living upto its name of a gaon - a corporate village, yet still a village after all. Shimmering towers designed by world famous architects boast every big name in business, while cows laze nearby. Employees with smart ID cards, travel in the middle of night to service the calls of others thousands of miles away. Golf courses sit next to garbage heaps, hidden away by boundary walls.
Development and growth is rapid yet haphazard and limited to pockets. Our leaders must not loose sight of India's developing nation status in a rush to compete with China. Jingoism cannot mask the ground reality. We must recognize that the needs of India's vast population is access to quality infrastructure, housing, medical care and education.
Our problems are unique and ironically these cannot be outsourced.